2023 session wrap-up
The 2023 most prolific New York legislators
Assembly Member Amy Paulin passed the most bills by far.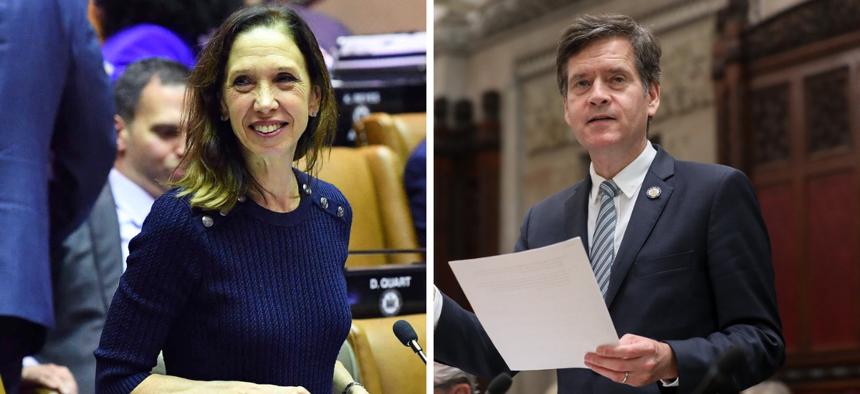 Editor's note: Due to an error in the original data collection methodology, bills were previously not counted using the state Legislative Retrieval Service check mark "Substituted-By Bill Actions." This error has been corrected, and some legislators' rankings have changed.
Assembly Member Amy Paulin topped the list of lawmakers who've passed the most bills in the 2023 legislative session. After several years leading the pack, Paulin said this feat didn't come as a surprise. "I've been at the top of the list for quite a few years, so I've gotten used to it," Paulin said in an interview with City & State.
State Sens. Neil Breslin and James Skoufis topped this year's list in the upper chamber.
Now, obviously not all bills are created equal. Some are more important than others, while others are more difficult to pass – either due to their breadth or their controversial nature. Plus, it's likely that not all of these bills will get signed by Gov. Kathy Hochul. And some bills may be sponsored by powerful committee chairs in order to give their chances of passing a boost.
This list included bills passed by both chambers of the state Legislature, some of which have already been signed by the governor. It also included multisponsor bills in the Assembly, which only constituted a few bills this year.
Here are the top 10 most prolific legislators in the state Senate and Assembly for the 2023 legislative session.
State Senate
T1. Neil Breslin – 42
T1. James Skoufis – 42
3. Brad Hoylman-Sigal – 37
4. Robert Jackson – 33
T5. Pete Harckham – 32
T5. Gustavo Rivera – 32
7. Michelle Hinchey – 29
8. Leroy Comrie – 27
T9. John Mannion – 26
T9. James Sanders Jr. – 26
Assembly
1. Amy Paulin – 41
2. Stacey Pheffer Amato – 40
3. Fred Thiele – 23
4. William Magnarelli – 22
T5. John T. McDonald III – 20
T5. Linda Rosenthal – 20
7. Pamela Hunter – 18
8. Kenneth Zebrowski – 15
T9. Harry Bronson – 14
T9. Chris Burdick – 14