Campaign Confidential
How legislators changed election law, from busier ballots to early payouts
Lawmakers made a ton of changes in the final days of the legislative session – and now some local elections might be moved.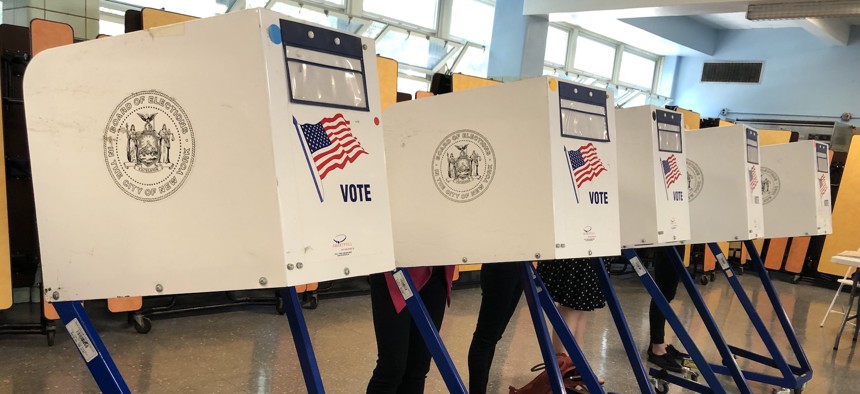 This story is from the Campaign Confidential newsletter, relaunched for 2023. Want it in your inbox? Sign up here. And check out the whole email here.
Assembly Member Al Taylor sits on the Election Law Committee, just got reelected and is now running for New York City Council, so if anyone should get to know the latest changes to how campaigns are run in New York it's him, right?
Not exactly. "Stuff was moving through there so doggone fast it makes your head swim," he said of the last days of the session. "You go scratch your head and come back from the restroom – 'we just did how many bills?'"
That's the way things are done in Albany. And for everyone else here's a quick summary of the big changes to elections in New York state – from edits to when candidates get public matching funds to a major calendar shift for some local races.
Campaign finance changes
Apparently, state legislators didn't like how the Campaign Finance Reform Commission set up the public campaign finance system in 2019 – so they got around to fixing it themselves.
The most notable change would allow the first $250 from an in-district donor to be multiplied by matching funds, even if that donor gave a candidate more money. It also raises the threshold for state Senate and Assembly candidates to qualify matching funds. Candidates would need to raise more money from more donors and an opponent would need to meet certain criteria of competitiveness to limit the money going to races where there's only one real contender. But candidates who do qualify could get paid as soon as December in the year before a primary election, instead of only the final 30 days before Election Day.
Of course, these changes infuriated good-government groups, who see it as an incumbent protection plan that weakens the system. The current law could result in logistical headaches, with campaigns having to refund any donor topping $251 if they wanted that money matched. But it greatly incentivizes candidates to focus on those smaller donations. Under the new law, candidates could target big donors and still get matching funds.
Overall contributions limits were still greatly reduced from the previous cycles though. Gov. Kathy Hochul was bolstered by $139,400 donations. Now, the limit for statewide candidates is just $18,000. (Of course, there are still super PACs with no limits, but there's little to nothing the state government can do about that, thanks to U.S. Supreme Court rulings.)
The bill, sponsored by state Sen. Zellnor Myrie and Assembly Member Latrice Walker, passed both chambers. But at an unrelated event on Tuesday, Hochul would not say whether or not she would sign the bill into law and told reporters she did not have a hand in the measure – saying it was "generated" by the Legislature. The governor also said it would take time to review the hundreds of bills passed in Albany, many of which were approved in the final week. "I need to look at each one very carefully (and) make sure there are no unintended consequences of anything we do," Hochul said.
One thing Hochul won't have to worry about yet? The LLC Transparency Act, which could, in part, help reveal secretive political donors. It passed the state Senate, but not the Assembly – though good-government advocates are hoping the lower chamber will pick it up next week, when Assembly members head back to Albany.
New York Early Mail Voter Act
The bill, sponsored by state Senate Deputy Majority Leader Michael Gianaris and Assembly Member Karines Reyes, would make it easier for New Yorkers to vote early by mail. As laid out in the state constitution, people are only allowed to vote absentee if they have a specified excuse, such as illness, disability or absence from their county on Election Day. Officials expanded that in recent years to mean anyone who wanted to avoid public places due to COVID-19, and this law formalizes it, letting any voter get an absentee ballot, no excuse needed. It was also meant to set up a better system for voting by mail, where voters could apply online for a ballot, and then track their ballot through the mail after it's sent in. 
During the Assembly floor debate, Reyes maintained that the bill was not an expansion of the state's absentee voting provision but an opportunity to establish an early voting by mail system. Some Republican lawmakers disagreed with this sentiment, including Assembly Member Michael Norris, who asserted the bill could allow for someone to fraudulently request an early voting ballot on behalf of another person without their knowledge. Research has shown that mail-in ballot fraud is exceedingly rare, even in states with universal absentee voting. However, Morris also pointed to the 2021 election in which voters across the state voted to reject expanded voting access.
The bill passed both chambers and would need to be signed by the governor before becoming law.
Even-year elections
The bill, sponsored by state Sen. James Skoufis and Assembly Member Amy Paulin, would set some county, town and village elections to even-numbered years, aligning them with higher turnout federal elections. Elections for city positions, including in New York City, would be excluded though, with those local elections still taking place in odd years (though a movement to change that, too, is simmering.)
The bill's sponsors and supporters said this will increase voter turnout, while Republican lawmakers and county officials argued national political issues will outweigh local concerns if those elections take place at the same time. But really, many have the concern that Republicans would find it harder to win prominent offices like county executive, since high-turnout presidential years are typically better for Democrats. If enacted into law, the bill would not affect elections next year and would phase in starting in 2025.
Elections omnibus bill
Perhaps the most prolific election law bill that passed in this legislative session was an omnibus bill sponsored by state Senate Majority Leader Andrea Stewart-Cousins and Assembly Speaker Carl Heastie. It was packed with about a dozen changes, but the highlight was setting the date of the 2024 presidential primary to April 2, and allowing for early voting in March. The bill would also let write-in votes be counted for candidates that are already on the ballot, and makes some technical changes regarding the counting of ballots. 
The bill passed both chambers and is now headed to the governor's desk.