Disability
Nearly 10,000 NYC preschoolers with disabilities aren't getting legally required city services
A new report from nonprofit Advocates for Children of New York highlights how the city is failing to provide services like speech therapy that it's supposed to.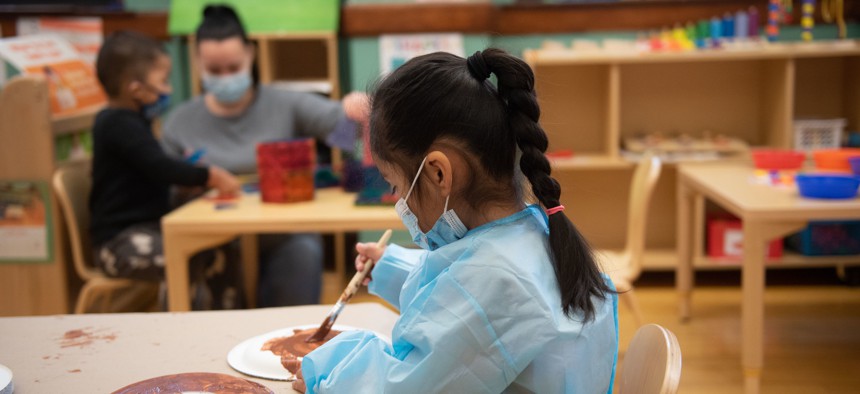 When Flushing, Queens parent Nathaly's son turned three, he went without his physical and occupational therapies for a year and a half. Every time she reached out to the New York City Department of Education, she was told the same thing: they didn't have any therapy available. While he's since resumed services about a month ago, the damage from that stretch of time he went without has been lasting.
"It went very bad for him," she said in Spanish. "He retreated inside himself. He's now about to turn five and he can't sit still."
Nathaly's story is far from an isolated incident. A new report from Advocates for Children of New York, a nonprofit for underserved students, found that 37% of New York City preschoolers with disabilities – around 9,800 children – went last school year without receiving at least one of the services the Department of Education was legally required to provide. 
"It is a huge number. I think it does signal a crisis and it signals a systemic violation of the rights of preschool students with disabilities," said Betty Baez Melo, director of Advocates for Children's Early Childhood Education Project. "Unfortunately, the trend is going in the wrong direction." 
The city must provide services like speech therapy, physical therapy, occupational therapy, and Special Education Itinerant Teacher services to children who are deemed eligible. While the number of students who received their mandated services during the 2021-2022 school year is lower than it was in the two years prior, early anecdotal evidence suggests that the problem has persisted into the current school year and perhaps even gotten worse, she added. The DOE has only been publicly releasing the data since the 2019-2020 school year so it is unclear what things looked like further back. 
"We are continuing to hear from (parents) that their children have been waiting all school year for one of their therapies, that they've been waiting all school year for a special education teacher to work with their child one on one for part time services," Baez Melo said of the current school year. "These are all children who have a legal right to the services."
Nicole Brownstein, a spokesperson for the education department, said the Adams administration is committed to fixing prior wrongs.
"We agree with the concerns of our parents and advocates that for far too long students with disabilities were excluded from programming and services," she said in a statement. "We are working to ensure that all students receive the services, supports, and resources that they need to succeed – from opening more special education seats in early childhood programs to hiring more staff across the system, we are prioritizing our students with disabilities." 
Several other key takeaways from the report include the fact that not a single school district fully served even 85% of  its preschoolers with disabilities. Over 40% of students enrolled in five Brooklyn districts' 3-K and Pre-K programs completed the year having never received even one of their mandated services. More than 5,300 children never received occupational therapy. Over 6,500 children who needed speech therapy didn't have a single session of service last school year. Service shortages were sprawling – at least one in five preschoolers never received their mandated speech therapy in 26 of the city's 32 community school districts. A disproportionate percentage of impacted children are Black, Hispanic and Asian, and or living in temporary housing, according to the report. 
New York City Mayor Eric Adams and schools Chancellor David Banks have contended that many of the problems that have plagued the city's early education division – such as delayed payments to providers, accusations of mismanagement, and a lack of access for students with disabilities – began under former Mayor Bill de Blasio's administration. Underscoring that claim in December, Adams vowed to address the longstanding shortage by adding 800 more special education preschool seats by spring 2023. He also vowed to increase the pay for special education teachers who have historically been difficult to retain and in short supply.
While the city says it has made some progress in expanding access, opening 700 new seats and locking in funding for 6,500 existing seats, there are still over 300 preschoolers waiting for a seat in the necessary special education class as of several weeks ago, according to the report.
"Failure to provide these services now will likely mean that these children may need more intensive and expensive services, or interventions when they get to kindergarten or other grades," Baez Melo said. "It's just a really key, key window to provide the services for young children."