NYPD
Under Adams and Sewell, advocates allege rollback in police accountability
The city's police watchdog said that Sewell has disagreed with or declined to pursue their recommended discipline for substantiated complaints of misconduct in most cases.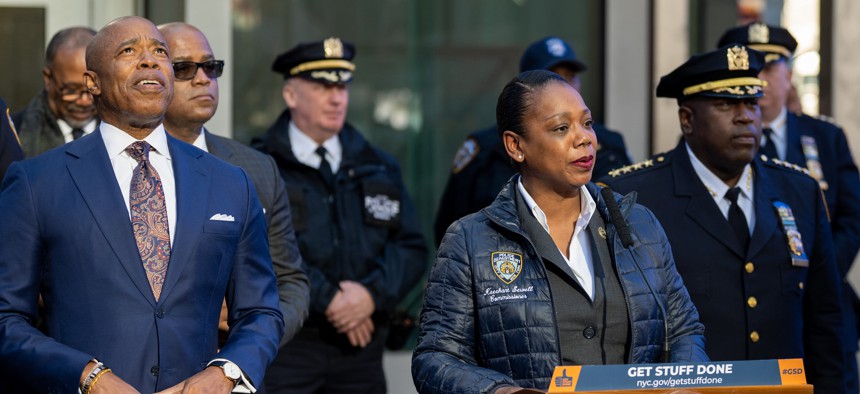 Although New York City police commissioner Keechant Sewell reportedly met resistance from City Hall after attempting to impose discipline on a high-ranking police official, she didn't develop a reputation as a strict disciplinarian in the rest of her 18 months on the job. In interviews following Sewell's abrupt resignation, police reform advocates told City & State that the first year-and-a-half of Mayor Eric Adams' administration has been marked by a rollback of accountability for officers found to have committed misconduct. 
The fact that Sewell's resignation came soon after disciplining Chief of Department Jeff Maddrey for wrongly intervening in an arrest is perhaps an ironic aside, considering that Sewell has in most cases disagreed with or declined to pursue disciplinary measures recommended by the city's independent police watchdog in most cases. 
An analysis by the Legal Aid Society found that Sewell rejected more than half of disciplinary recommendations made by the Civilian Complaint Review Board in 2022, and approved discipline for officers at a lower rate than former Bill de Blasio-era Commissioners James O'Neill and Dermot Shea did in 2018 and 2021, respectively.
Sewell and the NYPD have disputed the Legal Aid Society's analysis, which shows that Sewell deviated from the CCRB's recommended discipline in 425 complaints that the CCRB delivered to the department for a final determination. The CCRB has testified that those figures are accurate, but the NYPD has argued that hundreds of those cases should not be counted as instances where the department deviated from the CCRB's recommendations because they were delivered to the department with too little time to review before an 18-month statute of limitations expired. At a City Council hearing earlier this year, the NYPD said that once those instances are excluded, Sewell actually agreed with the CCRB recommendations 84% of the time, putting her on par with recent commissioners.
Police reform advocates have also pointed to other concerns about the NYPD's approach to disciplining officers, including the department's proposed changes to a disciplinary matrix for officers that was put in place under the de Blasio administration. In some instances, the proposed changes supported by Sewell would lessen recommended punishments for officers accused of certain types of misconduct. 
Advocates did not lay the blame entirely on Sewell, noting that discipline and accountability for officers with substantiated complaints of misconduct – including actions like use of excessive force, offensive language and abuse of authority – have long been elusive, advocates say, regardless of who holds the position of top cop or mayor. 
Lacking discipline
"Police discipline has always been a major issue, and it's deeply ingrained in the culture of policing in the United States that police officers cut each other breaks," said Andrew Case, senior counsel at LatinoJustice and former communications and policy director at the CCRB. 
Case said that the reforms to the disciplinary process put in place under the de Blasio administration, imperfect as they were, at least demonstrated an acknowledgement by the NYPD that misconduct should carry consequences. "There was some movement in the last administration towards holding officers accountable. And if there's one thing that has been a hallmark of the Phil Banks NYPD, it has been a resistance to holding officers accountable, even for demonstrated misconduct," Case said, alluding to Deputy Mayor for Public Safety Phil Banks' reported influence over the department. 
Sewell's resignation followed increasing reports that she was being micromanaged by City Hall and Banks. Case said a trend is evident regardless of who was calling the shots. "I think it's less important to say, 'Was Sewell in charge, was Banks in charge, was Adams in charge,'" he said. "What was happening at the NYPD – whoever was running it, whoever was making the final decisions over the past (one and a half) years – is less discipline, less accountability, less transparency. And you see it across the administration, because it happens at (the Department of Correction) too," Case added, mentioning recent changes to transparency-related practices, including the Department of Correction's decision to stop proactively reporting deaths in custody to the press. Both the NYPD and DOC fall under Banks' purview as deputy mayor.
In emailed statements, spokespeople for Mayor Adams and the NYPD both insisted that the administration is committed to police accountability. "The mayor has dedicated his career to making communities safer while fighting for greater accountability in policing. He knows firsthand what it means to be on the receiving end of police abuse and the value of transparent, accountable policing," mayoral spokesperson Fabien Levy wrote in an email, referencing Adams' founding of the police reform group 100 Blacks in Law Enforcement Who Care. "As the mayor always says, he will both support our police officers who make our city safe again and will have zero tolerance for those who violate that sacred obligation."
Other elected officials have raised concerns about the department's disciplinary practices, with some of those concerns coming out in recent City Council budget hearings. In her short statement praising Sewell after her sudden resignation on Monday, City Council Speaker Adrienne Adams drew attention to the discipline issue, saying of Sewell, "Despite differences about NYPD disciplinary policies, we shared a bond and mutual respect as professionals." Speaker Adams, who previously chaired the council's Committee on Public Safety, has raised concerns about compliance and proposed changes to the disciplinary matrix, as well as the handling of specific cases. 
That includes the handling of discipline against officers involved in the death of Kawaski Trawick, who was shot and killed while experiencing a mental health crisis. That case predates Mayor Adams' administration, but Speaker Adams has criticized the NYPD for recently dismissing one of the misconduct charges – for illegal entry – against the officers involved in Trawick's death.
The CCRB exists as an independent board to receive complaints of officer misconduct, investigate and determine whether those complaints can be substantiated. If the board substantiates a complaint, it can ultimately recommend discipline for officers who are found to have engaged in misconduct. But it cannot actually impose any penalties on officers; the end result of the CCRB's process is just sending its findings to the NYPD, where the police commissioner makes the ultimate determination on whether or not a penalty should be applied and what that penalty should look like.
For years, advocates have criticized NYPD leaders for failing to impose penalties on officers with substantiated CCRB complaints. In a 2021 report, the New York Civil Liberties Union found that out of 180,700 complaints investigated by the CCRB since 2000, 12,980 were substantiated by the CCRB. And of those roughly 13,000, just under a third resulted in any kind of discipline, with only about 12% resulting in serious discipline, such as lost vacation days, suspension, probation or termination.  
"I don't think there's ever really been an NYPD commissioner that is seriously committed to imposing meaningful discipline when officers engage in misconduct," said Michael Sisitzky, assistant policy director at the New York Civil Liberties Union. 
But Sisitzky and several other advocates characterized accountability for officers as sliding backwards under the Adams administration. "It's not so much Sewell's resignation, but rather her completely dismal record on police discipline that highlights the systemic problems with the NYPD discipline system," said Loyda Colón, executive director of the Justice Committee, a criminal justice advocacy group.
In late 2022, Sewell said in an internal memo that she had overturned CCRB recommendations in more than 70 cases, writing that some of the recommendations were "manifestly unfair" and that officers should not be punished for "good faith errors and small mistakes made under stressful conditions." 
"In her message on discipline, the Police Commissioner stressed the importance of fairness to officers in a system where discipline's purpose can be restorative and educational," a spokesperson for the NYPD wrote in an email on Wednesday. "She cited specific concerns with CCRB decisions and penalties in a limited number of cases she felt were unfair to officers."  
Statute of limitations
The NYPD maintains that the commissioner has agreed with the disciplinary recommendations of the CCRB more than 80% of the time. The CCRB has affirmed that the Legal Aid Society's analysis that showed Sewell agreed with the recommendations less than half of the time is accurate.
The discrepancy comes down to the NYPD not counting cases that the department didn't review because they said they received them too close to the statute of limitations expiring. At a City Council budget hearing in March, the NYPD said that they can't work through reviews of complaints when they receive them with fewer than 30 days before the statute of limitations expires. 
Later at that hearing, the CCRB testified that about half of the cases that the NYPD closed for being received too close to the statute of limitations were sent to them between 20 and 50 days before that expiration. Sixteen cases were sent to the NYPD with fewer than 10 days before the expiration and 149 cases were sent with between 10 and 20 days left before the expiration, however. 
A CCRB official noted that while there is an 18-month statute of limitations for complaints, there are exceptions to that deadline that made those cases worth reviewing. The department has the authority to assign additional training for an officer outside of the formal disciplinary process. And there is an exception for misconduct that could be charged as a crime. "Many of the cases where the CCRB found that there was excessive force used, or found that there was an improper entry, the crime exception can apply to those cases," CCRB Executive Director Jonathan Darche testified at the hearing. "Therefore there was no hurry for the department to not reach a final determination. All they have to do is serve the member of service."
The NYPD said in a statement on Wednesday that it is working with the CCRB to improve the complaint review process. "The NYPD will continue to make tremendous efforts to evaluate cases provided by the CCRB, and it is our hope that the CCRB continues to examine its own processes to ensure the efficiency of its operations," a spokesperson wrote in an email.
Enter the matrix
In 2021, the NYPD and CCRB signed a memorandum of understanding creating a police disciplinary matrix intended to provide clarity on how officers would be penalized for a wide variety of substantiated offensives, such as use of excessive force, abuse of authority and use of offensive language. The MOU acknowledged that the matrix would serve as a framework for discipline, but the idea was met with some skepticism. Even with a matrix in place, the police commissioner still maintains the authority to make a final determination on discipline. 
"When the matrix was first created, it was touted as this sea change in the NYPD's approach to discipline," Sisitzky said. "And to be clear, it is an important document. We should have a sense of how the NYPD is assessing these cases, what their guidelines are for imposing discipline. But it is just an advisory document."
The NYPD's proposed revisions to the disciplinary matrix were posted online just before the department's executive budget hearing in May. (Speaker Adams registered disappointment at the hearing for not receiving a heads-up.) The draft revisions, which are open for public comment through June 18, include several changes to penalties associated with a handful of offenses. The penalty for using offensive language, for example, would be knocked down from 10 docked vacation days to just a single day.
The proposed revisions also add new categories of misconduct with associated penalties, however, including for failing to report misconduct to Internal Affairs. A spokesperson for the NYPD did not comment on whether the proposed changes amount to a weakening of the matrix.
At that March City Council hearing, the chair of the CCRB emphasized that the obstacles to discipling officers for misconduct are systemic. Asked whether she thought that the police commissioner having the final say on discipline allowed the CCRB to live up to its mission, CCRB Chair Arva Rice said that she does not believe it does. Darche, the CCRB executive director, explained that a change to that system would likely have to happen through state action. "The CCRB has been very consistent in our requests that we have the final authority when it comes to disciplinary decision making," Rice said. "And we have never wavered from that opinion."
Powered By
NEXT STORY: City Council considers bills to alleviate the harms of slavery