Housing
Hochul announces agreement to build housing units at World Trade Center site
Coming off of a legislative session with little movement on her signature issue, the governor has announced another housing development in New York City.
Continuing her efforts to address the state's housing crisis after failing to do so during a contentious legislative session, Gov. Kathy Hochul announced the approval of a proposal to bring affordable housing units to the site of the terrorist attacks in New York City over 20 years ago. 
"The resurgence of lower Manhattan after the 9/11 attacks is an only-in-America comeback story," Hochul said. "This community's very existence makes a strong statement that we are Americans, we are New Yorkers and we are resilient."
The governor said the Public Authorities Control Board approved the development of a mixed-use housing development that will include 1,200 units of housing at 5 World Trade Center just one hour before the announcement. Four hundred of the units are planned to be permanently affordable for people making 40% to 120% of area median income. (The New York City area median income is ​​$127,100 in 2023.) Of the affordable housing units, 80 will be offered to individuals who were living and working in the surrounding areas of the World Trade Center during the 9/11 attacks and the aftermath. 
"We're reserving a place here for those who lived through trauma and the terror of 9/11, saying that you deserve to have this be your home after what you witnessed. This will include the many first responders who put their lives on the line in time, the future is so uncertain, they deserve our gratitude, and they deserve a great place to live," Hochul said.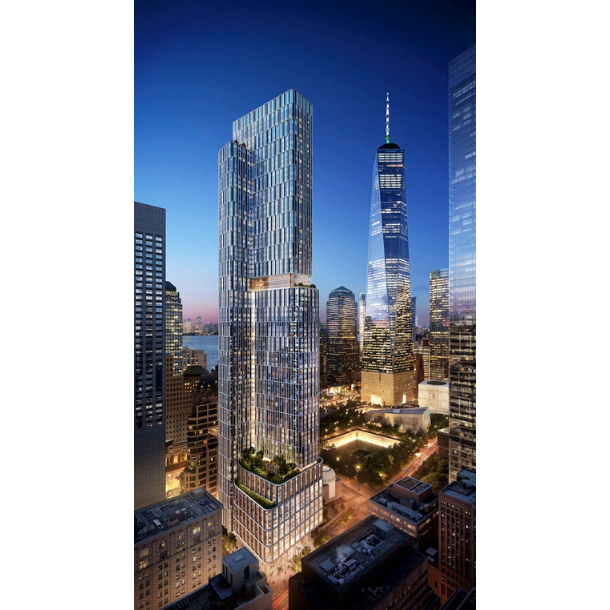 In 2019, the Port Authority of New York and New Jersey along with the Lower Manhattan Development Corp. issued a request for proposals to redevelop 5 World Trade Center – that was originally planned as an office tower – and a contract was awarded in 2021. However, the housing proposal was stalled without final approval from the Public Authorities Control Board. 
Community members and local elected officials criticized the proposal for not including enough affordable housing units. According to Hochul, there were times during the last few months when it didn't seem that the board would grant approval – even during its last meeting – but those involved "were not to be deterred." 
The financing for the project will include $40 million in funds from the executive chamber, $20 million from the Legislature and $5 million from Battery Park City Authority's Joint Purpose Fund.
The announcement comes about a week after the governor unveiled a slew of executive orders to spur housing development – including a plan to allow residential projects in Gowanus, Brooklyn, to continue with developer tax benefits. She announced the efforts months after a legislative session where she and legislative leaders failed to come to an agreement on a housing plan. 
Along with Hochul, state Sen. Brian Kavanagh, Rep. Dan Goldman, Assembly Member Charles Fall, Manhattan Borough President Mark Levine and 32BJ SEIU President Manny Pastreich joined in the celebration of the project announcement during the press conference. "By linking public subsidies and funding to the creation of good jobs, this project defends vital labor standards at a time when working-class New Yorkers are struggling to keep up. There is no greater expense that impacts the lives of 32BJ members than the skyrocketing cost of housing," Pastreich said.
When asked by reporters whether or not she was frustrated with the Legislature for failing to address housing last session, the governor said her main focus was getting housing built. "You can be with me or you cannot be with me. I think the path is clear, it's better to be with me," Hochul said. 
"I don't really get frustrated, I just get to work," Hochul added while affirming her willingness to work with the Legislature next session.
Powered By
NEXT STORY: New York City crane collapses, hits neighboring building