2023 session wrap-up
State lawmakers poised to close out the session without a housing plan
Legislative leaders said they came to a two-way agreement on housing while casting blame on Gov. Kathy Hochul.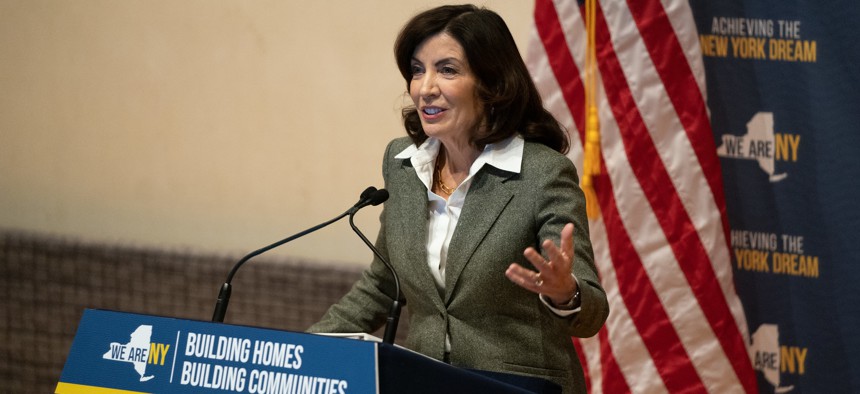 As the 2023 legislative session comes to a close, the governor and legislative leaders could not come to an agreement on a housing plan.
On Thursday, the fate of the housing plan that state lawmakers had been working on to pass in the final days of the session quickly became unclear. Sources with close knowledge claimed that "good cause" eviction was a main point of contention among lawmakers and threatened the possibility of a two-way agreement.
But by the end of the day, state Senate Majority Leader Andrea Stewart-Cousins and Assembly Speaker Carl Heastie said the Legislature was able to come to an agreement – and the pair claimed the governor was not on board in a joint statement. That agreement, they said, included a slew of popular housing proposals, including "good cause" eviction protections, the Housing Access Voucher Program, an extension of the 421-a affordable housing tax break and more.
Gubernatorial spokesperson Julie Wood immediately followed up with a statement in the governor's defense. Wood said the Legislature rejected the governor's housing proposal in her executive budget and is now casting blame on the governor – without having a housing package of their own. "Unlike the more than 500 bills the legislature has passed since January, no housing package was ever even introduced, let alone passed, for the Governor's review," Wood wrote.
After Gov. Kathy Hochul and the Legislature failed to include a housing plan in the final state budget, it remained unclear if housing would be addressed before the end of the session. The governor faced an uphill battle to garner support for her controversial Housing Compact – which was fiercely opposed by suburban lawmakers. Hochul had indicated her plans to continue pushing an aggressive housing agenda – even if it means she'll have to wait until next year to get a better deal. All the while, housing and tenant advocates continued to push for the passage of "good cause" eviction and the housing access voucher program in the waning days of the session.
After this week, lawmakers will head back to their districts to carry out the remainder of the year.
Powered By
NEXT STORY: Adams mocks Lander as 'loudest person in the city'