Affordable Housing Special Report
Hochul wants to pass a housing package on her own terms
Rather than accepting a compromise, the governor would rather push for a better deal next year.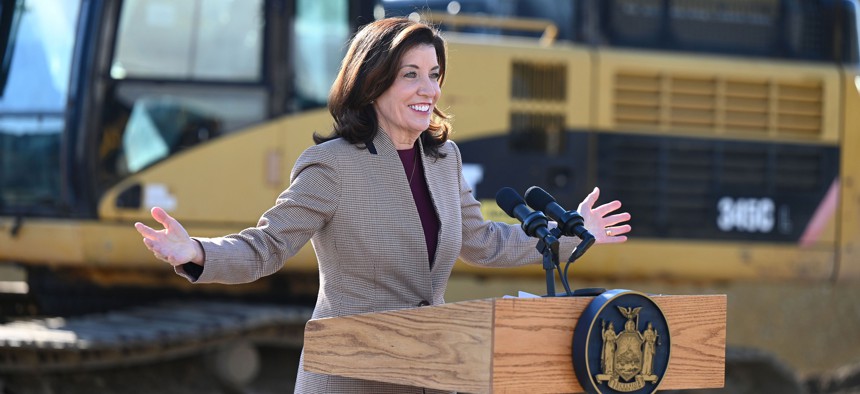 After getting her housing proposal thrown out of the state budget a few weeks before it was finalized, Gov. Kathy Hochul was still committed to discussing housing before the end of the legislative session. Now with just a few weeks left, it's unclear whether that's possible or even realistic – and not doing anything will only exacerbate the state's housing affordability problems.
"The failure to enact the governor's housing plan means that we're in the same old situation: We have a housing shortage that's making housing really unaffordable to a wide range of our families," said Vicki Been, faculty director at the New York University Furman Center.
Hochul pledged to create 800,000 new housing units over the next 10 years – a cornerstone of her State of the State address and executive budget proposal. If passed, Hochul's Housing Compact would have required local municipalities to achieve new home construction targets over the next three years and threatened to override local zoning laws if they failed to meet those goals. The proposal received criticisms from both suburban Republican lawmakers and from Democrats. The plan also would have renewed tax incentives to build affordable housing.
George Arzt, a Democratic consultant, said the lack of lobbying efforts from key members of the state Legislature made it harder for the governor to gather support for her housing proposal. "It doesn't seem that there was a process involved where people on the Second Floor were speaking to people in the Legislature," Arzt said. "This is a top-down process. You have to do the leaders, then the suburban Democrats representing Long Island and Westchester."
In the end, the ambitious housing proposal was left out, according to the governor, because of the Legislature's opposition. "They're not ready to commit to the kind of transformative change I proposed," Hochul said of her Housing Compact critics at a budget press conference. Jack O'Donnell, a longtime Democratic strategist, said excluding the housing plan was a strategic move by Hochul. "The governor's decision to not accept half a loaf on housing was from a position of strength. Rather than just taking a small piece and saying this was a win she's really pushing for the whole thing," O'Donnell said.
What did make it into the final state budget was hundreds of millions of dollars in new emergency rental assistance. Hochul had maintained before the budget passed that she planned to revisit housing after the budget, but she told The Buffalo News in an interview on May 8 that that was no longer the case. "I also didn't want to miss the window to really start the conversation and say, 'We're talking about housing now,'" she told the outlet about her housing proposal. "So now I have a year to build consensus and support around a plan."
In a May 1 interview on "Inside City Hall," the governor said she plans to educate lawmakers on housing and eliminate the "fearmongering" tactic that she claimed Republican lawmakers (and some Democrats) used as a means to stifle her housing proposal. Hochul indicated that she will also prioritize garnering support for office conversions, lifting the floor area ratio cap and legalizing accessory dwelling units. "We are pricing New Yorkers out of their home state – and that's not sustainable," Hochul said.
When asked by City & State about Hochul's plans to tackle housing and about her support for various other housing initiatives, the governor's office pointed to her previous comments to reporters. "I'm going to be aggressively pursuing many of the elements of my plan. I may make some adjustments," Hochul said. The governor also indicated that she knew it would take time to garner support and that the best time to get things done was during the budget. "The next time I have the ability to do this, defined as I want to, would be the budget," Hochul said responding to a question on whether she planned to get a housing proposal passed before the end of the session.
The governor's decision to not accept half a loaf on housing was from a position of strength.
– Jack O'Donnell, managing partner, O'Donnell & Associates
Experts who spoke with City & State agreed that the absence of a housing plan in the state budget was unsurprisingly not beneficial to the state's housing crisis and could have long-term negative impacts. Among them was John Sanchez, executive director of the 5 Borough Housing Movement, who said the state will see an increased number of homeless New Yorkers and suffer population loss if a housing plan did not pass this year. According to Sanchez, that population loss will also have a trickle-down effect on New York City's school system, the financially strained Metropolitan Transportation Authority and infrastructure projects across the state.
Sanchez also blamed Manhattan elected officials who were vehemently opposed to lifting the floor area ratio cap and opposed plans for office conversions. "It's a shame that the few representatives that represent affluent neighborhoods are able to block housing construction in a state that needs it," Sanchez said. "New Yorkers are tired of Manhattan elected officials being more concerned about tall buildings than they are thousands of New Yorkers living in shelters."
While Assembly Housing Committee Chair Linda Rosenthal remained optimistic that a version of a housing proposal will get passed, she noted that to gain the support of suburban lawmakers, the governor's housing proposal cannot be identical for all parts of the state. Rosenthal underscored the effects of not addressing housing this year. "So many households are rent-burdened. I think rather than worrying about billionaires fleeing, we have to worry about working-class New Yorkers leaving – people who work for minimum wage, work two or three jobs but when the rent keeps going up; they just can't afford to stay here," Rosenthal said.
Apart from building more housing across the state, advocates were optimistic that "good cause" eviction tenant protections would be included in a broader housing plan. The bill has support from progressive lawmakers, but it has stalled in committee and had previously failed to pass either chamber. Advocates said they weren't completely sold on the governor's housing proposal and were willing to work with her and the Legislature to incorporate tenant protections into the plan, but those hopes were dashed when housing was excluded from the state budget.
Cea Weaver, the campaign coordinator for Housing Justice for All, said she was disappointed that the governor started the session with an emphasis on housing and then failed to get a deal on housing when the final budget was over a month late. Weaver remained hopeful that the Legislature will move forward in passing "good cause" eviction before the end of the session while noting the governor must do her part as well. "The blame really squarely falls with the governor," she said. "I am confident the Legislature will try to get something passed that will address the housing crisis and it will be shameful if the governor doesn't sign the bills."
According to Arzt, Hochul has the best chance of getting a proposal passed this session because next year will be an election year for state lawmakers. "People on her staff need to understand that she needs a victory; the (Hector) LaSalle debacle followed up by this (failed housing plan) is not good for anyone in Albany," Arzt said. "Like anything in life – you need a couple of W's in your corner."