2023 session wrap-up
Housing Committee chair: 'Dire need' for housing legislation before end of session
Assembly Member Linda Rosenthal indicated that the Legislature is working toward consensus on laws that protect tenants and encourage development before the end of session this week.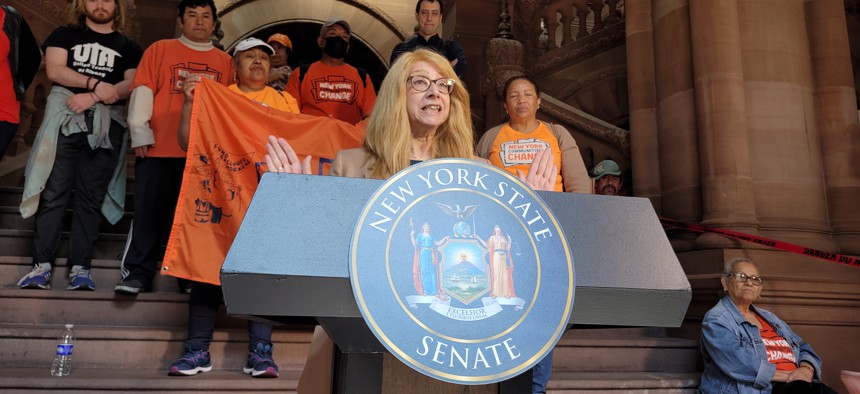 Lawmakers are working to introduce a housing package in the final week of the legislative session, with a working group formed to examine which policies should be included. Housing advocates are pushing hard for the inclusion of tenant protections known as "good cause" eviction, but priorities of Gov. Kathy Hochul and New York City Mayor Eric Adams may not make the cut. 
Speaking to reporters on Monday, Assembly Housing Chair Linda Rosenthal said lawmakers in the working group – first reported by Politico on Friday – are trying to find consensus on a package of housing bills before people go home for the year. "I think there is a dire need for something to happen," the Upper West Side Democrat said following a rally in favor of the legislation that would require landlords of large buildings to prove they have a reason for evicting a tenant or not renewing their lease, and effectively cap rent increases on market-rate apartments. "There's a lot of pressure to do things the city wants – 421-a and commercial conversions," Rosenthal said, referring to the developer tax break and turning office buildings into residences. "On the other side, there is such a grand need to protect tenants who are getting kicked out of their homes." Rosenthal added that "there's something for everyone" in the ideal bill package.
State Senate Majority Leader Andrea Stewart-Cousins said a few weeks ago that "good cause" eviction "as written" would not get passed before the end of the year – but left the door open to approving similar tenant protections if not the exact bill language that currently exists. Rosenthal at the rally on Monday alluded to the distinction. "Whatever you call it, it needs to get done," she said.
Asked whether the legalization of basement apartments, one of Adams' biggest asks of Albany, is part of the discussions, Rosenthal demurred. "I don't know if they'll ultimately be in the package, but they've been discussed," she said. At a press conference about the ongoing asylum-seeker crisis in New York City Monday morning, Adams mentioned basement apartments again in relation to housing migrants. "We were hoping and we'll continue to push in our Albany plan to look at basement apartments so that we can legalize them and put them on the pathway to legalization," Adams said. He raised the prospect of subsidizing the placement of migrants in private residences.
Rosenthal questioned whether legalization of basement apartments would do much to help with the immediate need facing the city to house an increasing number of migrants. "New regulations wouldn't happen overnight anyway, so I'm not sure that timeline is correct," she said. And with regards to one of the other big asks from Adams' administration, an extension of the 421-a developer tax break to build affordable housing, Rosenthal wouldn't give many specifics. Lawmakers earlier this year rejected a scaled back extension of the program that expired last year that would have extended the timeframe for construction on projects already in the works at risk of losing their tax break. "All of it is under discussion," Rosenthal said when asked whether lawmakers were considering a full extension of the program or the limited extension from earlier this year. She has expressed skepticism of the tax break in the past.
Developers have also called for the limited 421-a extension to provide more time to complete construction. "New York has less than a week left for leaders in Albany to stop dragging their heels on the easiest, most impactful thing they can do to address the state's worsening housing crisis: Pass the 421-a extension," Carlo Scissura, president and CEO of the developer industry group New York Building Congress, said in a statement on Monday. "Without the extension, Albany is jeopardizing much-needed housing, further diminishing our state's pipeline." The Real Estate Board of New York has also supported the proposal. 
Aspects of Hochul's Housing Compact, unveiled with fanfare in January, also seem unlikely to make it into a final package of bills if lawmakers reach a compromise between the two houses. In the budget, they rejected the governor's proposal of implementing housing growth mandates to force towns and cities to increase the state's housing supply and instead proposed offering incentives to municipalities. Ultimately, neither made it into the spending plan. "This is pretty much legislatively driven, but you know, eventually it would get to her," Rosenthal said of Hochul's involvement in the talks. And she all but dismissed the idea that legislators would address either mandates or incentives before the end of the session. "The governor said that was something she wanted to tackle next year, and so that's probably when that will happen," Rosenthal said. A spokesperson for the governor did not immediately return a request for comment. 
If lawmakers do introduce something in these last few days, tenant protections are almost guaranteed to be part of the package. "I think a lot of people are dedicated to getting 'good cause' protections, so in order for something to be acceptable for everyone, I think there has to be something that protects tenants, that developers want, that the city wants," Rosenthal said. Activists made a similar demand during budget negotiations that lawmakers not accept housing policy without the tenant protections.
Housing advocates and lawmakers rallied for the legislation on Monday, calling for its passage before the last scheduled day of session on June 8. "We did not get it done in this year's budget, and our last chance is the next four days to get this done," state Sen. Samra Brouk said. "I for one do not want to go home to Rochester without having passed 'good cause' legislation… I'm an aye if this comes to the floor."