Politics
NY Senate leader vague about plans for end of session, but 'good cause' eviction as written is out
State Senate Majority Leader Andrea Stewart-Cousins didn't have many details about the agenda for the remaining weeks aside from excluding the tenant protections.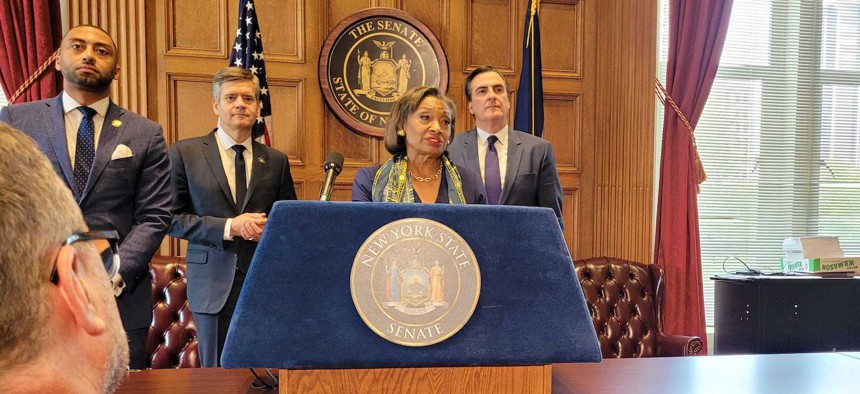 State lawmakers have fewer than a dozen days left of scheduled session days this year, and state Senate Majority Leader Andrea Stewart-Cousins told reporters Tuesday that her members are ready to keep passing bills until the final day. But unlike in recent years, no major issue has emerged to dominate end-of-session conversations.
"As you can see, we are full steam ahead in terms of our legislative agenda," she said at a press conference announcing the passage of a package of bills addressing lobbying transparency and judicial accountability. And she said to watch out for more packages of legislation like that in the final weeks officials will be in Albany before session ends on June 8. "We're just really trying to deal with the issues that we know," Stewart-Cousins said. "Again, we do want to keep discussing housing, we do want to continue doing some criminal justice reforms."
But the majority leader was light on details about what New Yorkers might expect from her chamber or the Legislature as a whole before the start of summer. On Monday, Gov. Kathy Hochul said she hoped to get some "low-hanging fruit" related to housing done, mentioning accessory dwelling units (additional housing, such as basement apartments or guest houses, built on people's existing properties) and office to apartment conversions as two examples. But asked about the comment, Stewart-Cousins didn't confirm any particular bill or proposal her conference might approve related to housing. "If there are, quote unquote, low-hanging fruit, we will certainly contemplate approaching it," she said.
Often, one or more key issues emerge that lawmakers want to get done before leaving Albany for the year. Democrats approved new rent laws in 2019, and Albany leaders negotiated a flurry of high profile bills in 2021. Last year there was gun control in the wake of the white supremacist mass shooting in Buffalo, as well as a landmark voting rights law and strengthened abortion protections. But this year, leaders haven't seemed to coalesce around big-ticket items in the same way. "That's a credit to our efficiency," she said. Stewart-Cousins referenced major achievements in past years in clearing the backlog of priorities after taking control of the state Senate, methodically checking off items from the legislative to-do list. "The Brennan Center, in 2004 (when I first ran), they called us the most dysfunctional Legislature in the country," she said. "We've been able to actually take on the hard things, accomplish the things… We've done a lot."
One thing that New Yorkers shouldn't expect is the "good cause" eviction bill – at least, not the way it's currently written. "We know that the 'good cause' bill as it exists will not pass," Stewart-Cousins said. "So we have perpetually been trying to find some way to provide that type of tenant protection, even if it's not that specific bill." In its one-house budget proposal, the state Senate included a commitment to the "principles" of "good cause" eviction, which Stewart-Cousins reiterated on Tuesday. "We've done this before, and I think we have to be innovative and creative ways to do it again," she said. 
Other than "good cause" eviction, the only other specific bill that Stewart-Cousins mentioned was the Clean Slate Act, which she named as one of the issues the Legislature is looking to pass this year. The bill would seal the criminal records of most New Yorkers after a certain amount of time following their release so long as they don't reoffend. It passed the state Senate last year and is expected to get approved again. But it has consistently failed to garner enough support in the Assembly. Assembly Speaker Carl Heastie said earlier this month that he wants his chamber to consider it before the end of the year.
A slew of issues that various activists would like to see get through the Legislature went unmentioned by Stewart-Cousins on Tuesday, including a package of sentencing reform, parole reform, legalization of supervised injection sites and a trans safe haven bill. "It's moving," she said. "And you'll see hundreds and hundreds of bills coming forward in the next couple of weeks."
Powered By
NEXT STORY: Hochul struggling with favorability among independents, seeing progress with suburbanites