Budget
The budget is finally finished. Here are the issues left to tackle this session.
Housing, criminal justice and transgender health care are all on the docket for New York lawmakers and advocates.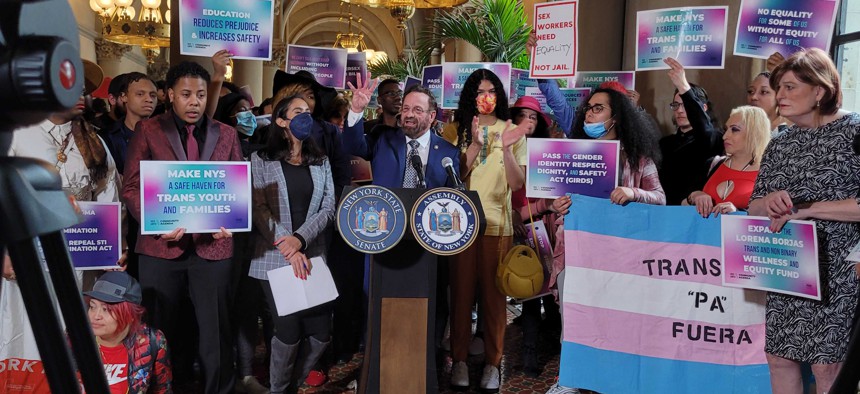 State lawmakers finally finished the $229 billion state budget a month late, which now leaves them just one month of scheduled session to address any outstanding business before they break for the year. Although this year's budget contained a significant amount of policy, plenty ultimately didn't make the cut. Normally, the Legislature takes a short break at the beginning of April before returning for the second half of the legislative year. But with the delays in approving the spending plan, lawmakers find themselves with less time than usual to address anything that didn't make it into the budget. 
Despite the condensed time frame, Albany officials still have plenty on their plates that lawmakers and activists want to get done this year. Technically, there is nothing stopping legislative leaders from keeping their members in Albany longer, but they traditionally have scheduled session days for just for the first half of the year. Assembly Speaker Carl Heastie has already said he doesn't intend to ask his chamber to stay later to accomplish more, so for now, it seems legislators will in fact only have until June 8, the last day of the legislative calendar this year.
As the days wind down, here are some of the biggest issues and policy items that the Legislature could still tackle before the summer.
Housing
Gov. Kathy Hochul's plan to build 800,000 new units of housing over the next decade didn't make it into the budget, so now it will be her focus for the rest of the legislative year. "I don't know what will be accomplished in this session, but while the legislators are here, it gives us a chance to have the conversations," Hochul said at an unrelated press conference earlier this month. Her plan included a controversial measure that would have allowed the state to override local zoning laws if a community was not on track to meet its housing growth goals. It met intense backlash in the suburbs and in the end, Hochul and legislative leaders removed nearly all housing proposals from the budget. Both Heastie and state Senate Majority Leader Andrea Stewart-Cousins have said that they will continue having those conversations.
Clean Slate Act
Legislation that would seal the vast majority of criminal records under specific conditions after a certain number of years has come close to passing multiple years in a row but has repeatedly failed to make it through the Assembly. Hochul included a version of the Clean Slate Act in her executive budget proposal last year but she and legislative leaders could not resolve the differences between hers and the legislative proposals. "It helps deal with the issues of a workforce," Heastie recently told reporters, saying that he expects his chamber will address the legislation this year. "So I think there's more understanding now of the benefits of Clean Slate." The bill has broad support from organized labor and major state employers but has faced criticism over unintended consequences of sealing criminal records.
Sentencing reform
Criminal justice reform advocates are making sentencing reform their biggest priority for the final month of the scheduled session. They specifically are pushing for three bills: the Second Look Act, the Earned Time Act and Eliminate Mandatory Minimums Act. The first would allow judges to review and reconsider long sentences while the second would make it easier for incarcerated people to reduce their sentences through good behavior. The final bill would do exactly what its name implies, which is eliminate minimum sentencing requirements for various crimes. 
Transgender safe haven bill
The New Pride Agenda, a statewide LGBTQ+ rights organization, held its first day of action in Albany late last month for trans rights. In particular, advocates called for the Legislature to approve a bill meant to establish New York as a "safe haven" for trans youth from states that have passed laws that make it difficult or illegal to access gender-affirming care. The bill would prohibit law enforcement from cooperating with other states' investigations into gender-affirming care and protect the information of both the children and the doctors providing the care. A handful of other states, including New Jersey, have approved similar measures already.
Voting rights
New York has made strides in updating its antiquated voting rights laws in recent years, but activists are pushing lawmakers to do more before the end of the legislative session. They're advocating for a package of five bills meant to make voting easier and help protect voter security. One would require plain language for ballot initiatives, rather than the current legalese the proposals are written in. Another would permit nonpartisan groups to provide food and beverages to voters waiting in line, which state law right now prohibits. Yet another would require the use of paper ballots, a measure meant to combat security concerns surrounding paperless, electronic voting machines.