Policy
NY advocates want to do away with mandatory minimums
While bail reform, parole reform and the sealing of criminal records have been the main focus for years, advocates are hopeful the growing enthusiasm of sentencing reform will be fruitful this session.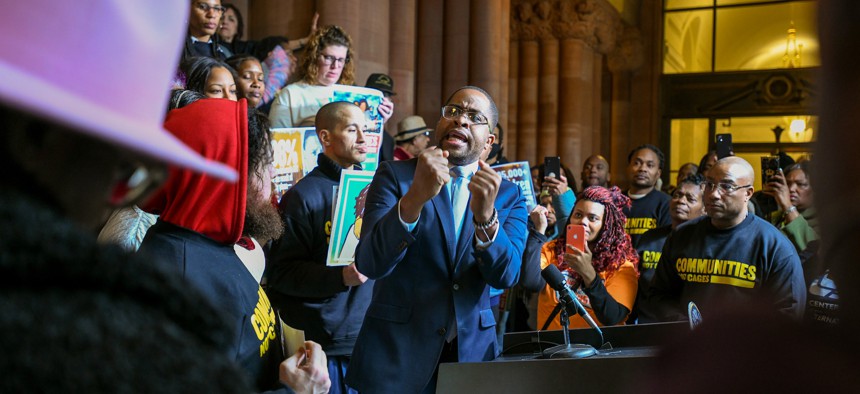 As the legislative session gets underway, the criminal justice reform conversation is heating up. In years prior, the political conversation has largely been centered around bail reform, parole reform, and there's been enthusiasm for legislation to seal a person's criminal record after a set amount of time with the Clean Slate Act. 
Those continue to be prominent issues, and advocates and this session lawmakers are also prioritizing sentencing reform, an effort that dates back to 2021 and has since had growing enthusiasm. This week, a crowd of supporters, formerly incarcerated individuals and state lawmakers held a rally on the Capitol's Million Dollar Staircase, calling on the governor and the state Legislature to pass the "Communities Not Cages" legislative package. 
The package is made up of three bills introduced last year: Eliminate Mandatory Minimums Act, which would allow judges to make individualized decisions and consider mitigating circumstances in cases while eliminating mandatory minimum sentences, the Second Look Act, which would allow judges to review and reconsider excessive sentences and the Earned Time Act, which would give time off prison sentences for good behavior.
Advocates say they've been laying the groundwork to garner support for the legislation by speaking with lawmakers and educating citizens that mandatory minimums in the state still exist. 
"There was a lot happening last session – bail reform and discovery really overwhelmed the conversation. It was also an election year," said Eli Northrup, policy counsel with the Bronx Defenders. "We're hoping that now is the time to make real change."
Sponsors and supporting lawmakers of the legislative package argue longer prison sentences contribute to recidivism and cost taxpayers thousands of dollars per year. 
State Sen. Zellnor Myrie, who sponsors the Eliminate Mandatory Minimums Act in the state Senate, said sentence minimums fail to increase safety or stability while addressing the crowd of supporters at the rally. The Assembly sponsor of the bill, Demond Meeks, also called the legislation transformative for incarcerated individuals and their families. "It is time for New York state to end the warehousing of our communities and begin rehabilitating and preparing them for a second chance at life," Meeks said. 
However, not everyone is in support of the proposed sentencing reform legislation. Rafael Mangual, an expert at the policy think tank the Manhattan Institute, said he was worried the legislation would contribute to crime and pointed to the rate of crime in New York City. "It's a relatively misguided approach to criminal justice policy. These are places that cannot afford the problems that can invariably arise if you continue to expand the scope of offenders who will be out on the street rather than behind bars," Mangual said. 
Other criminal justice reform efforts certainly still remain in play this legislative session. Last week, advocates also rallied at the staircase for the Clean Slate Act – legislation first introduced in 2020 to seal old criminal records. And several outstanding parole reforms are still on the table and remain at the top of mind for advocates, including fair and timely parole, a bill that would change the law to make it easier for eligible detainees who don't pose a threat to be granted parole, and elder parole,  a bill that would allow detainees who are 55 or older and have served 15 years of their sentence to be eligible for parole. 
Members of the Communities Not Cages coalition are hopeful the many facets of criminal justice reform can all be addressed and argue that the respective bills complement one another.
Jared Trujillo, policy counsel with the New York Civil Liberties Union, underscored that sentiment in an interview with City & State. "In Albany, (lawmakers) can walk and chew gum at the same time," Trujillo said.