Criminal justice
Progressives remain steadfast though voters are wary of bail reform
The political left is facing a messaging battle as it attempts to block changes in the New York state budget due April 1.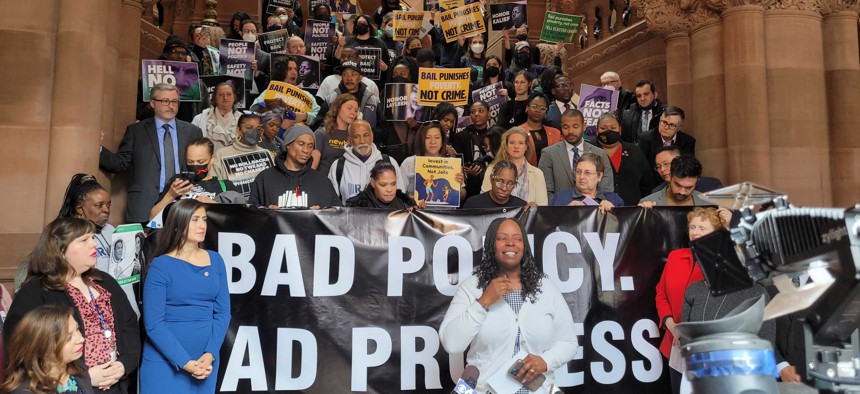 Registered voters are souring on the concept of bail reform at a particularly bad time for progressives ahead of the April 1 state budget deadline.
Though an overwhelming majority of defendants released pretrial have not been rearrested for a violent crime before their court appearances, nearly two-thirds of registered voters polled think bail reform resulted in an increase in crime. A majority say laws first enacted by Albany Democrats in 2020 have been bad for the state, according to a new Siena College poll. A total of 82% of respondents said judges ought to have more discretion to jail people pretrial based on how a person might threaten public safety, though more than half of the 804 voters polled are at least somewhat concerned about how changes might disproportionately hurt the poor and people of color.
The unpopularity of bail reform adds to the pressure on Assembly Speaker Carl Heastie and state Senate Majority Leader Andrea Stewart-Cousins, who have resisted making any changes in the budget, to support a public safety plan backed by the governor ahead of the April 1 budget deadline. 
The legislative leaders have been cool to the idea of making more crimes bail eligible, expanding judges' discretion or loosening how people under 18 can be tried in criminal court for gun crimes, as the Hochul plan proposes. They and other Democratic lawmakers, however, have expressed openness to discussing some parts of the gubernatorial plan. This includes expanding funding to help prosecutors comply with discovery law changes passed in 2019. There is also support for increasing funding for mental health services to help reduce homelessness. 
Progressives though are still hoping to block changes with the help of a counter proposal released this weekend by the Black, Puerto Rican, Hispanic and Asian Legislative Caucus that would attack rising crime through increased social services rather than additional pretrial incarceration. 
"We do not have to compromise our civil rights for the sake of public safety," said Assembly Member Latrice Walker, a caucus member who said she is on her seventh day of a hunger strike at a Monday morning rally in the Capitol. "That's the lie that they had told us over and over and over again, (but) we are here today, committed to dispute those lies."
The caucus plan aims to increase state funding for mental health services, youth programs and education. Other provisions would expand the use of diversion and restorative justice programs while also directing more public money to housing and public transit. "When people's basic human needs are not met, crime goes up," reads the introduction to the 10-point plan. "When our criminal justice system prioritizes punishment over rehabilitation, crime goes up." A spokesperson for the governor reiterated in an email Hochul's commitment to working with legislators to strike a budget deal this week. 
There is no substantial relation between criminal justice reforms passed in 2019 and a current increase in crime following record lows, according to a recent report by the left-leaning think tank Brennan Center for Justice and another one by the Office of the New York City Comptroller. At least 3,460 criminal defendants that were released pretrial between July 2020 and June 2021
were subsequently rearrested and charged with violent felonies out of roughly 100,000 total cases reviewed by the Times Union earlier this year. But somewhere around 98% of those tens of thousands of defendants meanwhile avoided life-changing disruptions from being incarcerated pretrial. 
The Hochul administration has presented her proposals as tweaks rather than wholesale changes to bail reform, but that has not assuaged critics who say she is pushing changes with days to go until the budget deadline for reasons other than good public policy. "Kathy Hochul is worried about the politics," said Stanley Fritz, political and campaigns director for the progressive advocacy group Citizens Action New York. "Kathy Hochul does not care about the Black and brown vote."