New York State
Here's some of the major legislation New York passed in the end of the legislative session
After addressing abortion, cryptocurrency and guns, members of the state Senate and Assembly now must shift gears to prepare for elections.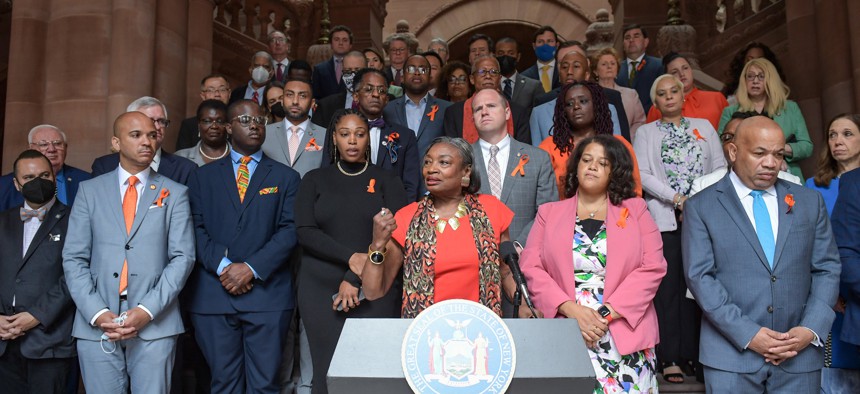 As per tradition in Albany, the state Senate wrapped up its business well before the Assembly – but in the end, the state legislative year came to a close in a timely fashion. Lawmakers left riding the highs of new gun legislation, strengthening abortion acess and codifying voting rights in state law. But despite major victories in those areas, which will no doubt play well on the campaign trail, a slew of activists were left disappointed as leaders left their priorities on the table. 
Both gun laws and abortion rights became hot national issues in the wake of a leaked draft decision from the U.S. Supreme Court overturning Roe v. Wade and two mass shootings that left a combined 31 people, many children, dead in Buffalo and Texas. They quickly became priorities for lawmakers at the end of the session, with many negotiations revolving around what a final deal on those two topics would look like. In the end, lawmakers approved a series of 10 gun bills and six abortion bills, announced to fanfare. It didn't take long for Gov. Kathy Hochul to sign the gun legislation into law at a well-attended press conference with officials from across the state touting the achievement in the face of federal inaction. 
Those two issues were hardly the only ones that lawmakers addressed during the whole of session, or in those final days. By the time they went home, they had passed over 1,000 pieces of legislation, far outpacing recent years. But several bills that may have become the focus of final negotiations in any other year ultimately fell to the wayside. And a burst of last-minute advocacy for legislation like the Build Public Renewables Act and the Clean Slate Act ultimately amounted to nothing as they died in the Assembly. The state Senate managed to revive one major environmental priority – a moratorium on cryptocurrency mining – from the dead, sending it to Hochul to decide whether or not to sign it. But it failed to approve legislation to make it easier to overturn wrongful convictions that the Assembly approved. But several issues, including parole reform, the 421-a tax break for developers and eviction protections, never made it to the floor in either chamber. Major legislation meant to protect undocumented immigrants in New York from federal immigration officers hardly received a mention. Advocates for the community demanded more action after the budget failed to replenish the Excluded Workers Fund or expand publicly subsidized health care to all regardless of immigration status. Immigrant rights, criminal justice reform and housing, among the biggest issues in Albany, ultimately fell to the wayside as pressing, recent national issues took the forefront. 
Still, lawmakers had a busy last week before they went back to their districts. And they had plenty to campaign on, even if they failed to please every advocate. Here's where some of the biggest issues played out. This post was updated on June 6.
Gun control and domestic terrorism
Hochul made gun control and improving monitoring of domestic terrorism a major priority after a racist mass shooting targeting a Black neighborhood in Buffalo left 10 New Yorkers dead and a Texas school shooting left 19 children and two adults dead. Lawmakers passed a package of 10 bills that Hochul has already signed into law. It will require gun manufacturers to equip guns with microstamping technology if determined feasible, which is meant to make ammunition easier to trace. Another law requires a license to purchase a semiautomatic rifle, with the minimum age for such a license being 21, effectively raising the age from 18 to buy AR-15-style rifles. A third law expands the definition of "firearm" to close a loophole that permits weapons that technically don't meet the current definition to evade state regulations. Hochul signed legislation that requires law enforcement across the state to seek an extreme risk protection order, which would allow for confiscation of guns, if the evidence warrants it. On the domestic terrorism side, the state will create a new Task Force on Social Media and Violent Extremism and another that would make the public threat of mass harm a crime. "We are in desperate need of a conversation about guns, but we are also in desperate need of action," Assembly Speaker Carl Heastie said in a statement. "Here in New York, we are ready to act."
Abortion rights
Both houses approved a series of bills meant to strengthen abortion protections in the state, both for those seeking care and for providers. One bill would protect providers against out-of-state legal action for abortions performed legally in New York. That bill seeks to protect providers in cases where other states allow anyone to bring civil charges against abortion providers regardless of where they are located, as well as potential extradition on criminal charges. Two more bills would prohibit medical malpractice and professional misconduct charges against New York abortion providers who offer services to people from other states where abortion may become illegal or highly restrictive. Others provide out-of-state patients the right to travel to New York for abortion care, improve confidentiality protections and create a task force to study abortion access. 
Election reform and voting rights
Both chambers passed the New York Voting Rights Act, landmark legislation which would enshrine at the state level a number of protections that have been stripped back at the federal level in recent years and would be the most comprehensive state-level bill of its kind in the nation. It would also establish a statewide voting and elections database to collect currently decentralized information into one location, a provision that technically passed as a separate bill. Gov. Kathy Hochul supported the bill previously, although did not say whether she would immediately sign it into law. The state Senate also approved legislation relating to the state Board of Elections' authority to examine voting machines was approved on May 31 also, as well as legislation that would outlaw so-called "hybrid" voting machines that have come under scrutiny over security risks they pose was amended. However, both died in the Assembly.
Mayoral control
The final language lawmakers approved to extend Mayor Eric Adams' control of New York City schools falls a little short of his original ask of three or four years, instead extending mayoral control for just two years. It also changes the school governance structure to give parents a greater say and create additional accountability measures for the mayor. The bill narrowly passed the state Senate with several Democrats voting against the measure. Although he got an extension, Adams was not happy with the final deal agreed to among lawmakers. "While we believe all parties are operating in good faith, we also believe the legislation as currently written is not the best we can do for New York City students, and we look forward to addressing these concerns in the coming days," Adams said in a statement when the deal was announced. Adams also has said he would fight against a bill lawmakers approved to reduce class sizes in the city.
Clean Slate Act
For the second year in a row, the Clean Slate Act came close to passing, but ultimately failed to receive approval. The legislation would clear someone's criminal record after a certain amount of time following the completion of their sentence provided they don't face new criminal charges in that time. It's meant to help formerly incarcerated people reintegrate into their communities and make it easier to find jobs. The bill came close to passing again as part of the budget this year, but again fell short. Lawmakers in the state Senate voted on the legislation, an action that advocates celebrated in the Capitol. "We're gonna get it done," state Sen. Zellnor Myrie, the sponsor, said at the rally the day it passed the state Senate. "I'm so proud to have been part of this coalition, so let's get this across the finish line." But despite the best attempts of Assembly sponsor Catalina Cruz and activists, the bill never made it to the floor of that chamber, and Assembly members left without taking a vote. 
NY HERO Act tweaks
Lawmakers did not pass changes to the HERO act, despite confusion about the agency responsible for enforcing it. Lawmakers celebrated the passage of the NY HERO Act last year as a major victory for the essential workers who kept the state running throughout the pandemic, establishing new rules, rights and regulations meant to keep them safe in the workplace. But as workers attempt to exercise their right to establish workplace safety committees, confusion has arisen around what role of the Department of Labor. When a Chipotle location resisted its workers' attempts to form a committee, the Department of Labor asserted it has no authority to issue penalties – despite the law laying out a series of increasing fines for failing to adhere to the regulations around the safety committees. 
"Good cause" eviction and 421-a
Neither contentious legislation that would increase tenants' protections against eviction nor a controversial tax break for developers to incentivize the building of affordable housing in New York City came to a vote before lawmakers left Albany for the year. At one point, some advocates and lawmakers floated the idea that the two issues could get passed together as a part of a compromise. Although activists continued to rally in the Capitol during the last week of the legislative session for "good cause," lawmakers never struck a deal on it and renewing the 421-a tax break. That program is now set to expire on June 15. 
Parole reform
Ultimately, neither a bill for Fair and Timely Parole nor Elder Parole received a vote, drawing the ire of activists who have been leading a campaign for the bills for the past several years. They campaigned for parole reform this time last year as well to no avail. Fair and Timely Parole would require the parole board to grant conditional release to all those who are eligible unless they pose a current or unreasonable risk. Elder Parole would grant any incarcerated person 55 or older who has served at least 15 years of their sentence to become eligible for parole. 
Climate legislation
A two-year moratorium on upstate cryptocurrency mining got approved by the state Legislature, a surprise development early the morning of June 3 after most believed the measure had died in the state Senate. But negotiations had continued, with lawmakers giving the thumbs up and sending the bill to the governor's desk. The Build Public Renewables Act, another priority, never came to the Assembly floor, despite last minute rallying by lawmakers and advocates. The bill would expand the New York Power Authority's capacity for generating renewable energy. This power would be cheaper than relying on private companies, advocates argue, and enable the state to take more steps toward its climate goals without relying on private third parties. The state Senate approved the measure. Heastie scheduled a July 28 Assembly hearing outside of session on the legislation, signaling support for making necessary changes to get the bill over the finish line. Since the passage of the 2019 Climate Leadership and Community Protection Act that established a number of ambitious climate goals for the state to reach, environmental advocates have faulted lawmakers for failing to approve subsequent legislation that would help the state meet those goals. 
Wrongful convictions
The state Senate left for the year without taking up this legislation that would make it easier for those wrongfully convicted of a crime to get released from their sentence. The issue is particularly relevant now with a recent Supreme Court ruling that would make such exoneration much harder at the federal level. The Assembly approved the legislation, but to the surprise of state Sen. Liz Krueger, who thought her chamber had already approved it, the state Senate didn't vote on the bill.
Equality Amendment
Even as the state Legislature approved a series of new bills that would strengthen the state's abortion laws and improve access to care, an amendment that would have enshrined the right to a number of equal rights protections, including those related to abortion and reproductive care, as part of the state Constitution failed to cross the finish line. Although it received significant attention and support, sponsor state Sen. Krueger said that the amendment would not get a vote this year. Stewart-Cousins said on June 1 that the chambers were still refining the final language. This year's failure means that it will take at least another year before the amendment can go to the voters for approval.
Public Housing Preservation Fund
In a victory for Adams as well as a number of housing advocates, the Legislature approved a bill to create the Public Housing Preservation Fund, which could open up billions in new cash for the New York City Housing Authority to spend on much-needed repairs to the city's crumbling public housing stock. Under the bill, NYCHA would be able to lease over 20,000 apartments to a newly created public benefit corporation, which could then take out loans and give the agency a significant new revenue stream. The novel approach to addressing the city's myriad problems maintaining public housing promises to be a gamechanger – though it has still faced a healthy degree of skepticism given the city's poor track record so far.
Correction: An earlier version of this article gave an incorrect death total for the Buffalo mass shooting.
Correction: An earlier version of this article gave an incorrect death total for the Buffalo mass shooting.
Powered By
NEXT STORY: Hochul signs gun laws at the start of a tough election cycle for Democrats