Gun Control
Hochul signs gun laws at the start of a tough election cycle for Democrats
Officials from across the state attended the bill signing that served as much as a rallying cry as an earnest attempt to prevent future shootings.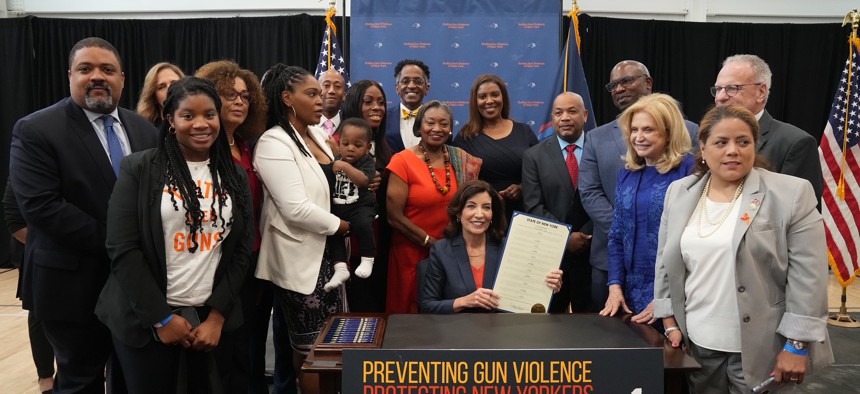 Surrounded by officials from Buffalo and around the state, Gov. Kathy Hochul on Monday signed into law a series of sweeping gun reform and anti-violent extremism bills. Legislative leaders and the governor worked with urgency following mass shootings in Buffalo and an elementary school in Texas to approve legislation to strengthen the state's already tight gun laws in the last days of the legislative session. The bill signing ceremony seemed to serve as much as a Democratic campaign rallying cry as a somber attempt to prevent such tragedies from happening again. 
Joined by state Senate Majority Leader Andrea Stewart-Cousins, Assembly Speaker Carl Heastie, state Attorney General Letitia James and numerous other elected officials from local office to Congress, Hochul praised the work of lawmakers for their speed in getting new gun laws passed following recent massacres, in contrast to both the federal government and other states. "In New York, we are talking bold, strong action," Hochul said to an assembled crowd at a Bronx YMCA. In an obvious callout of the right, she added, "Thoughts and prayers won't fix this." The racist shooting targeting a Buffalo supermarket in a Black neighborhood left 10 people dead. In Uvalde, Texas, 19 children and two educators were shot and killed. Hochul admonished other states as well as the federal government for their lack of action on gun control over the years as mass shootings continue in the United States. "Here in New York, we don't wait – we lead," Hochul said to applause. 
The 10 new laws will raise the age to 21 to purchase a semiautomatic rifle, completely outlaw large-scale ammunition magazines, expand the use of extreme risk protection orders to temporarily take guns away from someone who may be a danger to themselves or others, and require social media companies to monitor and report hateful comments, among other things. The bills passed largely along party lines after hours of debate in both chambers, with Republicans mostly voting against each measure. 
The partisan divide on the issue of guns has long been clear, but a stark example of just how deep it runs emerged in New York following the Buffalo mass shooting. Republican Rep. Chris Jacobs, who represents parts of Western New York, broke with his party to come out in support of a federal assault weapons ban. Just days later, after outcries from members of his party, the first-term Congress member Jacobs announced he would not seek reelection. Former gubernatorial candidate and Western New York conservative mainstay Carl Paladino immediately jumped in to fill the void with the backing of Rep. Elise Stefanik, the unofficial dean of New York's Republican delegation in Congress.
Stewart-Cousins did not mince words in expressing her opinion that the state was better off for being controlled by Democrats. "People talk about one party rule – good. Good," Stewart-Cousins said. "If that's what it takes to confront what we know is a public health crisis of our time, good." Her comments could easily be extrapolated to the federal government, where Democrats hold a tenuous grasp of Congress heading into a tough off-year election cycle in which the party is expected to suffer losses. "We attack this from every single level, not because we think we alone will be able to stem gun violence," Stewart-Cousins said, "but because we have to send a message that this is not how we will lead our life." Echoing early comments from Hochul about softening the hearts of officials hardened to the scourge of gun violence, Stewart-Cousins said that she hoped New York's action would "raise the consciousness of others."
Heastie offered a more pessimistic outlook, though one clearly based in the reality of the United States' history of horrific mass shootings and subsequent lack of action. "As the governor said, we cannot limit our efforts here in New York," Heastie said, speaking of the need to partner with federal officials for national gun control reform. "We're doing the best we can here in New York," Heastie added, "but I hate to say it – this isn't the last time we're going to talk about it, this isn't the last time we're going to be grieving with families, before this country looks in the mirror and says enough is enough."