Housing
Lawmakers to Hochul: No housing without 'good cause'
A growing number of state legislators say they'd rather cut housing from the budget completely than approve a deal without tenant protections.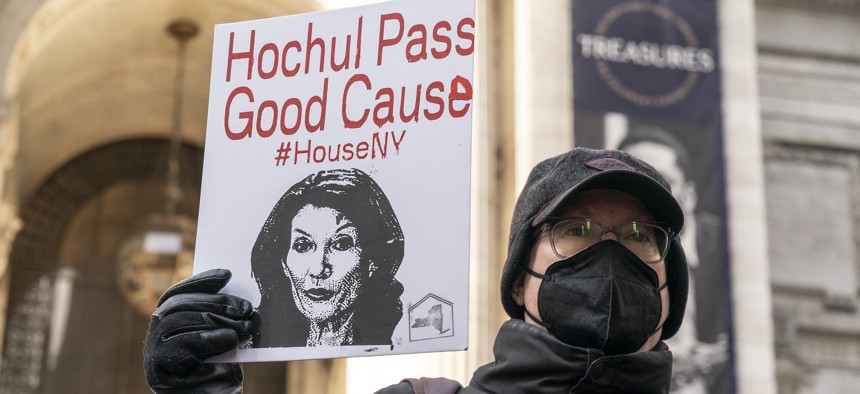 A growing number of lawmakers are indicating that "good cause" eviction will be a line in the sand for them when it comes to including a housing package in the budget. According to a count by the Working Families Party, at least 21 legislators in both houses so far have said publicly that they will not accept any housing deal in the spending plan that does not include both "good cause" eviction protections for tenants and the Housing Access Voucher Program, a new rent voucher program for tenants facing eviction. 
Although most lawmakers have not quite stated their intention to vote down a budget that does not include "good cause" eviction or HAVP, a handful have indicated that they would not support any budget deal without those two housing priorities. "I will not be voting for any housing in a budget if 'good cause' or (the Housing Access Voucher Program) are not in it," Assembly Member Emily Gallagher said at a rally outside the Capitol on Tuesday. Some of her colleagues went even further. At the same rally, Assembly Member Anna Kelles said she and her colleagues "can't go back to our districts without 'good cause,' and that's how we'll vote." Assembly Member Karines Reyes offered a similar sentiment. "Only voting for a budget that has #GoodCause," she said in a tweet on Tuesday. And state Sen. Kristen Gonzalez, one of only four members of her chamber included in the list of 21, said that legislators would give Gov. Kathy Hochul "a hell no" if the budget doesn't include the two priorities.
Other lawmakers have not said how they will vote but have said publicly that they would rather exclude housing from the budget completely than get a deal that doesn't include the tenant protections and voucher program. "Housing should not be in the budget unless it includes #GoodCause and #HAVP," Assembly Member Jeffery Dinowitz said in a tweet. It was a common refrain among lawmakers who have offered their support for policies. "NO on housing in the budget without #GoodCause and (the Housing Access Voucher Program)!" Assembly Member Jessica Gonzalez-Rojas tweeted. 
Many state legislators offered versions of the statement "no housing without 'good cause'/vouchers" in tweets and other public statements. That includes Assembly Housing Chair Linda Rosenthal, who told City & State on Tuesday that while she's not ready to say how she might vote, she "(doesn't) know that we should have housing in there if we don't have 'good cause.'" State Sen. Jessica Ramos phrased it a little differently in a Wednesday tweet: "Good Cause is the floor for any housing proposal in the budget." Assembly Member Demond Meeks, meanwhile, responded with a succinct "no" when asked whether he'd support Hocul's Housing Compact if it doesn't include "good cause" tenant protections. However, it remains unclear how these legislators would vote in the case that leaders cut all housing proposals from a final budget deal, including "good cause" and vouchers. 
The numbers have not yet hit a critical mass that could spell real trouble for the success of Hochul's budget goals, but the increasing amount of public support does spell trouble for the governor's already-beleaguered housing plans. Mandates that would require localities to hit certain growth targets or risk state override of local zoning laws have reportedly been dropped from budget negotiations already, despite being a key tenet of Hochul's housing plan that she has said are necessary to get the 800,000 units of new housing in her proposal built. The governor has also consistently declined to support both "good cause" eviction and HAVP, repeatedly stating that she has her own housing priorities.
Speaking to reporters on Wednesday, state Senate Majority Leader Andrea Stewart-Cousins affirmed her support for tenant protections but declined to say whether a housing deal needed to include "good cause" specifically. "I have to have tenant protections," she said, adding that the chamber's one-house budget resolution said they were looking at "the principles" of "good cause."
A spokesperson for Assembly Speaker Carl Heastie did not immediately return a request for comment.
Powered By
NEXT STORY: Senate open to zoning overrides but Assembly opposed, sources say