Housing
Adams administration makes last push for housing bills
New York City Deputy Mayor Maria Torres-Springer and Chief Housing Officer Jessica Katz met with Albany lawmakers hoping to win their support before the end of session.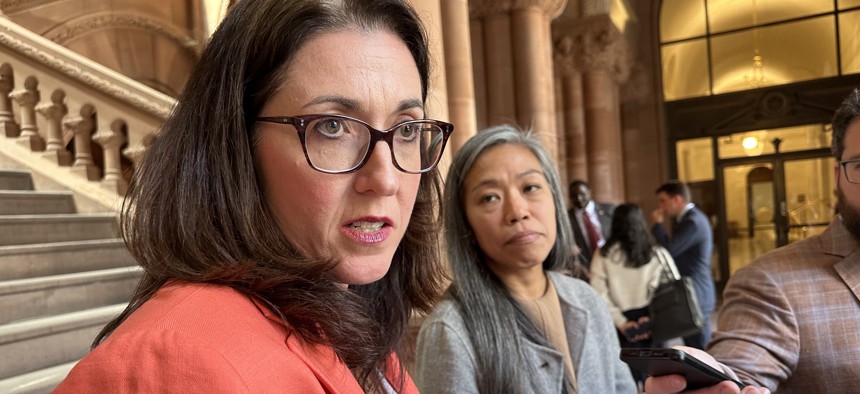 With a mere nine days left till the close of the legislative session, the Adams administration traveled to Albany Tuesday for a final housing hail mary – a visit that comes as the city grapples with an acute crisis of housing and homelessness
New York City Deputy Mayor Maria Torres-Springer and Chief Housing Officer Jessica Katz spent the day at the Capitol meeting with committee chairs and various lawmakers, urging them to support several of the city's top housing-related legislative priorities, including measures that would make it easier to convert vacant offices into housing, temporarily revive the expired 421-a affordable housing creation incentive program and raise the cap on housing density in parts of the city like Midtown Manhattan, according to City Hall. Politico New York first broke the news about the officials' visit this morning.
"The suite of proposals are the various tools that we need in order to boost the supply of housing in ways that actually make a dent in our housing crisis," Torres-Springer said at a press conference. "While there is no one in particular at the top of the list, they all play a really important part."
It's no secret that New York City is facing a severe housing crisis – one that has only been exacerbated by the ongoing arrival of people seeking asylum. Rising rents and homelessness have impacted more and more New Yorkers and as of early May, over 78,000 people were in the city's sprawling shelter system. While significant changes to address the housing shortage were on the table during state budget negotiations, Gov. Kathy Hochul's plan ultimately fell apart amid a wave of opposition from the suburbs. Many lawmakers are still hopeful that some standalone housing initiatives – like the ones pushed by Torres-Springer and Katz today – can still win legislative approval before the session closes June 8. 
The push to support the measures comes after New York City Mayor Eric Adams set a "moonshot" goal last December to build 500,000 new homes over the next decade. But without state action, that goal is just a dream. Torres-Springer declined to comment on whom she met with in Albany or say whether she was given any assurances on the possibility of passing the legislative priorities. 
"A lot of our allies are here standing with us," she said at the press conference. "Which is a much larger group than sometimes you get on the thorny housing topic. So we're really excited to have this ground swell of support and eight days more to finish the job."
Katz announced last week she would be stepping down from her role this summer. City Hall announced Tuesday that Torres-Springer would be taking on her agency portfolio. Allies on the pair's housing push joined the press conference, including Assembly Members Jenifer Rajkumar, Brian Cunningham and Tony Simone.
Assembly Member Linda Rosenthal, chair of the Assembly Committee on Housing, confirmed that she'd met with Katz and Torres-Springer earlier today. She said that the Adams administration's requests weren't really any different from the ones they'd made during budget negotiation. 
"Near the end of session, everybody tries to get everything done. I and others have re-made the point that there has to be affordability connected. Developers will build luxury, you don't need an incentive for that. That's a key element of any of these proposals – affordability, which I think they now understand," she said.
With reporting by Ralph R. Ortega.
Powered By
NEXT STORY: Progressive Jews back controversial bill to block charities from funding Israeli settlements