Policy
New York BOE expected to vote on the use of highly controversial electronic voting machines
Watchdogs have raised concerns about the machines' vulnerability to glitches and hacks and say paper ballots are still the most secure.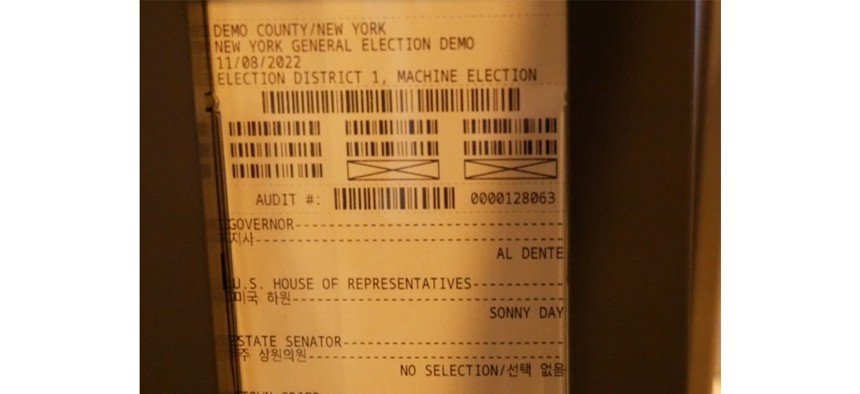 Days before the Board of Elections votes on whether to authorize the use of new voting machines, good government groups, election advocates and security experts are urging commissioners not to approve the controversial touch screen machines. For years, watchdogs have argued that the machines are vulnerable to cyber attacks, leave no traditional paper trail of hand-marked ballots to perform post-election audits and are needlessly expensive with little proven benefit.
In a letter shared exclusively with City & State, over three dozen New York, national and out-of-state organizations from progressive advocates to good government groups, as well as nearly a dozen election security experts, signaled their opposition to the ExpressVoteXL voting machines. The letter offered a nine-point list of reasons to reject the touch-screen machine, first and foremost that it would eliminate the use of paper ballots in New York. Instead, the machine would preserve votes on thermal paper (like a thicker version of what receipts are printed on). The machine counts the vote by converting it into a barcode, which the letter says makes it impossible for a voter to verify their vote, a requirement under state law.
Experts have also questioned whether thermal paper is sufficient for keeping voting records for the necessary two years under state law. The state Board of Elections maintains that the records have proven durability in other jurisdictions.
In another letter shared exclusively with City & State, the election security advocacy group SMART Elections laid out a series of technical arguments about why the ExpressVoteXL machines don't measure up. In one theoretical scenario, the barcodes for two candidates get flipped by mistake – but the record readable by the voter shows the candidate they meant to vote for. They would be unaware of a mistake with the barcode and would rely on the readable receipt for confirmation. And if it shows the correct candidate, the voter would have no way of knowing that the barcode will record a different candidate, and no way of remedying the mistake. Continuing the scenario, a mandatory post-election audit for all races in New York would in many cases get run through a different machine, which SMART Elections confirmed would count the barcodes, not the paper records. "ES&S says at their demonstrations that encoding the vote in a barcode is basically identical to the way New York counts its votes now," the letter reads. "But this is not true."
The current auditing software in New York isn't approved to audit ExpressVoteXL results, so if the machines get approved, any audits would get counted by hand unless or until auditing software gets approval that would allow preliminary audits to run through different scanners. A spokesperson for the state BOE confirmed that while it's hardly a guarantee, it remains a possibility that commissioners could approve such software if it came before them.
The letter also included images of the thermal paper summary cards after hand sanitizer was rubbed on it in order to test how it would hold up handling during hand recounts that could lead to extensive human contact. While still readable, the text had faded significantly. "The thermal paper summary cards also cannot withstand the required hand recounts and potential exposure to hand sanitizer," the letter reads. By comparison, the traditional paper ballot still used in New York did not deteriorate in any noticeable way after the application of hand sanitizer – the text remained far clearer than the thermal paper.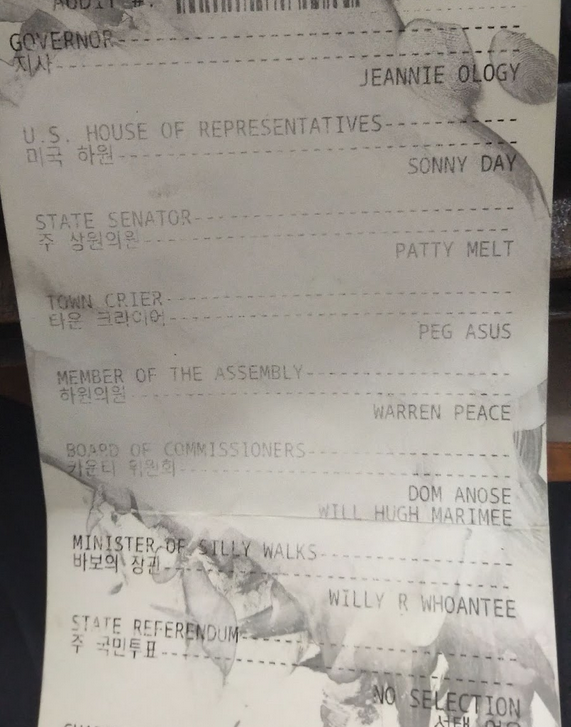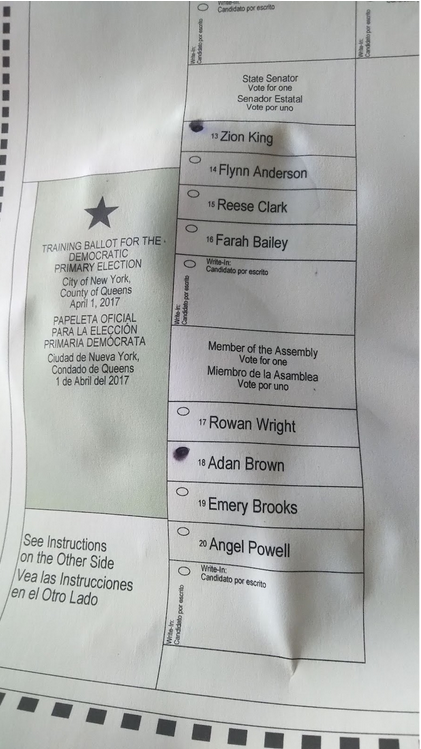 Ahead of the vote on Wednesday, the ExpressVoteXL voting machines underwent a plethora of testing by the state Board of Elections before coming up for certification to ensure they met required benchmarks and standards. "Voting machines up for certification have been rigorously tested by a federally accredited lab and reviewed by an independent security expert to ensure compliance with all legal requirements," BOE spokesperson Jennifer Wilson said in an email. Certification by the three of the four bipartisan commissioners of the board would enable local boards of elections to purchase and use the machines.
A spokesperson for Election Systems & Software, the company that makes the ExpressVoteXL machine, told City & State that the thermal paper used by the machine "meet(s) and exceed(s)" federal laws on ballot retention. "This paper has the ability to maintain its images in a clear and readable manner for seven to 10 years," Katina Granger told City & State in an email. "Additionally, ES&S technology has the capability of retaining digital ballot images for review indefinitely." She added that the ExpressVoteXL machines use barcodes for speed and accuracy, noting that nothing in state law prevents using them in elections. "Barcodes exist on ballots whether voters mark their ballot with a pen or by using a machine, and those barcodes are used in the very same manner in both scenarios to count votes," Granger said.
On Monday, good government group Common Cause NY and the Let NY Vote coalition both sent letters to the BOE commissioners as well, urging them not to certify the ExpressVoteXL voting machines. "Paper ballots marked by the voter – which New York currently uses – is the election security gold standard," Sarah Goff, deputy director of Common Cause NY, said in a statement. "We should not be spending taxpayer dollars on anything else."
The opposition is far from new. In 2020, the unveiling of ExpressVoteVote XL machines led to outcry from lawmakers, advocates, good government groups and security experts who've sounded the alarm on the machine's ability to be reliable and secure. The machines have malfunctioned during elections, including an election in Pennsylvania when voters couldn't select candidates that appeared on the edge of the ballot on as many as 30% of the machines in use, The Morning Call reported. 
Last year, election security experts and fair elections advocacy organizations sent a letter to state leaders urging them to pass legislation meant to ban the use of these machines. The bill – sponsored by state Sen. Zellnor Myrie and Assembly Member Amy Paulin – would mandate hand-marked ballots and subsequently outlaw direct electronic voting machines that do not use paper ballots. The measure passed in the state Senate but failed to be brought before the Assembly for a vote – or even make it out of committee. 
As reported by New York Focus, Assembly Election Law Committee Chair Latrice Walker along with lobbyists and the New York chapter of the NAACP worked to kill the measure in the Assembly. In a letter to Assembly Speaker Carl Heastie in the last days of the legislative session, NAACP President Hazel Dukes argued the bill would make it harder for certain groups – including voters of color, disabled people and non-English speakers – to vote. Under current law, paper ballots only provide three different language options, whereas ExpressVoteXL would offer more options for voters who speak other languages. Dukes also said that the machines are fully accessible. "I believe the advanced, secured technology embedded in the paper-based voting machines like the ExpressVote XL is long overdue in New York and is exactly what New Yorkers need," Dukes wrote in the letter last year.
Update: This story has been updated to include comments from Election Systems & Software.
Corrections and clarifications: This post has been corrected to reflect that voters can physically touch the summary card of their vote after viewing it through a plexiglass window if they wish to recast their vote due to an error before the vote is counted. It has also been updated to clarify that ExpressVoteXL does leave a paper trail, but not one with traditional hand-marked ballots. It also clarifies that while thermal paper is commonly used in receipts, ExpressVoteXL uses a thicker version than what receipts are printed on. Lastly, this article has been updated to reflect that current electoral auditing software is not approved to scan ExpressVoteXL barcodes, meaning that all audits would be conducted by hand if the machines are approved, but that since such software exists, it could receive approval in the future that would allow non-hand count audits of ExpressVoteXL to occur.
NEXT STORY: Amid heat wave, at least one shelter for asylum-seekers lacks air conditioning