Heard Around Town
Over 100,000 people are living in NYC's shelter system
Deputy Mayor for Health and Human Services Anne Williams-Isom briefed reporters on the city's ongoing response to the influx of migrants.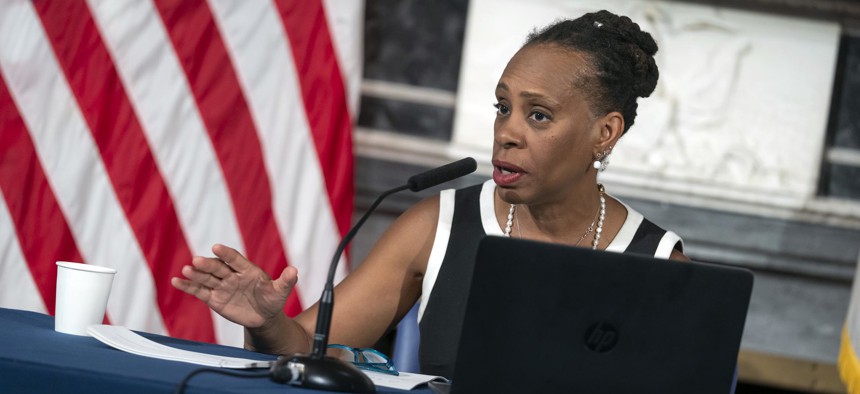 While there's been a significant drop in the number of asylum-seekers trying to enter the United States at the border, New York City has continued to see a steady influx of migrants arriving in the city, according to Deputy Mayor for Health and Human Services Anne Williams-Isom. 
There are now over 103,400 people staying in the city's shelter system – a record high. Over 53,000 of them are asylum-seekers. More than 87,200 migrants have arrived since last spring with an additional 3,100 people arriving in the city last week. Families with children have been "by far" the biggest population arriving, Williams-Isom said. She presented the sobering statistics during a Wednesday afternoon briefing, reiterating city officials' calls for national support in the form of financial aid, expedited work authorization and a plan to move migrants throughout the state and country. She also expressed hopes that more and more local municipalities will step up to welcome asylum-seekers. 
While the rate of buses carrying migrants into the city has slowed significantly from last year's steady stream, Williams-Isom said that city leaders think new arrivals are largely coming from other parts of the country where other cities are running out of space. 
"Since we have a front door that is open, people are finding themselves here," she said. "This is why it's so important for us to have a decompression strategy, and to be able to send people to other parts of the state or re-ticket them to where they want to go … New York City can't obviously take every single person that wants to be here."
Powered By
NEXT STORY: What you need to know about NYC retirees' health care fight