Housing
Hochul comes around to incentive approach on housing after lawmakers rejected her mandates
The governor is unilaterally employing a strategy she disliked when the Legislature pitched it.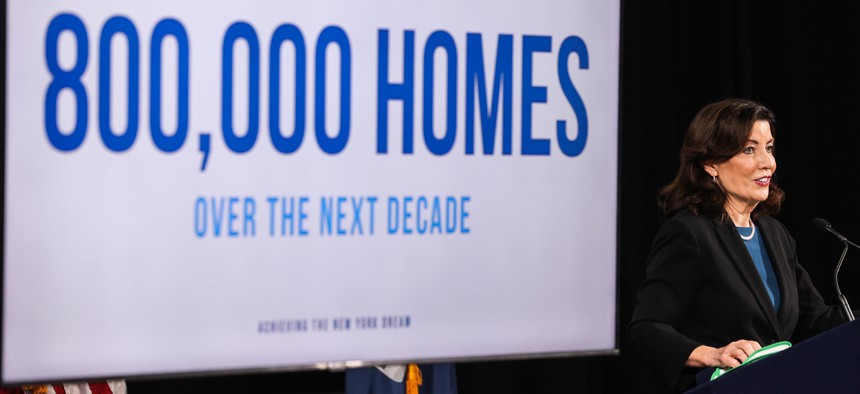 During the legislative session, Gov. Kathy Hochul butted heads with lawmakers over how to build more housing in New York. But after failing to come to an agreement during the session, the governor is now using her authority to execute a plan similar to one pitched by legislative leaders earlier in the year. Hochul announced a new Pro-Housing Communities Program on Thursday, which will direct $650 million in state discretionary funds to municipalities committed to building more housing. Those so-called pro-housing communities will receive priority consideration for a number of different economic development and housing grants. 
In their one-house budgets, state Senate Majority Leader Andrea Stewart-Cousins and Assembly Speaker Carl Heastie proposed $500 million in incentives for local governments in order to spur more housing growth. It was their counter to Hochul's pitch to implement housing growth mandates with the threat of a state override of local zoning laws if municipalities didn't hit modest benchmarks. Hochul said lawmakers' proposal didn't do enough, and ultimately state leaders ended session without a housing deal.
Hochul made housing growth her marquee issue last session, even though her proposals didn't get approved. Since then, she has sought to take ownership of the state's housing crisis through executive action ahead of next year, and the new program is the latest example of her branding solutions in her name. Last month, she approved a limited extension of the 421-a developer tax break for residential projects in Gowanus, Brooklyn, allowing projects paused by the expiration of the tax break to start again. Also in July, Hochul announced the approval of a proposal to build affordable housing at the World Trade Center site.
The new incentive program meant to encourage development largely targets communities like New Rochelle that are already growing their housing stock. To get approved, a municipality has to show that its housing stock has increased by 1% in the past year or 3% over the past three years downstate, or 1% over the past three years upstate. The requirements are the same as the growth benchmarks Hochul sought to set earlier in the year. In other words, communities already willing to develop more will most likely apply and benefit from the new state incentive, at least in the short term. 
Advocates for housing growth have argued that the evidence shows that incentives alone don't work to promote more housing. Other states that have tried the same approach long before New York have shown that communities opposed to new development generally don't take the incentives, and that those already building do instead. Some local leaders on Long Island told the news outlet New York Focus directly that whatever money the state may offer wouldn't be enough to get them to build more.
It's one way that the governor's new program differs from what the Legislature pitched: it focuses on and rewards proven growth. Lawmakers' plan would have awarded money to communities based on their commitment to build more housing in the future, rather than on the proof that they already have. 
Hochul did, however, leave the door open to communities who haven't hit the benchmarks yet. Another way to become a pro-housing community is to pass a resolution stating the municipality's commitment to the program's goals and ideals.
Powered By
NEXT STORY: Venezuela, Ecuador and Colombia are top countries of origin for NYC asylum-seekers