Transportation
Round-the-clock speed cameras improve safety in a city that never sleeps
New York City saw a 25% drop in traffic deaths and a 30% decrease in tickets issued after state lawmakers let it operate their speed cameras on nights and weekends.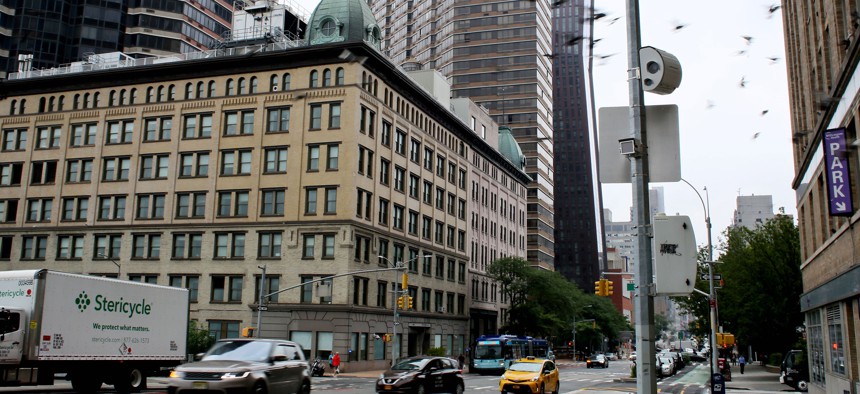 Editor's note: This story was originally published in City & State's sister news site, Route Fifty
A year-old change that allows New York City to operate some 2,000 speed cameras around the clock—rather than just on weekdays during daylight hours—has already yielded significant safety improvements, new city data shows.
Road deaths in areas covered by speed cameras dropped by 25% during the hours the cameras previously were not allowed to operate. Meanwhile, the number of tickets issued by the speed cameras dropped by an average of 30%, New York City reported Monday.
"One year ago, we launched 24/7 speed camera enforcement, and the results are in: The program has reduced speeding, decreased the number of injuries and made our streets safer," said Ydanis Rodriguez, the Department of Transportation commissioner for New York City. "Speeding happens most often on nights and weekends, and expanded enforcement has been a highly effective tool to keep New Yorkers safe."
The news comes as safety advocates have increasingly called for ways to reduce speeding, after a huge surge in road deaths since the beginning of the COVID-19 pandemic.
New York officials say the speed cameras, along with many other efforts to calm traffic, have made city streets safer, particularly for pedestrians. Other than 2020—a year in which much of the city shut down to prevent the spread of the coronavirus—this year has so far been the safest year for pedestrians on record, the city transportation department said in a press release. "With pedestrian fatalities down by nearly 20% through the first seven months of 2023, New York City is seeing historic declines in pedestrian deaths," the release stated.
New York City is only allowed to use speed cameras under rules set by state lawmakers. From 2013 until August 2022, that meant it could deploy the cameras only near schools and only operate them from 6 a.m. to 10 p.m. on weekdays.
But last year, city officials and local safety advocates convinced legislators in Albany to let the city turn on the speed cameras around the clock. They pointed to data that 59% of traffic deaths in the city occurred at times that speed cameras weren't allowed to operate.
"It's a huge deal that speed safety cameras can operate 24/7 and on weekends, because that's when speeding occurs," said Jacob deCastro, the communications manager for Transportation Alternatives, a group that promotes walking, biking and transit use in New York City. Transportation Alternatives pushed for last year's change in state law. "Speeding doesn't sleep," he said.
New York City Mayor Eric Adams originally had asked for even broader power, pushing for "home rule control" over the city's traffic system, including speed limits, bus lane enforcement, red light cameras and speed cameras. Other proposals floated at the time would have increased fines for repeat violations and potentially lead to a license suspension.
But state lawmakers ultimately settled on more modest changes, which just allow for the 24/7 camera operation.
"There is a misconception that speed safety cameras are a cash grab for the city, but that isn't true," deCastro said. "The stated goal of the program is to issue zero tickets because everybody is following the speed limit."
Plus, he noted, the fines for camera-generated tickets are still only $50, which is less than the tickets issued by police officers, which can be between $90 and $600.
DeCastro also argued that cameras are more "equitable" than enforcement by police officers. "There's no room for bias. If you're going 10 mph over the speed limit, you'll get a ticket. And if you're not, you won't. That removes an unnecessary layer of interaction with police, and we know these work 24/7 at the locations, unlike relying on the cops."
Traffic cameras have always been contentious, after all nobody likes getting a ticket in the mail. But deCastro said public attitudes about traffic cameras have been changing. A 2020 poll commissioned by Transportation Alternatives found that 78% of New York City voters, including 73% of drivers and 93% of Hispanic voters, supported adding more speed cameras in school zones.