Rikers Island
What would receivership look like for Rikers Island?
Here are the options a judge has for stripping New York City of its control of the dysfunctional jail complex.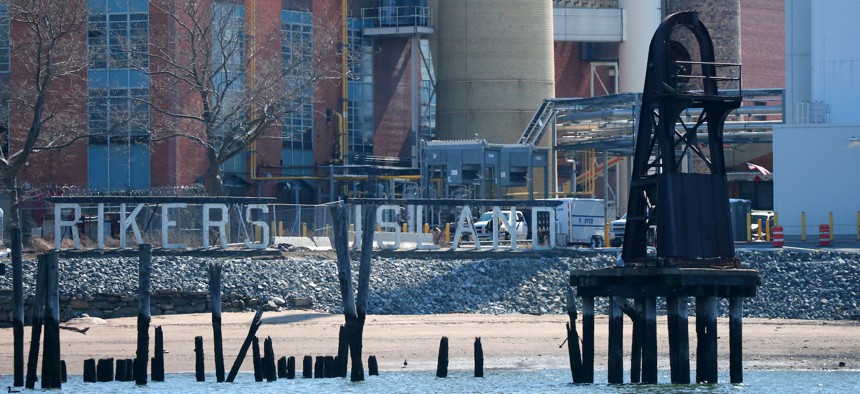 The walls appear to be closing in around New York City's control of Rikers Island. 
Following years of dysfunction and disorder at the embattled jails complex, Judge Laura Taylor Swain opened the door to the possibility of her deciding to appoint an outside entity known as a receiver to temporarily manage city jails. While an official ruling is likely months away, her motion to allow arguments to proceed marked a significant step forward.
Her ruling is the latest in a string of movements building momentum for a takeover of New York City jails. The history that's built up to this moment is long and complicated. A class action lawsuit filed by the Legal Aid Society in 2011 over correction officers' poor treatment of detainees has dragged on for years, leading to the appointment of federal monitor Steve Martin to oversee reforms. Martin has grown increasingly frustrated by the ongoing violence and what he's described as a lack of transparency from Department of Correction leadership.  
But what is a receiver exactly? How would decision-making shift if Swain decides to appoint one? Just how far would their power go? City & State looked at some of the biggest questions circulating around the possibility.
What is a receivership?
If Swain determines that New York City is incapable of turning the tide on the years of dysfunction and disorder wracking Rikers Island, she can choose to appoint a neutral expert known as a receiver to temporarily take over managing city jails. Doing so would not be a decision made lightly. Think of the legal precedent as a last resort – a court's most aggressive tool to implement reform at jails and prisons, save for outright closure. Judges have only found a receiver warranted in a handful of cases, only deeming it necessary for jails and prisons with the most egregious and intractable challenges. Whoever Swain appointed wouldn't manage New York City jails indefinitely either. Control would eventually be returned to the city's hands once conditions improved in a way that meets constitutional standards. 
How would the hierarchy of power shift under a receiver?
Not all receiverships are alike, so it depends. The receiver could be responsible for the entire jail or for a specific part of operations, like the healthcare system. If Swain does decide to impose a receivership on city jails, the city and the plaintiffs would likely have a chance to propose how they think it should operate. New York City Correction Department Commissioner Louis Molina could in theory retain a measure of power, but it would "depend on the scope and aims of the receivership," according to Hernandez Stroud, senior counsel for the Brennan Center for Justice. Whether the court decides to impose a partial or complete receivership would likely primarily hinge on the type of problems deemed worthy of receivership.
"If the receivership is concerned with remedying constitutional problems that implicate global jail operations – like violence – that might require a receiver to have a great deal of control over all jail operations," Stroud said. Given the volume of violence documented at Rikers Island in the monitor's reports, that seems a distinct possibility. 
Generally speaking though, whoever Swain appointed would work under her supervision – ideally with the support and collaboration of New York City leaders. Receivers are often given a broad range of powers, such as the authority to determine how to spend money, to hire and fire staff, to write policies they deem necessary, to access government records, and more.
How common is receivership?
Prison and jail receiverships are fairly rare. Alabama was the nation's first place to lose control over its prison and jails in 1976, but the federal government went on to relinquish its hold in 1989. There's been a handful of receivers in the U.S. since then. Similar to the battle unfolding over Rikers Island, judges have generally placed prisons and jails into receivership because of poor conditions – often tied to chronic overcrowding. A receiver is currently actively governing at two U.S. prisons and jails; over California's $1.2 billion prison health care system and the Miami-Dade County jail. A third receiver was also recently ordered at the Hinds County Raymond Detention Center in Mississippi, but the order has technically been on hold since December under the ruling of an appeals court.
Before they were used in prisons, receiverships were historically used in commercial cases, especially bankruptcy proceedings. Judges began using them outside of the commercial context in the 1960s as a tool to force school systems to comply with desegregation court orders amid southern states' resistance to Brown v. Board of Education. 
Who supports a federal takeover? 
Support for a federal takeover of New York City jails has gradually grown over the past year, although some elected officials remain firmly opposed. That includes Mayor Eric Adams and Molina who've argued that the Department of Correction has made strides in reducing violence and that stripping the city of its control would be a premature move. Last month, the mayor attested that he is "the best person in this administration to finally turn around the Department of Correction." The Correction Officers' Benevolent Association, more commonly known as COBA, also vehemently opposes the prospect of a receiver. The City Council's Common Sense Caucus, which is composed of Republican and conservative Democrat members, also voiced their opposition after embarking on a tour of the embattled jail complex in August 2023. 
While many supporters have acknowledged that a receiver wouldn't be a panacea for city jails, more people have gotten on board in recent months. That list includes most community and advocacy groups, Manhattan's top federal prosecutor Damian Williams who in a major shift said in July 2023 that his office would seek a court-appointed receiver, more than a dozen council members, and other elected officials. New York City Public Advocate Jumaane Williams and Comptroller Brad Lander have also voiced their support.
One of the biggest arguments in favor of receivership, is the fact that receivers are protected from political pressure, making them more adept at implementing swift changes free of political ramifications.  
"Precisely because of their independence and single-minded focus on improvement, receivers are ideally positioned to undertake the kind of sweeping changes that an agency trapped in a state of persistent dysfunctionality cannot do alone, especially when faced with opposition from a powerful union," Elizabeth Glazer former director of the New York City Mayor's Office of Criminal Justice, and Michael Jacobson, CUNY Institute for State and Local Government executive director, wrote in an op-ed for the Daily News last year.
Who might the federal receiver be? 
If Swain ends up deciding to appoint a receiver, she will likely ask each side – the Legal Aid Society plus the federal government being one and the Adams administration being the other – to submit a list of possible names. While she's not legally bound to select someone from the list of proposed candidates, she's so far expressed a commitment to making sure that everyone involved has an opportunity to be heard and have their positions considered, according to Stroud. 
Given that Martin has been entrenched in the issues at city jails as the federal monitor, there's a possibility that he could be appointed the receiver. While he hasn't served as a receiver before, he has decades of correctional experience.
"His familiarity with the issues and the case could be attractive to the judge because she's thinking who could she pick that she can trust," Stroud said, adding, "On the other hand, I don't know what his relationship is with the city and receiverships are not imperial, they still have to work within normal governing structures." 
Whoever the person would be, the best case scenario would be a receiver who has a good working relationship with city leaders.
"You want someone who is going to be able to get along with a lot of different government characters," Stroud said.  "That's essentially what a receiver is, the injection or introduction of a new character in a scene and that character has significant but not unlimited powers."
What would the effect be on the union representing correction officers? 
The powerful COBA is protected to an extent under state law, meaning the union would largely remain intact under a federal receiver, according to a spokesperson for the union. Historical precedent also points to the possibility for a receiver to work well with a union – the California Correctional Peace Officers Association being one, which has continued to operate largely free of infringement despite the ongoing receivership. 
Still, according to Stroud, there are often provisions in receivership orders that say a receiver can petition the court to waive any state laws, contracts or regulations that may impede the receiver's work. If COBA were to stand in the way of the receiver's work, the receiver could be given the power to overhaul aspects of the union, like staff discipline, training, and the number of hours officers work.