Heard Around Town
Adams: 'We have to push back on sci-fi aspect of drones'
Despite privacy and civil rights concerns, the mayor and city safety officials doubled down on use of the surveillance tech ahead of the West Indian Day parade.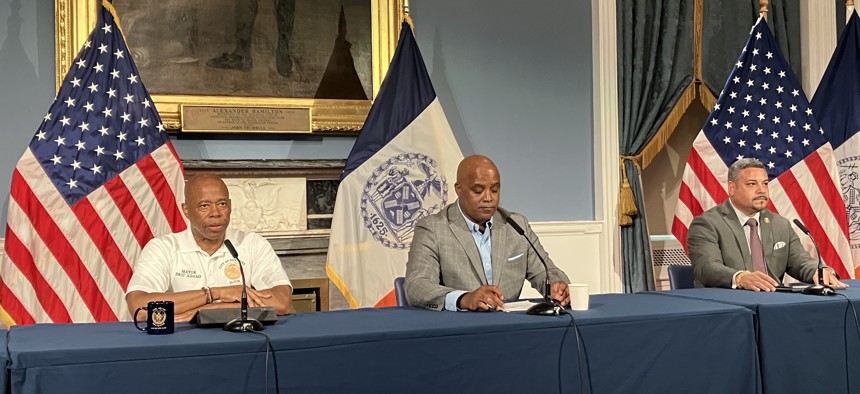 The police drones flying over your backyard barbecues and holiday celebrations this weekend don't signify some dystopian surveillance state, New York City Mayor Eric Adams and Police Commissioner Edward Caban sought to assure New Yorkers at a public safety briefing at City Hall on Friday. But those assurances haven't put privacy and civil liberties advocates at ease. 
The planned use of drones to monitor large gatherings is part of a New York City Police Department mobilization for the West Indian Day Parade in Brooklyn this weekend. "We have to push back on the sci-fi aspect of drones," the mayor said. "Nobody's going to be monitoring, you know, what you're talking about in your conversation."
Deputy Mayor for Public Safety Phil Banks said the drones would be able to quickly assess a situation and determine safety before a police response to complaints about loud music and large gatherings. Advocates have expressed concerns about police cameras hovering over private celebrations on the holiday celebrating Caribbean culture. 
"Deploying surveillance drones over New Yorkers gathering with their friends and families to celebrate J'ouvert is racialized discrimination and it doesn't make us safer," Daniel Schwarz, senior privacy and technology strategist at the New York Civil Liberties Union, said in a statement. "The NYPD is playing fast and loose with our First and Fourth Amendment protections."
The mayor cited a Pride month event at Washington Square Park when he said drones were used to make announcements to the crowd that the park was closing. He also described being able to monitor the situation in Union Square Park last month when thousands of teenage fans of a Twitch influencer spontaneously arrived, causing chaos. The Adams administration has also promoted use of a controversial surveillance robot they refer to as the "Digidog."
"We don't want police to be the only responders," Adams said. He said NYPD officials had traveled around the country to learn about how other police departments were using tech. The mayor also recently returned from a trip to Israel where he praised Israeli drone technology.