Campaigns & Elections
New York Republicans file lawsuit challenging newly signed mail voting law
Led by Rep. Elise Stefanik, conservatives say the new law violates the state Constitution.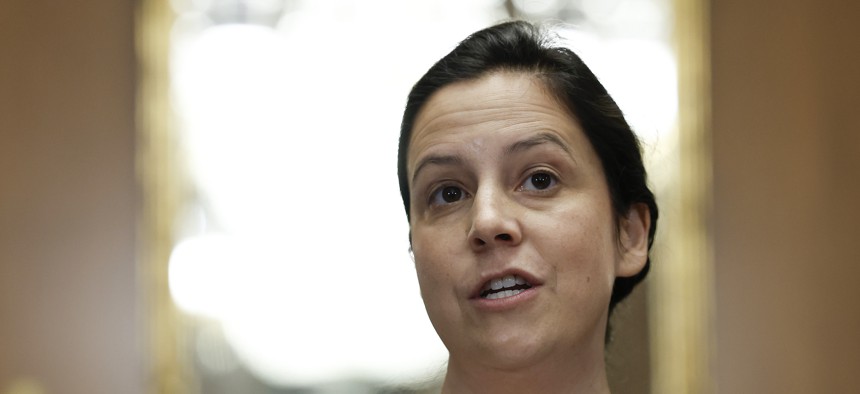 Almost immediately after Gov. Kathy Hochul signed legislation to permit no-excuse early voting by mail, Republicans and conservatives filed a lawsuit to challenge it. The legal challenge was widely expected after New York voters rejected a ballot measure two years ago that would have amended the state constitution to permit no-excuse absentee voting.
Rep. Elise Stefanik announced that she is leading a lawsuit with the state GOP, state Conservative Party, members of the Republican House delegation and others on Wednesday, shortly after Hochul held a press conference publicizing the bill's signing. "Kathy Hochul and extreme New York Democrats are trying to destroy what is left of election integrity in New York," Stefanik said in a statement. "Under Kathy Hochul's failed leadership, elections are less secure and less transparent and now they will be unconstitutional." 
Republicans are arguing that the new law violates the portion of the state constitution that governs absentee voting. Currently, New Yorkers must be sick, have a disability or be out of their district in order to obtain an absentee ballot. During the pandemic, lawmakers and the governor took action to temporarily expand the definition "temporary illness" to include fear of contracting COVID-19, effectively permitting the broad use of absentee ballots without a constitutional amendment. "What we saw during that period was so many more people chose to avail themselves of the opportunity to vote by mail," bill sponsor state Sen. Mike Gianaris said on Wednesday. He added that the new law would be opposed "by people who oppose democracy."
But the pandemic-era measure has expired, and voters explicitly rejected a ballot measure in 2021 that would have changed the constitution to allow for no-excuse absentee voting after a coordinated effort by conservatives to kill the proposal. "The people of New York resoundingly rejected this attempt to weaken the integrity of our election process, and I am confident it will once again be rejected by the courts," state Senate Minority Leader Rob Ortt said in a statement.
Hochul expected a lawsuit, but emphasized that the legislation does not violate the state constitution. "I want to be very clear, the new law that we signed today is unrelated to absentee voting," Hochul told reporters on Wednesday. "Absentee voting was on the ballot…, this is independent of that. This is simply allowing vote-by-mail during the early voting period." The new law does not specify that voters must return early mail ballots during the early voting period, only that they be postmarked on or before Election Day and received by the local board of elections now later than seven days after the election. 
Election law attorney Jerry Goldfeder agreed with Hochul's and supporters' position that the new law doesn't run afoul of the state constitution. "Looks very much like it was crafted to pass constitutional muster," Goldfeder said in a text. Fellow election lawyer Sarah Steiner offered a similar assessment. "The law is written well to withstand a challenge, but it does depend on judge in Albany County, and probably the appellate courts as well," Steiner said in a text.
Gianaris noted in a statement sent after the press conference that Massachusetts and Pennsylvania approved similar laws that stood up to legal challenges. "While the state constitution requires a prescribed excuse for Election Day absentee voting, it does not constrain the Legislature from enacting a unique process for Early Voting," he said.
Gianaris also expected the lawsuit, but seemed confident New York Democrats would succeed in court. When informed that Stefanik and other right-wingers had formally filed their complaint, he had this to say: "Sounds like we're being sued by the right people. Trump loyalists and insurrection apologists."