Immigration
NYC shelter limits could complicate asylum application process
New York City Council members raised concerns that shelter stay limits will make it more difficult for asylum-seekers to receive crucial notices from the federal government.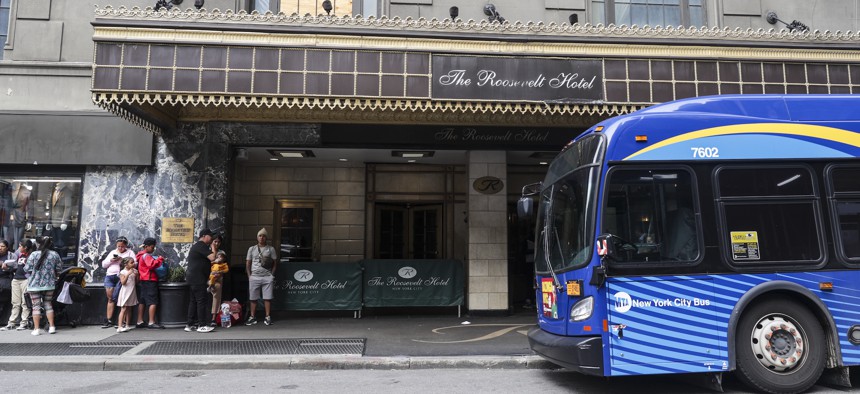 As Mayor Eric Adams' administration continues to pursue limits on stays in shelter for asylum-seekers amid an ongoing influx, several City Council members raised concerns on Wednesday that the limits will add another complication to the already difficult process of applying for asylum.
Adams announced earlier this week that the city will now limit stays in shelter for migrant families with children to 60 days, after which point they will have to go back to the intake center and reapply for shelter placement if they haven't found another place to stay. The policy, which was first reported by the Daily News and met with fierce pushback from homeless and immigration advocacy groups, builds on an existing 30-day limit for adult migrants without children. 
With both policies, the administration has said that it's pairing the 30- and 60-day notices with intensified casework services to help migrants find more permanent housing. At a media briefing on Tuesday, Deputy Mayor for Health and Human Services Anne Williams-Isom said that many people are leaving the system on their own and estimated that less than 50% of people are returning for a new shelter placement after those time limits are up. More than 64,100 migrants are currently in the city's care, the administration said this week, up from 54,800 in July, when the city announced its first shelter stay limit for adults.
But for those facing shelter limits who don't manage to find alternative housing options, advocates and some lawmakers have said the stay limits will result in people being unnecessarily shuffled around, disrupting children's lives and schooling in particular.
At a City Council hearing on legal services for asylum-seekers on Wednesday, Council Member Shahana Hanif, chair of the Committee on Immigration, suggested that the policies will also complicate the process of applying for asylum, as asylum-seekers will have to file changes of address with every new shelter placement in order to receive crucial notices on their status and applications from the federal government.
Ensuring that newly arrived asylum-seekers are receiving court notices at the right address has been a challenge since the influx of migrants began last spring. And with many asylum-seekers required to submit their asylum applications via mail, rather than online, having a reliable address to receive updates on their applications, and other notices from the federal government, is crucial.
"This adds to the reason why I feel that the 30-/60-day directives are harmful and creates deeper precarity for asylum-seekers," Hanif said on Wednesday, when asking administration officials about how asylum-seekers moving through shelter reassignments can be sure to receive mail.
One of the ways the city has been helping asylum-seekers apply for asylum – and now Temporary Protected Status – is through the Asylum Application Help Center, which was launched in the summer and for now focuses specifically on asylum-seekers in shelter. 
Masha Gindler, executive director at the center, said that staff at the center will file changes of address and changes of venue. People who receive the shelter limit notices are offered appointments at the help center, she said, and those who have already been through the help center can come back and get help filing a change of address. "I'm confident that with the counseling we do at the end of our appointments, folks understand that they need to let the federal government know where they live, or else they will miss important mail," Gindler said. "I'm confident that all of our clients can come back to us physically and get that service. And we'll change their address, wherever they now reside." Gindler added that the help center also sends clients off with physical documentation detailing the importance of the change of address form, as well as a copy of it.
Gindler said that the city is advocating for the government to allow applications to be filed online, which she said would simplify the process. For now, she said that "a lot" of migrants who come up on 30- or 60-day limits have an idea of where they're going next, and the help center can file a change of address with that information. In other instances, the help center will stick with the current shelter site, where a person's mail can be held for 30 days after they leave. 
But Gindler said there are laws that prevent the city from forwarding mail once it's arrived at its destination. The city is looking into legal options for clients to consent to having their mail moved from their previous shelter to their next location. 
Council Member Rita Joseph also expressed confusion over the extra step that shelter limits will add to the asylum process, asking, "So every 30 days or every 60 days, they must come see you? Just make it make sense for me, that's what I'm trying to figure out here."
Gindler pointed to the center's work educating clients about the change of address process, their capacity to file changes of address for clients going through shelter limits, and their advocacy for the ability to file online. "I understand the challenge," she said. "It's important for us that these folks get their mail, because what is our work for they don't?"
Powered By
NEXT STORY: Filling in the gaps left by federal child care funding running out