Heard Around Town
Council pushes improved alerts to New Yorkers after Canadian wildfire smoke choked city
A trio of bills would bolster better communication during air-quality emergencies.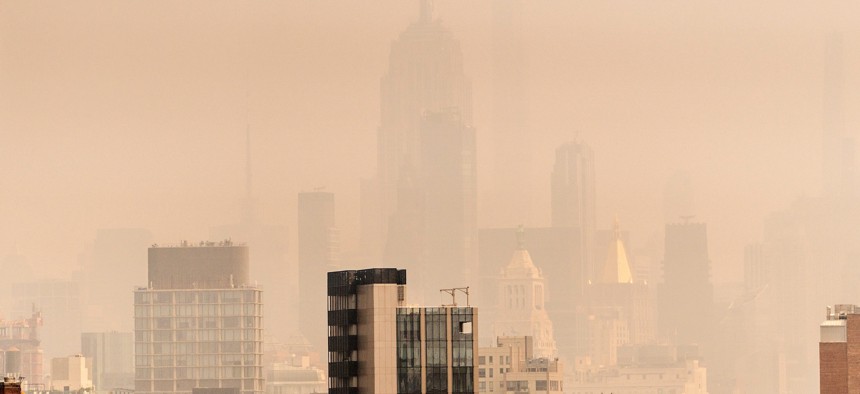 The New York City Council is considering a trio of bills crafted to improve the city's communication with New Yorkers during air quality-related emergencies. The package of legislation was born from the wildfire smoke that choked New York skies in early June, catching city officials off guard and garnering concerns about the city's level of preparation for future air quality crises. 
"New Yorkers didn't know how to stay safe. They didn't know where to turn for information. Some of our most vulnerable New Yorkers were left outside on the street because there was no care, there was no direction provided to them on where to go," said New York City Council Member Lincoln Restler, the bills' sponsor, during an oversight hearing Monday. "There was confusing and conflicting advice. This has to change."
In addition to hearing the bills, which were first introduced in late September, the Monday hearing was also held to look at how the Adams administration responded to heavy rain and flooding on Sept. 29 – another weather-related emergency that many felt the city was unprepared for.
Two of the bills proposed by Rester would require New York City Emergency Management to inform New Yorkers when air quality is expected to hit unhealthy levels – 150 on the air quality index, per the legislation – as well as provide people with information on how they can stay safe and minimize harmful exposure. The agency would also be required to create a specific emergency response protocol. While the city's public communication during the orange streaked skies in June advised people to stay indoors, no additional information had been provided at the time. The third bill would set up "Spare the Air" days when air quality is projected to be unhealthy, meaning high-pollutant activities like charcoal grilling would be banned and the city would be required to open "clean air centers" as a respite for people in need. Nobody living on the streets would be denied shelter either – something Restler emphasized as especially important. 
Emergency management leaders said they've been working on building a plan since June and have begun putting several pieces in place. Officials said they are evaluating the legislation