Energy & Environment
So… what ever happened to setting up safer basement apartments in New York?
Legislation to legalize and regulate underground dwellings stalled in the Legislature during session.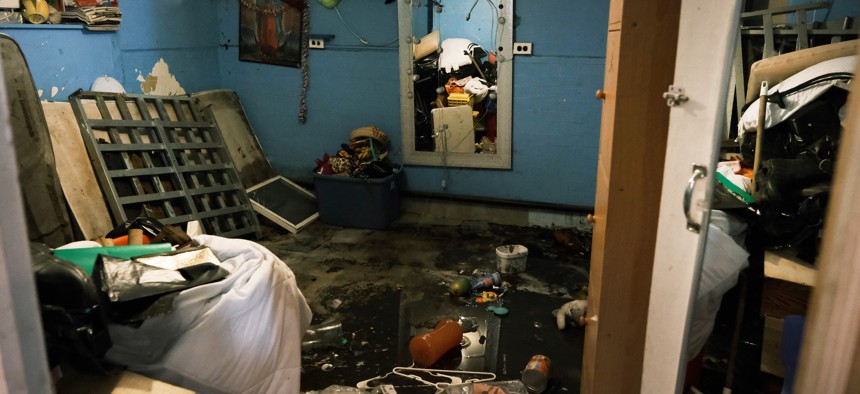 Flooding that incapacitated New York City on Friday has once again brought basement and cellar apartments to the forefront as housing advocates criticize lawmakers for their lack of action to legalize the dwellings. The new flooding comes two years after Hurricane Ida battered parts of Queens and killed several residents who drowned in their basement apartments. But as heavy rain shut down subway service and made roads impassable, state legislation meant to prevent such tragedies from happening again still remains stalled in Albany. 
Under current law, basement apartments – which are units partially above ground – are legal, but many that are occupied are not up to code due to the financial burdens it would place on the homeowners. Cellar apartments, which are entirely underground, are currently completely illegal. Both kinds of apartments are often occupied by low-income people of color who have few other options for affordable homes. Housing advocates have for at least 15 years pushed to legalize those units in order to create more and safer housing, but have not yet had success. 
Even though they expressed disappointment that the legislation has not passed as flooding again impacts the city, housing advocates have seen greater momentum and attention paid to the issue since Ida hit. "The fact that there has been legislation that's been supported by this mayoral administration and the governor during the past two state legislative sessions is a sign that people are taking this issue seriously, and it is certainly closer than it's been," said Sylvia Morse, the policy program manager at the Pratt Center for Community Development. She is a member of a coalition of housing groups that are advocating for legalizing basement and cellar apartments called Basement Apartments Safe for Everyone. "I hope that we get through this weekend without any deaths or serious injuries or major damages," Morse said. "But I think that it's still important that legislators recognize this event as an emergency, even if the worst does not happen."
The legalization of basement and cellar apartments has also faced fierce resistance from a handful of vocal state lawmakers, particularly from Queens where the units are especially prevalent and where the drowning deaths occurred in 2021. Those critics have argued that the units are dangerous and that legalization would result in even more unsafe circumstances. Morse characterized those opponents as "a small number of loud people" and said that continued education is crucial to getting the legislation passed. "I think a lot of people understand that this is a life and death safety issue, but the actual policy issues and regulatory challenges are a lot more complicated," Morse said.
Morse added that people are already living in these dangerous and substandard apartments even though they are technically illegal. She argued that keeping them that way will only ensure that tenants continue to reside in unsafe homes. "Legalization would be an expansion of housing regulation to establish what kinds of minimum standards around light and air, around egress, should be put in place for basement apartments," Morse said. And then creating a program where homeowners could come forward, and their tenants could come forward to apply for this program and really figure out which of these homes can be made safe, which cannot." 
Gov. Kathy Hochul had originally pitched housing as the cornerstone of her policy agenda for this past legislative session, proposing a plan to increase the stock at the beginning of the year that included legalizing basement apartments. But the plan faced fierce resistance, particularly from lawmakers in the suburbs unhappy with growth mandates, and ultimately lawmakers went home for the year without reaching a compromise. That meant that no major housing policy got approved – including legalizing basement dwellings.
Near the end of the legislative session this year, lawmakers and legislative leaders discussed the prospect of introducing their own package of housing bills. But even then, Assembly Housing Committee Chair Linda Rosenthal downplayed the possibility that the bill that would legalize certain basement and cellar apartments would get included. Although New York City Mayor Eric Adams made the legislation one of his priorities in Albany for the year, Rosenthal questioned how much legalizing the dwellings and creating a pathway to legalization would actually help mitigate the housing crisis both the city and state face. Ultimately, the nebulous package never materialized anyway.