New York City
In a packed primary to replace Rangel, candidates target their bases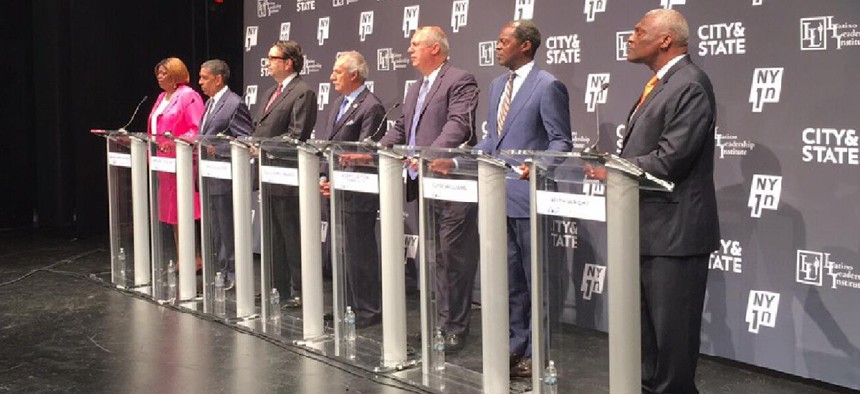 With the dean of New York's congressional delegation slated to retire, several candidates were expected to seize on the once-in-a-generation opportunity to succeed U.S. Rep. Charles Rangel.
But the fact that nine petitioned their way onto the primary ballot still stands out - even for those who have campaigned through many election cycles, like state Sen. Adriano Espaillat.
"Nine is a big number, so that's kind of surprising. But it works for me. I ran twice - my name is known," Espaillat said, referring to his unsuccessful attempts to unseat Rangel in 2012 and 2014. In 2012, five candidates, including Espaillat and Rangel, were on the ballot in the Democratic primary. In 2014 there were four candidates.
During Tuesday's primary, several uptown legislators will vie for the Democratic line that all but guarantees election in the left-leaning 13th Congressional District, which spans Harlem, Washington Heights, Inwood and the western Bronx. Assemblyman Keith Wright has consistently been sent to Albany by central Harlem voters, who embraced his father, an African-American judge famous for releasing defendants and speaking out against racism in the criminal justice system. Former Assemblyman Adam Clayton Powell IV, who grew up in Puerto Rico and represented East Harlem, also has a last name that conjures up his father, New York's first African-American congressman. Espaillat and Assemblyman Guillermo Linares have touted being the first Dominican-Americans elected to various positions and spent years rivaling for power in Washington Heights and Inwood.
But Clyde Williams, the former political director of the Democratic National Committee and an unsuccessful candidate in 2012, has sought to remind voters that these lawmakers hail from a Capitol shaken by several corruption scandals. He and former Ambassador Suzan Johnson Cook have highlighted their work in Washington, D.C., and their sense that voters want to send a fresh face to Congress.
Meanwhile, Michael Gallagher, a father from Washington Heights and one of two white candidates, has questioned the importance of identity politics. The other white candidate - chess player Sam Sloan - has mostly eschewed public attention. And the final candidate - Yohanny Caceras - declined to share autobiographical information at a recent forum.
In such a crowded field, the need to identify and send a discrete base to the polls becomes paramount. Turnout is expected to be tepid - it's an off-year election that comes as some New Yorkers embark on summer vacations. Given New York's tribal voting instincts, multiple contenders from the same background are expected to draw from the same bases and diminish presumptive frontrunners' leads. All the while, the number of votes needed for a victory will drop - and candidates may find it's not worth their time to show up in communities where they expect slim support and may only serve as a reminder that there's a contested election.
"You don't want to send everybody to the polls; you want to send only the people you've identified as favorables to the polls," said Hank Sheinkopf, a consultant advising Wright. "If you do the wrong thing, you could bring people to the polls who are absolutely not your voters, and in a close race that could be the difference between victory and defeat."
Particularly in the waning days of a campaign, political consultants say candidates often try to gauge whether it's worth visiting opponents' strongholds. Controversial officials may provide their opponents with enough anti-incumbent or other negative sentiments to capitalize on. Others may have a large enough following that it would prove foolish to remind their base the candidate actually has a competition this year.
The calculations have grown more complex with nine candidates in the mix, according to consultant Eli Valentin. And Valentin described Rangel's 2012 campaign as complicated. At that point, Rangel had to decide how to approach the Bronx, which had been drawn into his seat and officially transformed a traditional black stronghold into a majority Latino district. Rangel's mother was African-American and his father was Puerto Rican, but his father did not have a significant presence in the congressman's life.
Ultimately, Valentin said Rangel took veteran operative Mike Nieves' suggestion and targeted his Bronx campaigning efforts at African-Americans.
"It was a pretty daring strategy because conventional wisdom would say, 'Well, go to the Bronx, and target everyone,'" Valentin said. "But that wasn't the case because if they would have targeted everyone, it would have increased the likelihood of Latino voters coming out, which would have benefited Espaillat instead of Charlie Rangel."
With a packed primary this time around, the support of groups that are organized enough to mobilize members - religious congregations, tenant groups and unions - remains important, according to Gerald Benjamin, a political science professor at SUNY New Paltz. Wright, the Manhattan Democratic Party leader, has locked in institutional support from the Bronx Democratic Party, the building service workers union 32BJ, Teamsters Joint Council 16 and other unions. Espaillat has been backed by a number of elected officials, many of whom are Latino, and the Transportation Workers Union Local 100.
But some unions have decided not to wade into the race and select one among multiple long-time allies. The city's municipal union DC 37, the New York Hotel and Motel Trades Council, the health care workers union 1199 SEIU and the labor-backed Working Families Party opted not to endorse a candidate.
Amid the competition, candidates said they've thought about how to separate themselves from the pack. Cook said gender had given her an edge, noting that messages of support flooded in after a debate, which she characterized as male-centric. She also described moments on the campaign trail where passersby would ignore her team at subway stops, but turn around to retrieve campaign literature after hearing she's the only woman in the race.
Michael Oliva, a consultant working for Powell's campaign, said he felt some of this year's contenders would have stuck with a more diplomatic approach - say, critiquing opponents without calling them out by name - had the race been less crowded. And Wright contended some had produced posters and mailers similar to ones his team previously put out because "they looked good."
"You have to try to get your message out as much as possible. I don't care how much experience you have, sometimes it can become very unwieldy when there are that many candidates," Wright said, noting he won his seat amid a nine-way race in 1992 and had also come up short while competing against eight other borough president candidates in 2005. "The lucky number seems to be nine for me."
Powered By
NEXT STORY: Ferreras-Copeland endorses Espaillat for Rangel's congressional seat