Andrew Cuomo
Will Hillary Clinton's endorsement help Cuomo?
The Democratic state convention was friendly terrain for the former senator from New York.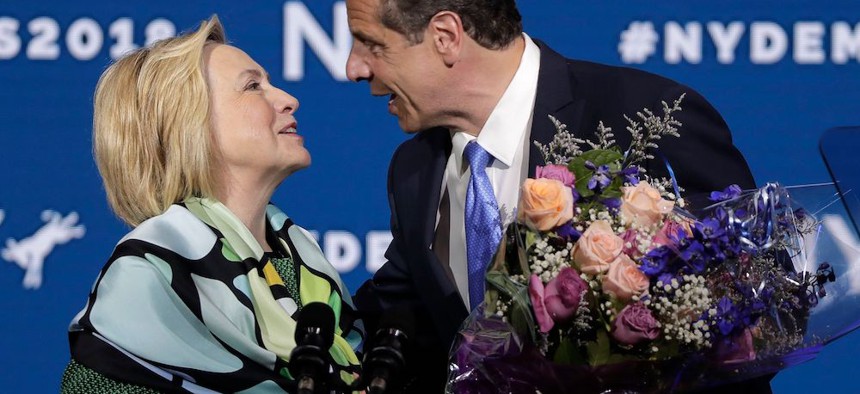 Westchester's most famous resident just gave Westchester's second-most famous resident a political boost.
Hillary Clinton, former New York senator and 2016 Democratic presidential nominee, gave the keynote address at the state Democratic Convention at Hofstra University on Long Island, on Wednesday. Clinton also endorsed Gov. Andrew Cuomo for re-election and effusively praised Cuomo's record. "I've had the personal privilege of knowing and working alongside Gov. Cuomo for a long time," she said, referring to Cuomo's time as secretary of Housing and Urban Development in her husband's administration.
Although Clinton is unpopular in many parts of the country, that is not true in New York. Cuomo may have sought the support of a hometown politician to shore up his support with women and people of color as he faces a primary challenge from actress Cynthia Nixon. In her campaign, Nixon has been assiduously courting demographic groups that Cuomo has easily won in the past, particularly women and black voters.
In a statement, Nixon dismissed Clinton's endorsement of Cuomo. "The governor can cloak himself in as many endorsements as he wants – but it won't hide the fact that, to quote him, he's governed this state in a way that would make any Republican proud," Nixon said, referring to a statement from the governor during his 2014 re-election campaign.
However, Lawrence Levy, executive dean of the National Center for Suburban Studies at Hofstra, said that, given the widespread admiration for Clinton among New York Democrats, Cuomo would have sought her endorsement even without a primary challenger. "Regardless of what happened in 2016, in much of the rest of the country, she's still really a rock star in New York. She's strong in New York City, she's strong with Democrats throughout the state, and she did well in the swing suburbs," Levy said.
Her audience at the convention was just as enthralled as if she were an actual rock star. She received a standing ovation at the beginning and end of the speech, and her address was punctuated with multiple breaks for applause.
Clinton's rousing speech and rapturous reception at the state convention could provide a blueprint for how the former candidate will be involved in the 2018 midterm elections in her home state. Whereas, in Georgia, Clinton endorsed gubernatorial candidate Stacey Abrams but only recorded robocalls for Abrams, in New York, Clinton could appear in person and offer full-throated support without potentially harming her preferred candidate.
Clinton highlighted what she considers to be Democrats' shared values, even though many in the party's left flank do not feel that she speaks for them. At one point in her speech, Clinton led the crowd in a call-and-response, saying that if they want action to protect a woman's right to choose, to improve education, and reform immigration, among other priorities, then "you've got to vote for Democrats."
"If you believe that standing up for evidence, and reason, and standing up for the rule of law is critical to our democracy, you've got to vote for Democrats," she said, perhaps indirectly insulting her former opponent, President Donald Trump.
Clinton used describing what it meant to be and vote for Democrats to affirm her position as a party leader and to pivot to praising Cuomo and his running mate, Lt. Gov. Kathy Hochul. "We need leaders who believe in producing results and getting things done – leaders like Andrew Cuomo and Kathy Hochul," she said.
"Since Gov. Cuomo took office, New York has passed marriage equality, implemented common-sense gun safety laws, and adopted the strongest paid-family leave policy in America," Clinton said, rehashing achievements that previous speakers had praised. "He is not afraid to take on anyone who tries to hurt this state or our country."
Clinton also mentioned the accomplishments where she had personally supported Cuomo. "After the heartbreak of the 2016 election, I was overjoyed when Gov. Cuomo announced plans to put an affordable college education available for everyone," said Clinton, referring to the Excelsior Scholarship. "I was proud to stand with him when New York became the first state to raise the minimum wage to $15 an hour."
Not everyone in the convention hall at Hofstra University was enthused about Clinton's appearance. The Clinton brand has lost some of its shine as Democratic voters move away from the moderate politics that former President Bill Clinton popularized in the 1990s. Bill Clinton has also received increased scrutiny in the #MeToo era, and current New York Sen. Kirsten Gillibrand invited controversy by saying that he should have been impeached for lying about his affair with Monica Lewinsky.
New York City Councilman Jumaane Williams, who is running for lieutenant governor, argued that Clinton's presence showed that the state Democratic Party was disrespecting the left. "It looks like they just are saying to the left, 'either shut up, or we will keep nudging you,'" Williams told City & State. He argued that Clinton should have been balanced by someone from the party's left wing, like Bernie Sanders.
But although her name is synonymous with establishment politics among many voters on the left, Clinton still has New York clout. "You could not get a more unifying figure with a better track record for sweeping Democratic primaries and general elections in New York state than Hillary Clinton since 2000," said Bruce Gyory, a Democratic consultant.
Indeed, Clinton has won every election that she has launched in New York. She won her first Senate election in 2000 with 55 percent of the vote, and then again in 2006 with 67 percent. In the 2008 Democratic primary against Barack Obama, Clinton won New York with 57 percent. In 2016, She won the Democratic primary with 58 percent, and the general election with 59 percent.
At the end of her speech to the convention, Cuomo presented her with a bouquet of flowers. "You're an inspiration, you're a crusader, you're a pioneer, and we are so grateful you're a New Yorker," Cuomo said.
The governor, in particular, is probably grateful that Clinton is a New Yorker, as he is running in a race in the state where her name and her endorsement is still a benefit.