Eliot Engel
Left-wing candidates are challenging entrenched Democrats
Young progressives are stepping up in New York City to unseat longtime incumbents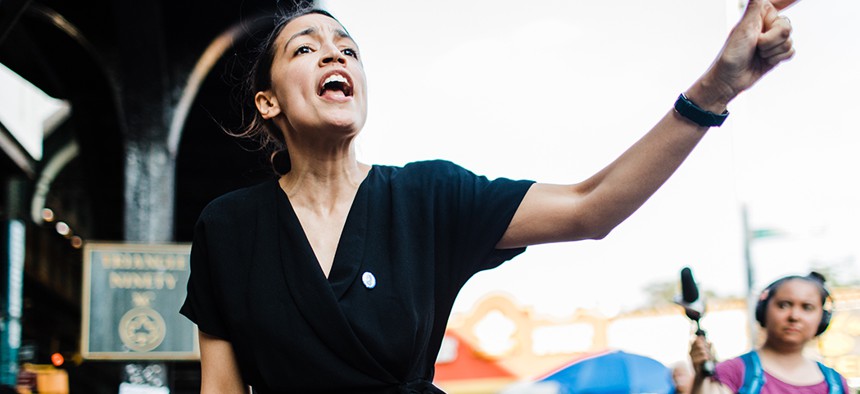 New York's congressional primaries are on Tuesday, and while many are focused on which Democrats will win the nominations to take on vulnerable upstate and suburban Republicans in the fall, a number Democratic primaries in New York City promise to be interesting as well. Reps. Joseph Crowley, Carolyn Maloney, Yvette Clarke and Eliot Engel all face spirited primary challenges from the left. Although the incumbents, each well-entrenched in their districts, are expected to win, they are facing serious competition for the first time in years.
 
District 9
Incumbent: Rep. Yvette Clarke
Challenger: Adem Bunkeddeko
Clarke, the first Caribbean-American woman elected to Congress has served since 2007. She previously represented a Brooklyn New York City Council seat held before by her mother, Una Clarke. Despite a consistently liberal voting record that is in keeping with her district's views, Bunkeddeko has argued that Clarke is ineffective, failing to pass even one piece of legislation she sponsored. The New York Times agreed with the assessment, endorsing him over the longtime incumbent. (The 30-year-old Bunkeddeko, the son of Ugandan war refugees, is the only insurgent candidate the Times endorsed.) At a debate however, Clarke pointed to a piece of legislation she passed in 2013 to help people mistakenly placed on a do-not-fly list, as well as amendments she has passed. She also attacked Queens-bred Bunkeddeko for being a recent transplant into the community. Another strike against the insurgent is his lack of experience in government or public office, despite his impressive Haverford College and Harvard Business School education and having managed Democratic congressional campaigns in Arkansas. Clarke is outraising Bunkeddeko, having raised over $773,000 to his nearly $231,000, and she has made it clear she does not see him as a threat, saying she is laughing about his candidacy.
 
District 12
Incumbent: Rep. Carolyn Maloney
Challenger: Suraj Patel
Maloney has been a member of Congress from the East Side of Manhattan since 1993. Patel, a former Obama campaign staffer, is a 34-year-old scion of a wealthy hotel chain-owning family looking to unseat her. Patel has attacked Maloney for voting for the Iraq War, against the Iran nuclear deal and for her comments contrary to established science on vaccines. However, Patel is not without his own controversies. The hotels his family own have faced years of labor complaints. He drew criticism for inappropriate comments he made about the U.S. gymnast McKayla Maroney when she was 16-years-old. The New York Post reported the Patel may be violating federal election law with the way he has spent some of his campaign cash. Last week, he faced blowback for using dating apps to bank voters. Maloney is contrasting her proven track record in Congress with Patel's inexperience, while Patel has promised to defund Immigration and Customs enforcement and pledged to fight for sex workers. Both candidates have impressive fundraising, with Maloney at over $1.6 million raised and Patel at over $1.2 million.
District 14
Incumbent: Rep. Joseph Crowley
Challenger: Alexandria Ocasio-Cortez
Crowley has been a mainstay in Congress since 1999, steadily rising through the ranks and possibly seeking the speakership should Democrats win control of the House of Representatives. He also heads the powerful Queens Democratic machine as the chairman of the Queens Democratic Party. Crowley is facing Ocasio-Cortez, a 28-year-old teacher and former Bernie Sanders organizer from the Bronx. She has made major splashes in the race with endorsements from national progressive groups, including Our Revolution and Move On. She made national headlines in outlets like The Intercept, Refinery29, and HuffPost. Ocasio-Cortez has attacked Crowley for taking money from corporate PACs, vowing her campaign never will. She has also criticized him for missing a debate against her, something that has earned the congressman a scathing takedown in the the Times, and she accused him of ignoring his constituents, especially in the Bronx. Crowley in response has focused on Ocasio-Cortez's inexperience, saying the district and the party need strong, experienced leadership now to combat Trump. This is Crowley's first primary opponent in 14 years. He is also out-raising Ocasio-Cortez by a very substantial amount, having raised over $3.3 million compared to her nearly $313,000.
 
District 16
Incumbent: Eliot Engel
Challengers: Jonathan Lewis, Derickson Lawrence, Joyce Briscoe
Although Engel is facing three primary challengers, Jonathan Lewis has gotten the most attention. Although Lewis has raised a fair amount of money to take on the three-decade incumbent who represents parts of the Bronx and Westchester, the race has been far quieter than the other three Democratic primaries in New York City. Lewis co-founded a money management firm and is taking a break from his job in order to run against Engel. He put at least $650,000 of his own money into his campaign while attacking the congressman for accepting money from groups that have issues before Congress. Despite being "unknown," Lewis has said he wants to help clean up the Democratic Party and make sure Engel faces strong competition to ensure democracy. Engel appears to be taking the challenge at least somewhat seriously, having sent out mailers to constituents, negatively linking Lewis to the CIA. Engel has raised $1.1 million to Lewis' $858,000.