Campaigns & Elections
Chris Collins' office entryway campaign
The indicted congressman has been even harder to reach than usual, but many voters didn't mind.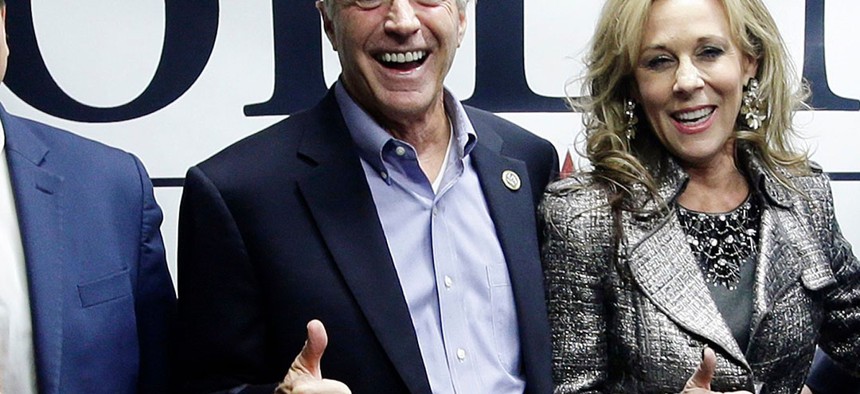 For much of Election Day, like much of his current term in Congress, Rep. Chris Collins was a hard man to find.
Reporters staked out his polling place all day, catching him for a brief interview as he voted. But Collins refused to release information on where he would be as results rolled in, highly unusual for any candidate for office, let alone an incumbent congressman.
It wasn't until shortly before his opponent, Grand Island Town Supervisor Nathan McMurray, appeared to concede at his own results party that Collins hastily called together a press conference, to which select media outlets were invited, at the downtown Buffalo office of Big Dog Strategies. "I am reelected," Collins said to a gaggle of reporters crowded into an entryway. "That's all that matters and I will represent everyone in the district, Democrats, Republicans and independents with the best constituent service of any member of Congress."
Even that may not turn out to be true: About two hours after he had conceded, McMurray released a statement saying that his campaign had examined the numbers and they thought the race was too close to call – Collins' lead at the time McMurray had conceded was only 1 percent – and that "the voters must be heard."
Collins and McMurray held dueling press conferences Wednesday, with McMurray claiming that absentee and provisional ballots could decide the race and Collins campaign adviser Chris Grant calling on McMurray to accept the unofficial results and move on.
McMurray said that there are 18,000 uncounted ballots, more than enough to close the approximately 2,800 vote gap between him and Collins. "We are going to fight for every single vote," he said.
County election board officials will soon begin counting absentee ballots and reviewing paper ballots from every voting district, a process that is expected to last into December.
Collins, who was indicted on insider trading charges in August, repeated the claim that he has had exemplary constituent interactions several times during the election night press conference. But he has been under fire for hiding from constituents for years, refusing to hold open forums at least since the 2016 election, long before his August indictment. He has characterized such meetings as opportunities for hostile operatives from outside the district to cause a spectacle and harass lawmakers, drawing the ire of many constituents who say they have no access to their representative. Some even raised money to put up billboards in an attempt to shame the congressman into holding open meetings instead of the highly orchestrated meetings with handpicked constituents behind closed doors that he has pointed to as a substitute.
The Erie County GOP's results party in a downtown hotel a few blocks away, no signs for Collins hung in the banquet hall, a fact that county chair Nick Langworthy attributed to the Collins campaign failing to offer any.
While some might have found the candidate's absence from his own victory party a disappointment, it was impressive that Collins even managed to stay in the race. Shortly after Collins was indicted, he announced that he was suspending his campaign. Republican leaders scrambled to find a way to replace him on the ballot while potential candidates lined up to be interviewed. A month later Collins resumed his campaign, at the advice of his attorneys, leaving Republican leaders flabbergasted and frustrated.
It remains unclear where the relationship with local Republican leaders will go in the future, but the tension was evident in both camps on election night. When Langworthy announced Collins' win, he did not utter the congressman's name. "We have a Republican congressman from Western New York and we wish him the best," Langworthy said during an extremely brief victory speech. Asked to talk about the implications of the win, Langworthy rushed away from a City & State reporter. "I've got lots of stuff to do," he said.
Later, to a gaggle of reporters, Langworthy suggested the Republican strategy of presenting a vote for Collins as a vote for President Donald Trump's agenda – regardless of how voters felt about the congressman's legal troubles – ultimately worked. "Chris Collins' voting record is crystal clear to the voters in the district," Langworthy said. "They supported that ideology. They looked past his legal situation."
To some in the district, the charges seemed to make no difference. Chico Macchioni, a voter in the district, told The Buffalo News the charges didn't mean anything to him. "All politicians are crooks," he said, adding that he would vote for Collins to ensure that his Second Amendment rights were protected.
And Collins' early support of Trump seemed to buy him some leeway on the indictment as well. "All I have to say is that Collins is for President Trump, and I'm for Trump," Craig Botzenhart told the newspaper in the same article.
But the fact that Collins may have lost shows that many of his constituents were not persuaded by that argument. Registered Republicans outnumber Democrats by 40,000 in the district. He won by 35 points in 2016. In a district that would normally show great support of a candidate that has run the table in recent elections, Collins campaign signs were scant.
McMurray, who sent a email out at 12:48 a.m. on Wednesday undoing his concession and calling for a recount, seemed to at least partially agree with Langworthy's analysis. In a phone interview shortly before calling for a recount, McMurray bemoaned the effectiveness of the Republican strategy to peg him as a far-left liberal. "He painted me as someone I'm not," McMurray said about Collins. "I'm really a pragmatist. He knew what he was doing and it was an effective approach."
McMurray, whose candidacy seemed hopeless before the indictment, was suddenly thrust onto the national stage after the charges were announced. The Grand Island Town supervisor and attorney, whose hometown falls just outside the district, saw a massive influx of donations after Collins' August surprise. In the first two weeks of October, on the heels of several polls that showed the race narrowing to virtually a dead heat, his campaign committee took in almost a quarter million dollars, about 25 percent of his campaign totals. Over that same time period Collins' campaign committee saw just $1,754 dollars come in, according to Federal Election Commission filings.
Still, McMurray never got full-throated support, figuratively or financially, from the Democratic Congressional Campaign Committee, a factor he says may have helped him avoid what for now is being considered a defeat. "We had support, but it came too little, too late," McMurray said. "I wish it was different. I wish they saw the potential that we saw, but they didn't."
The contest at times took on a nasty tone. McMurray consistently reminded voters of the federal insider trading charges hanging over the congressman's head. However, he never sought to tie Collins, who was the first member of Congress to publicly endorse the president during the primary process, to Trump, which would likely have been a losing tactic in New York's reddest congressional district, which stretches across the suburbs and rural areas between Buffalo and Rochester. In fact, McMurray worked to sell himself as a centrist, releasing a video of himself holding a gun he owns and explaining his positions on gun control in an effort to boost his Second Amendment bona fides. He also said that he would not vote for Rep. Nancy Pelosi, a favorite boogeyman for conservatives, to be the Democratic leader in the House of Representatives.
Meanwhile, Collins and his allies cast McMurray as a hard-left liberal activist. In one ad, widely decried as racist, McMurray, who studied as a Fulbright scholar and worked as an attorney in South Korea, was shown speaking Korean in video pulled from a goofy campaign spot his camp put together ahead of Trump's North Korea summit. The Collins commercial presented an ominous message with a completely inaccurate translation of McMurray's comments to baselessly accuse McMurray of allying with Asian companies to offshore American jobs. In another Collins ad, images of McMurray are juxtaposed with random videos of people breaking windows and rioting.
It remains unclear whether Collins will be able to mend fences with the Erie County GOP leadership. And, if Collins is declared the winner, it is unclear if he will be in a position to run again in 2020.
That could again leave Republicans in a tough spot. If he is convicted and expelled from the House during an election year, it might put the district in play again – although arguably Republicans would be better-positioned then because they could nominate a scandal-free candidate if the trial plays out quickly and everything is settled before primary voting.
For now, Collins is trying to put a friendly face forward, saying several times during his press conference that "all is good." He claimed in the gaggle right after McMurray conceded that he was willing to be more open with the media – for years he has only spoken to the press through staffers and campaign aides or when confronted in the halls of Congress – granting an interview with The Buffalo News' Robert McCarthy hours after calling the paper "the fake Buffalo News."
Emails, social media messages and phone calls to the Collins camp leading up to the election and the morning after from City & State were not returned.
For a congressman who has avoided the public and the media for years, it seems hard to believe that he would now, with federal insider trading charges hanging over his head, suddenly become an open book – and his behavior on election night suggests that old habits die hard.
Correction: This post has been changed to reflect that Collins' election night press gaggle was held in an office suite's entryway, not an apartment building's lobby.