Andrew Cuomo
What's not in Cuomo's budget?
Gov. Andrew Cuomo's wide-ranging budget address left out several legislative priorities.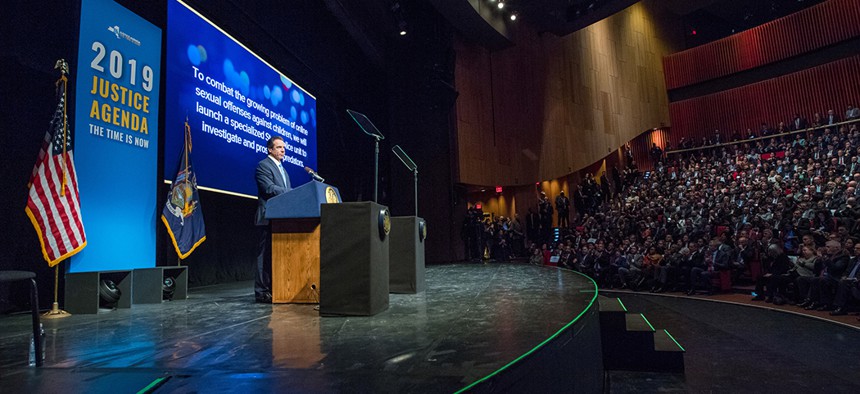 Gov. Andrew Cuomo's budget proposal for fiscal year 2020 – and the nearly two-hour address that accompanied it on Tuesday – is filled with advancements on key progressive measures including legalizing recreational marijuana and enshrining aspects of the Affordable Care Act in state law, as well as a few ideas popular on the right, like a permanent property tax cap and increased funds for upstate development.
But several policy ideas tossed around by both Democrats and Republicans were left out of Cuomo's budget proposal, suggesting that they are not a priority for him. These are a few of the big ticket items that were overlooked on Tuesday.
Single-payer health care
Progressive Democrats have been pushing a version of single-payer health care under the New York Health Act, and with a new Democratic majority in the state Legislature, that bill may finally have a chance at passing. But Cuomo made no mention of that bill or the idea of introducing a single-payer system to the state – something he has said in the past would be too expensive to enact.
The bill, sponsored by Assemblyman Richard Gottfried and state Sen. Gustavo Rivera, proposes one public health care provider and a ban on the sale of private health insurance unless it offers additional coverage not included in the state plan. It's a bold proposal that hasn't been enacted in any state, and Cuomo's omission of this progressive priority is not surprising given its hefty price tag. Health care initiatives that Cuomo did advance in his budget address include a move to enshrine certain key provisions of the Affordable Care Act in state law, invest $15 million in enhanced services to the elderly and introduce legislation to codify Roe v. Wade and protect access to contraception.
Universal rent control
The issue of affordable housing was not ignored in the governor's budget, as it proposed continuing the $20 billion Affordable Housing and Homelessness Initiative, which invests in creating and preserving affordable and supportive housing. The new budget proposes that resources continue to be devoted to specific needs including senior housing, new construction, and developments owned and operated by the New York City Housing Authority – a body which has received considerable criticism in the last year.
While Cuomo's budget proposal referenced reforms to rent regulation, he left out a big talking point for tenant advocacy groups, and for his primary challenger Cynthia Nixon: universal rent control. Rent regulation reform has long been on the Democrats' agenda, but members of the party's left wing – like state Sen. Julia Salazar – have advocated for universal rent control, which would theoretically include measures like expanding existing rent regulations beyond New York City and eliminating preferential rent.
A $2 billion education funding bump
Cuomo's budget proposed a $1 billion boost in education aid, which, though larger than fiscal year 2019's funding, still falls short of the $2.1 billion that the state Board of Regents has said is necessary to meet students' needs. The new budget proposal also calls for a $338 million increase in Foundation Aid – funds that go to high-needs districts. The fight over school funding has been ongoing since a 1993 lawsuit by an advocacy group called the Campaign for Fiscal Equity led to the state Court of Appeals requiring that more funds be allocated to New York City classrooms. Cuomo and others have argued that that requirement has been fulfilled, while state education officials have said that much more is owed.
"Everybody wants more money for everything," Cuomo told WAMC Radio's Alan Chartock on Wednesday morning. "Education, we spend more than any state in the United States, double the national average. 'Well we want more.' I know, but it's double the national average." The governor instead proposed a new formula for distributing funds that he says would require districts to send a significant portion of school aid to the neediest schools. The plan would be submitted for approval to the state Education Department.
Scaffold Law
Another point not mentioned in the governor's budget is a move to repeal the Scaffold Law, a statute which imposes 100 percent liability for gravity-related injuries on contractors and owners, even if they are only partially at fault. Contractors blame the law for increased construction costs, and while Republicans have pushed for its repeal, those efforts have stalled in the Democratic-controlled Assembly which, like Cuomo, has been accused of resisting reform in the interests of the trial lawyers' lobby and building trade unions which can benefit from the law. With both chambers of the state Legislature controlled by the Democrats, the governor's omission of Scaffold Law changes in this week's address likely means it will remained stalled.
Republican proposals
Not surprisingly, a number of provisions advanced in the state Senate Republicans' budget plan did not make it into the governor's proposal. The Senate Republican conference proposed items including a state spending cap, requiring a two-thirds supermajority vote to raise taxes – to reduce the likelihood of future tax increases – and a measure to direct all tax revenue from marijuana sales to tax relief, in the event that New York legalizes recreational marijuana.
While the governor dedicated much of his address to the progressive move to legalize marijuana, he proposed tax revenue from its sales be directed towards purposes including traffic safety, monitoring and reporting, and small business development. Unsurprisingly, the governor's budget did not align with Senate Republicans' on making tax cuts a priority on this front.