New York State
Is fusion voting going to be eliminated?
New York's unusual, controversial cross-endorsement practice of fusion voting is under discussion.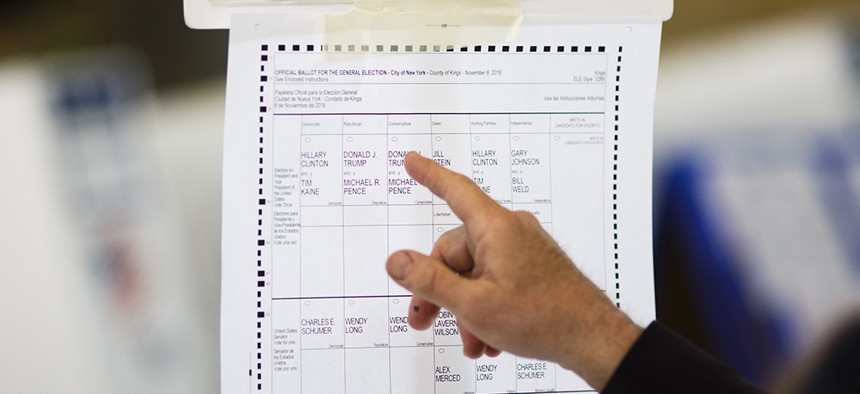 This story was originally published on Feb. 8, 2019.
Despite recent calls from some elected officials for the end of fusion voting in New York, as the state moves to reform its electoral processes, there is little evidence that the unusual minor-party cross-endorsement system will be scrapped any time soon. Here's a guide to everything you need to know about the system, its strengths and weaknesses and who is for it and against it.
What is fusion voting?
When a candidate is supported and endorsed by more than one party on the ballot, or appears on more than one ballot line, it's known as fusion voting. This can also be called cross-ballot voting.
For a third party to appear on the ballot in New York, there are two steps. First, the party must accumulate 15,000 signatures of registered voters. At this point, the party can select their candidates and appear on that year's ballot. In New York, as in only seven other states, the party can opt to select candidates who already are the nominee of another party.
At the time of election, the party must receive 50,000 votes for governor to be guaranteed a ballot line for the next four years. So, minor parties can retain their ballot line by typically endorsing either the Democratic nominee for governor – as the progressive Working Families Party tends to do – or the Republican gubernatorial nominee – as the Conservative Party does. Other parties, such as the Green Party and the Libertarian Party, have a history of nominating their own candidates for governor and still manage to reach the 50,000-vote threshold.
Which states allow fusion voting?
New York is not the only state that allows for fusion voting, although it is one of only a handful including Connecticut, Delaware, Idaho, Mississippi, Oregon, South Carolina and Vermont.
What are the official minor parties of New York?
Not including the Republican and Democratic parties, there are five official parties in New York: Green, Independence, Reform, Conservative and Working Families.
The Women's Equality Party was created in 2014 by Cumo, but lost its ballot line in 2018 after it failed to receive the required 50,000 votes to continue as an automatic ballot line for the next four years.
Some third-party endorsement trends show partisan divides, like the Working Families Party usually endorsing a Democratic candidate. Other third parties, like the Independence Party and Reform Party, cross-endorse but are less predictable than the Conservatives and WFP in which party's candidate they will back. The now-dead Liberal Party also endorsed candidates from both major parties, as well as occasionally its own candidates.
What are some other third parties in New York?
In recent elections, there have been some unique third parties showing up on ballot lines. City & State reports here on some of the oddest examples.
What are the advantages of this system?
Fusion voting allows minor parties to hold greater influence in elections. Voters are able to support minor parties by voting for the candidate on a specific ballot line while not necessarily endorsing the major parties. "It allows certain segments of the community to form their own parties based on their own issues," said Jerry Goldfeder, a veteran election lawyer in New York. "It enables voters to have a choice on what line they vote for a particular candidate."
In voting along the minor-party ballot lines, voters are able to send a more specific message about which policies they support. Someone on the left can, for example, vote on the WFP line to express a preference for a more aggressive progressive agenda without wasting a vote on a hopeless Green Party candidate and potentially helping to elect a Republican by taking votes away from the Democratic nominee. "Fusion offers those voters the best of both worlds: they can cast a meaningful vote for a candidate with a credible chance of victory while still expressing their support for a third party's agenda," wrote Adam Morse and J. J. Gas for the Brennan Center for Justice.
Third parties are also able to hold candidates accountable to their party lines. The Conservative Party or the Working Families Party could withhold an endorsement if a candidate is insufficiently liberal or conservative for them – or, in the case of WFP endorsements for county judges, just too corrupt or unqualified.
What are the disadvantages?
Opponents of fusion voting say the minor parties have too much power because candidates will be vying to grab the endorsements. The Daily News reported that state Sen. Diane Savino, a Staten Island Democrat, called for the repeal of fusion voting because it "allows minor parties to hijack major parties." The minor parties could be interpreted as pulling the candidates to the extremes and making it harder for moderates, like Savino, to stay in power.
Fusion voting also causes a messy ballot. "It could be confusing to a voter to see a candidate on multiple lines," Goldfeder said. Other complexities can arise as well. Cynthia Nixon lost the gubernatorial Democratic primary to Cuomo last year, but she was remained on the ballot as the WFP's nominee for Assembly District 66. To be taken off the ballot line completely, a candidate must register to vote in another state or die. In the past, perhaps most notoriously in the case of the Liberal Party, fusion voting has sometimes allowed minor parties to devolve into patronage machines that trade endorsements for jobs or other favors.
Who is supporting fusion voting?
The New York state Legislature received a letter this week from a number of New York's representatives in Congress supporting fusion voting. Among the 17 signatures from New York's congressional delegation were Reps. Hakeem Jeffries and Alexandria Ocasio-Cortez, showing support in both the party's mainstream and left wings. U.S. Sens. Charles Schumer and Kirsten Gillibrand also endorsed the letter.
Although Gov. Andrew Cuomo's office did not make a statement on the matter of fusion voting, Cuomo has been known to support minor parties and the cross-ballot system. In 2013, he did call for ending the so-called Wilson-Pakula process, in which party leaders grant permission for a candidate registered with another party to run on their line. Cuomo has also had a particularly contentious relationship with the WFP over the years. 
Who is against fusion voting?
Besides Savino, Democratic Committee Chairman Jay Jacobs has also voiced his discontent with fusion voting, saying that it "weakened the Democratic Party." Other opponents include Erie County Democratic Party Chairman Jeremy Zellner and Suffolk County Executive Steve Bellone.
So what happens next?
With the state Legislature now controlled by Democrats, other electoral reforms passed quickly in early January. Changes included closing the LLC loophole, more days of early voting, the consolidation of the state and federal primary voting days, and allowing 16- and 17-year-olds to be pre-registered to vote. Fusion voting has not yet been addressed legislatively.
Powered By
NEXT STORY: New York City's 10 biggest lobbying spenders