New York State
Why these New York politicians are backing Beto
Beto O'Rourke thinks he is born to run for president, and so far, it looks like New York Reps. Sean Patrick Maloney and Kathleen Rice agree.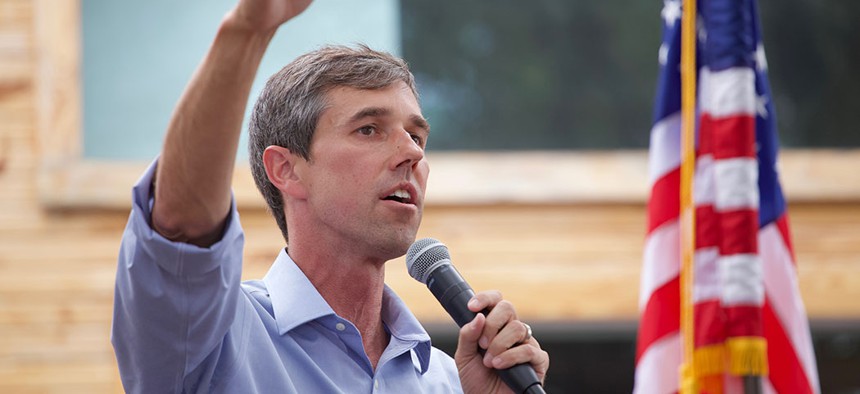 Beto O'Rourke thinks he is born to run for president, and so far, it looks like two members of New York's congressional delegation agree. U.S. Reps. Sean Patrick Maloney and Kathleen Rice both endorsed the former Texas congressman O'Rourke the same day he announced he was throwing his hat in the ring to be the Democratic nominee for president in 2020. In doing so, Maloney and Rice became the first members of New York's congressional delegation to endorse any of the politicians currently vying for the Democratic nomination. Notably, U.S. Sen. Kirsten Gillibrand, who actually represents New York, has not received any endorsements from the state's congressional delegation.
What made Rice and Maloney so eager to endorse? It wasn't O'Rourke's superior qualifications or favors he banked. It may have been their personal relationship with him and, perhaps, a desire to signal their moderation and youthfulness – or that choosing a presidential candidate with those qualities is the right direction for their party.
O'Rourke, 46, represented El Paso in Congress for three terms. During his energetic challenge to Republican U.S. Sen. Ted Cruz, and he gained national popularity through his viral stump speeches, Kennedy-esque looks and cool biography. But while O'Rourke ran a close race against Cruz – coming within three points of the veteran senator – he's joining a crowded field of Democrats eyeing the White House, many of whom carry progressive credentials or who would diversify the pantheon of presidents more than another white Christian man would. In contrast, O'Rourke's record in Congress and on the El Paso City Council is that of a moderate who often has sided with Republican-aligned business interests.
That, Democratic political consultant Bruce Gyory says, is why moderates Rice and Maloney are backing him. "They're playing the endorsement game as if it's Gretzky's approach to hockey, which is that you play it where you think the puck is going to be, not where it is now," Gyory said. "I think they probably see Beto O'Rourke being able to build bridges across generational and ideological lines that they think will be helpful to Democrats in swing areas like theirs, as well as the base."
Having only announced his candidacy on Thursday, O'Rourke has already racked up four endorsements from members of the House of Representatives, including Rice and Maloney. Former Maryland Gov. Martin O'Malley, who ran in the Democratic presidential primaries in 2016, also endorsed him. Despite O'Rourke's popularity, however, he has not established any key policy issues or let on what might be pillars of his platform.
To endorse so early in the race – before candidates have even outlined their national policy platforms – might seem rash, but Kathleen Rice said working with O'Rourke in Congress made her confident in his policy positions. "I've worked with him for four years, I sat next to him on the Veterans' Affairs Committee for four years, I know exactly what his priorities are," said Rice, who represents parts of Long Island, and has cemented a reputation as a relative moderate. "As his campaign develops, he will unveil a platform and I'm excited to see it. I'll tell you one thing that I'm glad he hasn't done, which a lot of people tend to do when they get in a race like this, which is just tack to a particular agenda because they think that's what the voters want to hear."
Maloney, who represents parts of Orange and Putnam Counties, is widely considered to be close to Gov. Andrew Cuomo, hinting that his early backing of O'Rourke could be yet another sign that Cuomo won't join the Democratic race. Maloney, arguably the most moderate Democrat in New York's House delegation, could be attempting to bolster his credentials in a swing district.
But it may just be that like Rice, he and O'Rourke already have a relationship. "They served with him in the House, I'm sure that they just have a good feel for him as a person, and then they saw him run a great race in Texas," Gyory said. In fact, in the statement announcing his support of O'Rourke, Maloney referenced his early morning runs with the former Texas congressman and how he "grew to love him and his family." Representatives for Maloney did not respond to requests for comment.
The early endorsements could also be a way to stand out among the New York Democratic congressional delegation, and perhaps even tap into O'Rourke's impressive fundraising network. "It's a place for these congresspeople to stake their own turf, away from everybody," Democratic political consultant Hank Sheinkopf said. Still, O'Rourke's endorsement of Maloney didn't help much during his failed bid for New York attorney general last fall.
What is perhaps most notable – if not totally surprising – about this pair of endorsements, is that the only 2020 Democratic presidential candidate from New York still has no support from New York's congressional delegation. Gillibrand, a fierce supporter of the #MeToo movement, looks ready to run as a more progressive candidate. New York's more liberal House members may be waiting to see how Gillibrand's platform and momentum compare to candidates such as Sens. Bernie Sanders, Elizabeth Warren, Cory Booker and Kamala Harris.
"Endorsing (Gillibrand) doesn't have much value to those congresspeople we're talking about. It doesn't get them money, it doesn't get them tuned into a younger populous," Sheinkopf said, adding that Gillibrand has focused more on developing a national profile than building relationships with fellow New York politicians. "You need something that has some energy. Beto O'Rourke represents energy in a Democratic Party that is breaking up into pieces that will hopefully unite during the November general election."
So while Rice and Maloney may not have been likely to support Gillibrand, their endorsements of O'Rourke have drawn more attention to the fact that Gillibrand is still running without home state support. Rice, for one, said that she doesn't see an obligation to support Gillibrand just because they're from the same state.
"I have a great relationship with Sen. Gillibrand," Rice said. "I've known her for a long time, I think she's an incredible public servant and a great New Yorker, but I think this election is too important just to simply fall in line behind someone just because you're from the same state. I think it's important to be more thoughtful than that, and that's why I'm with Beto."