New York State
Gillibrand, de Blasio come out swinging in second debate
New York City Mayor Bill de Blasio and Sen. Kirsten Gillibrand tried to stick out in a crowded field during the second round of Democratic presidential primary debates on Wednesday, clashing with out-of-state rivals and each other.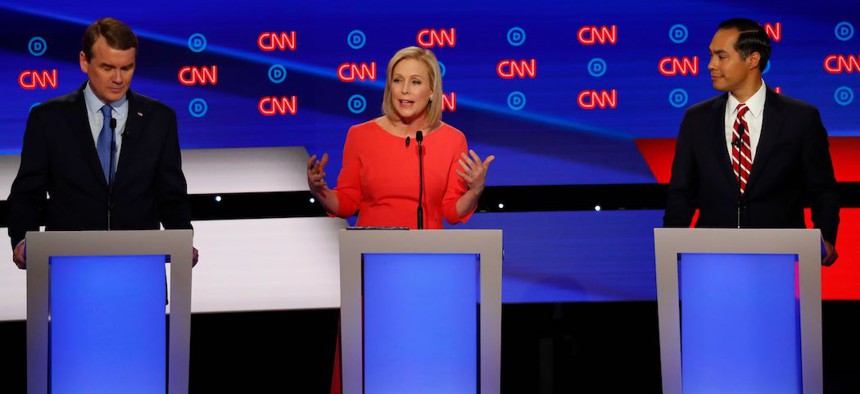 New York City Mayor Bill de Blasio and New York's junior senator, Kirsten Gillibrand tried to stick out in a crowded field during the second round of Democratic presidential primary debates on Wednesday, clashing with out-of-state rivals and each other. De Blasio, in particular, was haunted by the death of Eric Garner at the hands of NYPD officers, facing blistering criticism from Gillibrand and others for the fact that Officer Daniel Pantaleo, who compressed Garner's neck, is still on the force five years after the Staten Islander's death. 
The second part of CNN's Tuesday/Wednesday debate doubleheader was the first time de Blasio and Gillibrand faced off in their campaigns – if you don't count bickering over a photo opp celebrating the passage of the September 11th Victim Compensation Fund's extension – as they were separated into different nights during the first round of debates in June. With both candidates polling below 1% in national polls, de Blasio and Gillibrand have struggled to distinguish themselves against frontrunners including former Vice President Joe Biden and Sens. Kamala Harris, Bernie Sanders and Elizabeth Warren. But on Wednesday, de Blasio and Gillibrand jumped into the fray with Harris and Biden on the first question of the night, focusing on Harris' plan for expanding access to health care.

De Blasio came out hard against private health insurance. "There's this mythology that somehow all these folks are in love with their insurance in America," he said. Gillibrand made a similar point, adding that the patient's best interests are not private health insurance companies' first priority. "I'm sorry, they're for-profit companies," Gillibrand said. "They have an obligation to their shareholders.
What stood out most after de Blasio and Gillibrand's early comments on health care was both candidates' attempts to put Biden against the ropes. The former vice-president remains the leader in national polls, incentivizing every aspirant to try to cut into his support. Biden's strength among African-American voters is especially an impediment to de Blasio, as replicating his strong support among black voters, which helped carry him to City Hall, is crucial to any plausible path to the presidential nomination that the mayor might have. (De Blasio, perhaps hoping to emulate Harris' breakout moment in the first debate, in which she criticized Biden's past record on school integration, has been critical of Biden in recent interviews.) In multiple instances Wednesday, de Blasio went after Biden specifically, asking the former vice president why he didn't advocate for fewer deportations under President Obama's administration. After a few follow-ups in which de Blasio pressed for an answer from Biden, the former vice president said he kept his recommendations to Obama private. De Blasio managed to engage Biden during a section of the debate on the Trans-Pacific Partnership, a trade deal Obama supported. "I love your affection for me, you spend a lot of time with me," Biden told de Blasio.
Gillibrand asked Biden about his 1981 Senate vote against expanding a child-care tax credit, and whether he supported working mothers. Her questioning of Biden on women in the workplace may not have landed with the intended force, after she foreshadowed the attack during a stop in Iowa last week. The New York senator also faltered slightly when asked a question about immigration, appearing to have been caught off-guard before attacking Trump's detention and deportation policies, and saying that she would make crossing the border illegally only a civil penalty.
The night was not all smooth-sailing for de Blasio either, in large part because New York City's problems caught up with him in Detroit. In de Blasio's opening statement, protestors in the audience chanted "fire Pantaleo." While the shouts continued throughout opening statements and later into the debate, de Blasio faced even more heat when the other candidates weighed in on Pantaleo's fate. 
It was the Pantaleo question that led to the most direct confrontation between de Blasio and Gillibrand. Asked whether the mayor's response to Garner's death was adequate, Gillibrand put it plainly. "No. (Pantaleo) should be fired. He should be fired now," she said. "If I was the mayor, I would fire him." In response to the attacks, de Blasio claimed that he was prevented from taking action against Pantaleo by a Department of Justice investigation – an explanation the DOJ has previously denied. 
While de Blasio has based many of his campaign talking points on progressive policies in New York City, including the $15/hour minimum wage and universal pre-K, the Pantaleo case was not the only aspect of de Blasio's record interrogated onstage. Midway into the debate, moderators brought up the elevated levels of lead in New York City public housing, asking de Blasio how the city is dealing with the crisis. The mayor shifted some responsibility, calling lead a "decades-old" problem, but said that his administration has declared the eradication of all lead as a goal.
After spending some portion of the debate defending his record as mayor and going after Biden, de Blasio focused his closing statement on targeting his ultimate enemy – President Donald Trump. "Donald, you're the real socialist," de Blasio said. "The problem is it's socialism for the rich." De Blasio used that statement to segue into the broad strokes of his proposal for a wealth tax similar to Warren's, which was reported just before the start of the debate. The Democratic Party has to be the one that is "not afraid to tax the hell out of the wealthy," de Blasio said.
Gillibrand, too, criticized Trump in her closing words, arguing that she is the candidate who knows how to beat him and can turn out both progressive and moderate Democratic voters. Whether voters agree with Gillibrand's argument or are persuaded by de Blasio's promises are questions that will be answered in the next few weeks, as the competition in the packed Democratic field stiffens ahead of the next round of debates in September.
Powered By
NEXT STORY: Manhattan could elect the next leftist district attorney