New York City
Manhattan could elect the next leftist district attorney
Even though it's still two years away, the 2021 Manhattan district attorney race is already getting started. Since June, two challengers, presenting themselves as progressives who will transform the office, have launched campaigns to unseat Cyrus Vance Jr.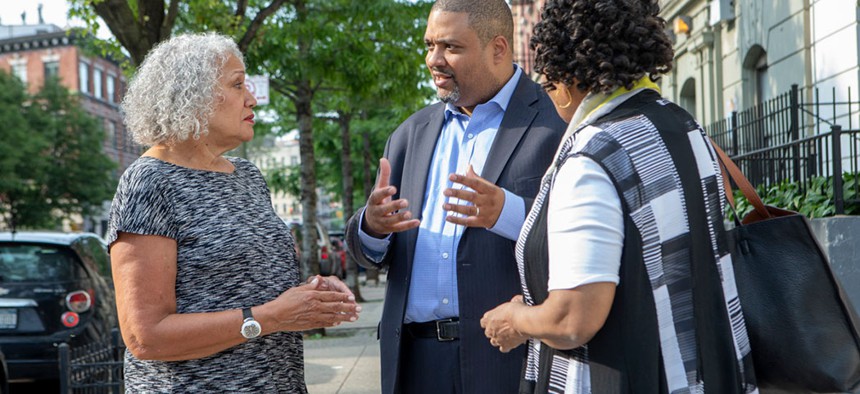 Even though it's still two years away, the 2021 Manhattan district attorney race is already getting started. Since June, two challengers have launched campaigns to unseat the three-term incumbent Cyrus Vance Jr., who has held the position for the past decade. Both of the declared candidates, New York Law professor Alvin Bragg and civil rights attorney Janos Marton, are presenting themselves as progressives who will transform the office. In addition, Assemblyman Dan Quart is considering a run, but he hasn't officially announced. 
This race will feature the latest in a series of left-leaning first-time candidates challenging incumbents. "There seems to be open season on incumbents, and members of the so-called political establishment," said Baruch College political scientist Doug Muzzio. In this case, Vance's liberal challengers have been drawn into the race because the DA has had a rough few years, with damaging stories suggesting his office has taken a punitive stance toward lower-income people of color while giving breaks to the rich and powerful. In addition, the results of the 2017 Manhattan DA race, in which write-in candidates peeled off 9% of the vote, showed that Vance might be vulnerable to challengers.
While the results of the Democratic primary for Queens district attorney are still uncertain – and Borough President Melinda Katz looks more likely to come out on top – public defender Tiffany Cabán's strong challenge the establishment-backed Katz shows progressive candidates pose a legitimate threat in races for an office that was long dominated by law and order-focused party regulars. Moreover, Manhattan's demographics more closely resemble that of the gentrifying Western Queens neighborhoods where Cabán performed best. "You have a generation of progressives, quote unquote, who hold similar ideologies – Cabán almost won it on that and DAs across the country have won it on that platform," Muzzio said, referring to other criminal justice reformers, such as Philadelphia District Attorney Larry Krasner, who endorsed Cabán. 
With a similar dynamic shaping up in the forthcoming Manhattan race, onlookers are wondering which candidate, if any, will fit Cabán's insurgent mold. 
Vance has not yet decided whether he'll run in 2021 and he has so far declined to give any indication of which way he's leaning. "The 2021 election is quite a ways off, I will make an announcement as soon as I'm prepared to," Vance, 65, told City & State. He added that he's not worried about any of the 2021 candidates. "Am I concerned? No, I think each candidate rises on his or her own merits," Vance said. 
Last week The City reported that Vance's campaign currently has $105,000 in funds, which is 10% of the amount it had raised two years before his last run in 2017. However, Vance told The City that when the time comes his campaign will raise the necessary amount. 
Muzzio said Vance will have many advantages if he chooses to run. "Vance will have a money advantage, he has establishment support and he has a record of accomplishment he can point to," Muzzio said. 
But Muzzio added that Vance also has some major liabilities, including "at least the appearance, if not the reality, of favoritism towards the rich and powerful, the Weinsteins, the Trumps, the Epsteins, etc." Muzzio was specifically referring to Vance's decision not pursue sex abuse charges for Harvey Weinstein in 2015, his move to drop a case against Donald Trump Jr. and Ivanka Trump for allegedly misleading potential buyers of units in a Trump property in 2012 and his office asking for Jeffrey Epstein to get his sex-offender status reduced to the lowest possible classificaion in 2011. Vance has defended the decisions not to prosecute, saying they lacked sufficient evidence and said the Epstein decision was a mistake, made by an assistant district attorney.
Vance's opponents have already sharply criticized him for alleged favoritism towards these wealthy and powerful individuals. In addition, they say that Vance's office has been overly punitive towards lower-income communities of color, prosecuting individuals for low-level offenses like driving with a suspended license, petit larceny and disorderly conduct. Vance vehemently rebutted both criticisms, pointing to what he said are thousands of cases where his office has gone after white-color criminals. He added that his office has cut the number of prosecutions of low-level offenses that typically involve low-income people of color by 50% since 2012.
The best positioned of Vance's opponents may be Bragg, who has received the support of Arena – a venture capital-funded group that recruits, trains and supports Democratic candidates across the country. Bragg, 45, is African-American. He said he was shaped by his personal experiences with law enforcement growing up in Central Harlem. "I myself was targeted and over-investigated, stopped at gunpoint," Bragg told City & State. "Many of my close friends had some interaction with the criminal justice system, and I generally had been the one called to assist in my capacity as a lawyer." Having this kind of personal narrative, and being a person of color, has helped make insurgent candidates like Ocasio-Cortez and Cabán appealing to younger progressive voters. 
Bragg pointed to his work as a chief deputy in the state attorney general's office to draw a distinction between himself and Vance. "When I went to the attorney general's office, I was overseeing what I would call work that is sort of on behalf of using the power of the system to help those who've been marginalized," Bragg said. He specifically mentioned tenant harassment cases where he advocated on behalf of tenants and police accountability cases involving civilian deaths. Bragg added that, during his time in the attorney general's office, he was also involved with going after powerful entities like a civil rights lawsuit for workplace discrimination against the Weinstein Company in 2018.
Arena's support is an important distinguishing factor for Bragg's candidacy, because the group has recently backed successful first-time candidates, including state Sens. Alessandra Biagi and Jessica Ramos and Reps. Max Rose and Antonio Delgado. Ravi Gupta, Arena's co-founder and managing director, said that, after looking at hundreds of races across the country over the past couple of years, he thinks Bragg is a standout candidate. "I can't think of another race where there's a combination of an incumbent who is so manifestly unfit for the seat and a challenger who seems born to do it," Gupta told City & State. "For every ethical breach or mistake that Vance has made – whether it's the Weinstein stuff, the Trump stuff, the Epstein stuff, accepting contributions from people with business before his office – Bragg has gone the other way."
Marton, the other declared candidate, is a civil rights attorney who led the #CLOSErikers campaign to shutdown the jails on Rikers Island and is currently the state campaign manager for the ACLU's Smart Justice Campaign, which is trying to cut the U.S. prison population in half. He is also presenting himself as a reformer, having announced his candidacy through an exclusive piece in the left-leaning criminal justice-focused publication The Appeal. Marton said that he's been a part of the New York progressive movement for many years and that he hopes to draw on the same coalition as other recent left-leaning candidates. "We've seen not only in Tiffany Cabán's race in Queens and Congress member Alexandria Ocasio-Cortez's victory last year – but also in anti-IDC legislative campaigns – that the moment for progressive politics in New York has really arrived," Marton told City & State. 
The main focus of Marton's campaign, like Cabán's, is decarceration. He has already stated that he intends to cut the number of Manhattan defendants in New York City jails by 80% by the end of his first term in office. Marton added that he will also be looking to restructure many parts of the office from a criminal justice perspective. "From the point of policing, to the way the court process currently operates to sentencing policy to the challenges that formerly incarcerated people face when they come home," Marton said.
Quart, who represents part of Manhattan's East Side in the state Assembly, has made the same general criticisms of Vance as Marton and Bragg. Quart said he would address those perceived shortcomings in the DAs office issues first by turning over the sex-crimes unit. "Vance certainly has a blind spot for the well-connected and the wealthy and a lot of those cases have been in the context of sexual assault or other sexual crimes related conduct," Quart told City & State. When it comes to addressing the issues around race, Quart said, he would dismantle the gang database that Vance's office uses. 
Muzzio said Vance could end up facing a field of competitors as large as the seven-person Queens district attorney race this year. "One thing you do know is he's going to be challenged and he's going to be challenged by five or six people," Muzzio said. 
In terms of who would make the strongest challenger, Muzzio noted that Bragg's experience as a professor may give him the communications skills needed to be a successful candidate. "I think there's a tie between being an effective professor and an effective politician," Muzzio said. But, he added, Quart has won elections in Manhattan before and a proven vote-getter has a leg up. 
With the election still two years off, it's remarkable that multiple candidates already have thrown their hat in the ring, but as the Queens district race recently demonstrated, the ultimate winner may not be apparent until much, much closer to Election Day.