New York State
With Peter King retiring, who will replace him?
Democrats are hoping to flip the Long Island seat, but Republicans aren't conceding.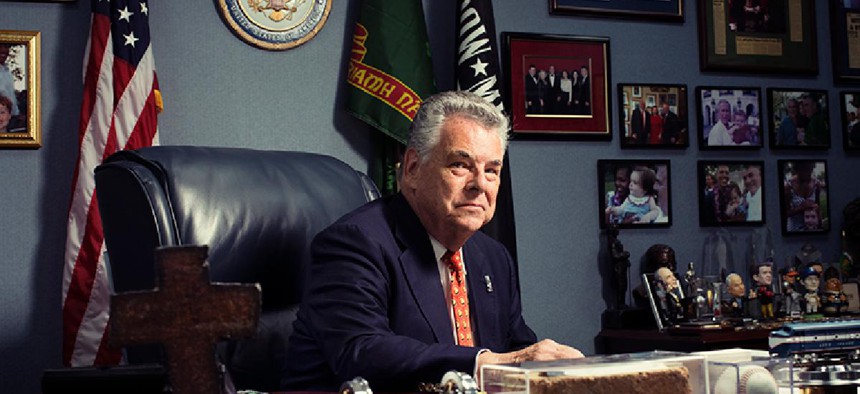 Rep. Peter King, one of the state's most prominent members of Congress and New York's longest-serving Republican, won't be running for re-election in 2020, he announced in a Facebook post Monday morning. With that news, New York's 2nd Congressional District, covering much of Long Island's South Shore in both Nassau and Suffolk counties, is shaping up to be one of the hottest political battlegrounds in the whole country. 
"You will see marquee, so-called A-list candidates coming out of the woodwork," Lawrence Levy, executive dean of the National Center for Suburban Studies at Hofstra University, told City & State. "You will see millions and millions of dollars – perhaps as much or more than any other district in the country – lavished by both parties."
Will Republicans be able to hold on? At least one GOP strategist doesn't think so, with Susan Del Percio tweeting Monday that "the only Republican that can hold this seat is King. The blue suburban wave is still rolling on." 
But Levy doesn't see Republicans rolling over. "The Democrats don't need it necessarily to retain their majority (in the House of Representatives)," he said. "Republicans desperately need it to be able to retake the majority and to maintain a chance to hold back the Blue Wave in suburbs around the country."
King's seat seems up for grabs. In 2012, the first year with new district lines, active Republican voters outnumbered Democrats 154,000 to 148,000. But the balance has flipped, with just 152,000 Republicans to 163,000 Democrats today. Still, the district hasn't been consistent. In 2008, the district went for Barack Obama over John McCain 51% to 48%, and Obama won by an even greater margin over Mitt Romney, 52-47. Then in 2016, Trump won the district by 9 points over Hillary Clinton, 53-44. 
The district got hit by the blue wave in 2018, with Democrats winning three of the four overlapping state Senate seats and flipping two from red to blue. Even though King won re-election over Democrat Liuba Grechen Shirley 53% to 47%, it was the closest race he had been in since 1992. 
Despite Democratic gains and the growing non-white population on Long Island, some outside observers are still giving Republicans the edge. After King's announcement, election watchers at the Cook Political Report changed the rating on the district from "likely Republican" to "lean Republican."CQ Roll Call and Sabato's Crystal Ball also rated it "lean Republican."
So who will be the next member of Congress? Another New York suburban retirement, Rep. Nita Lowey, opened up that race significantly. The same is expected on Long Island. Here's a rundown of the some of the names to watch in coming days and weeks. 
Jackie Gordon (D): It was looking like Gordon, a Babylon Town Board member, would be the Democrats' standard-bearer against King this year. The guidance counselor entered the race in May and had been fundraising steadily, raising $188,000 through the end of September – a total that was sure to rise after her October endorsement from the pro-choice network Emily's List. 
A black single mother and a U.S. Army combat veteran, Gordon just locked up support from an influential backer, Suffolk County Democratic leader Richard Schaffer, who told Newsday that King's retirement puts Gordon "in a perfect position." Schaffer didn't respond to a request for comment from City & State, but Levy said that as Suffolk County's top Democrat, Schaffer could be the most influential figure in the race. A little more than two thirds of the district's votes come from Suffolk, with the rest coming from Nassau. 
After King's announcement, Gordon tweeted that she was "ready to serve the people of Long Island in Washington" before listing a number of local endorsements – some of whom were thought to be potential candidates – including Schaffer, state Sen. Monica Martinez, and DuWayne Gregory, a Suffolk County legislator who ran for Congress the previous two cycles.
Mike Sax (D): Sax, who runs an anti-Trump blog called The Last Men and Overmen and declares himself "decently informed" of political issues, was the only other candidate who had registered to run for the seat before King's announcement. He reiterated on Tuesday that he would be running, but he seems unlikely to earn much support running against Gordon, who is well-connected in Democratic politics, let alone other more prominent candidates who may enter the race. 
Liuba Grechen Shirley (D): Grechen Shirley, who fell to King by just 6 percentage points in 2018, may be the top candidate to watch in the race. She solidly won the Suffolk County portion of the district over King, but lost in Nassau. Since the midterm election, the former stay-at-home mom who used to work in economic development had launched a new career, building the Vote Mama PAC, which supports candidates who are mothers of young children. It seemed that she would stay out of the 2020 race, but after King's announcement, she's rethinking it. "I've heard from many encouraging supporters across the district, and with so much on the line for our community, I am seriously considering another run for Congress," she wrote in a statement on Monday.
Timothy Sini (D): Sini was elected Suffolk County district attorney in 2017, after working as Suffolk County police commissioner and as an assistant U.S. Attorney in Manhattan. It's an intriguing resume that could appeal across the aisle in the relatively moderate district. "If Tim Sini decides to get into the race, he pretty much clears the field" on Long Island, a Democratic operative told City & State. "It's his to lose."
Sini's office didn't respond to a request for comment from City & State, and he appears to have been silent on social media since King's announcement.
Other Democrats: Would state Comptroller Tom DiNapoli, a native Long Islander, be interested in the seat? No thanks. "'I'm on the North Shore, not the South Shore, so I'll leave that to my South Shore friends to sort that out," he told City & State. Suffolk County Executive Steve Bellone, who just won another term last week, was immediately mentioned as a potential candidate after King's announcement, but said on Tuesday that he won't be running. And some other potential candidates – Gregory, Martinez and even Schaffer – are supporting Gordon. Expect more of that, since Gordon's profile – a black, female military veteran – is exactly the kind of candidate that many Democrats want to see more of, which may discourage challengers from jumping in. 
Phil Boyle (R): State Sen. Phil Boyle has represented a large portion of the district in the state Senate since 2013, and served the South Shore in the Assembly for two decades before that, making him an obvious option for the Republican Party. Plus, like many other legislators in the GOP minority, he has been looking to leave Albany – he ran for Suffolk County sheriff in 2017. The only problem is, Boyle lost in that primary, which wouldn't seem to bode well for a higher-profile congressional race. That said, the senator, who once worked as a congressional aide, seems interested in returning to Washington, telling City & State it was something he'd always considered. But he wasn't ready to commit on Monday, which was Veterans Day. "Today is a day we honor our veterans," he said, "And I'll consider running for Congress tomorrow."
Rick Lazio(R): Former Rep. Rick Lazio represented Long Island in Congress from 1993 to 2000 and may be interested in making a political comeback after losing a big U.S. Senate race to Hillary Clinton in 2000. He seemed to show interest, telling the National Review he's considering his options, but a run could be difficult, after staying out of politics and working as a tax consultant since a loss in the 2010 gubernatorial primary. If he runs, he may face an old friend – Boyle was the campaign manager for Lazio's 1992 congressional win.
Joseph Saladino (R): Joseph Saladino just won re-election last week as Oyster Bay town supervisor, and his name has been bandied about as a possible candidate. Saladino didn't respond to a request for comment, but geography may work against him – Oyster Bay is in Nassau County, and only a sliver of it is in the district. This politician, it should be noted, is an entirely different person from the 20-something Republican YouTube star also named Joseph Saladino who is running for Congress in the 11th Congressional District on Staten Island.
Other Republicans: Tom Cilmi, the Suffolk County Legislature minority leader, told Newsday on Monday that he's planning to run, but acknowledged a truth of Republican politics in New York: The party tries to avoid primaries. Sure enough, Nassau County Republican Chairman Joseph Cairo and Suffolk County Chairman Jesse Garcia told the newspaper they would be conferring and finding the best possible candidate. One rumored Republican among the pack is Assemblyman Mike LiPetri, an attorney who flipped his seat from blue to red in 2018. Roll Call also named Islip Town Councilwoman Mary Kate Mullen, Nassau County Legislator James Kennedy and former state Sen. Charles Fuschillo, who resigned in 2013 to lead an Alzheimer's nonprofit, as potential candidates.
One name who isn't considering: Erin King Sweeney, a former Hempstead town councilwoman and the daughter of Rep. Peter King. She'd been thought of as King's heir for years, but recently moved to North Carolina and King told City & State she's staying put. "She's a Southerner now."
Powered By
NEXT STORY: Photos: Celebrating the New York City 40 Under 40