New York City
What's my New York City Council member's attendance record?
Some lawmakers make a point of showing up. Others skip a lot of meetings.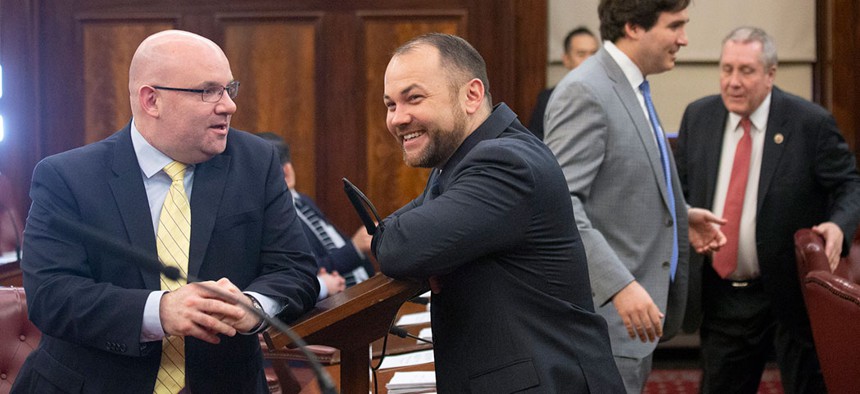 New York City Mayor Bill de Blasio has been roasted in the press again and again for how little time he spends at City Hall, but how are the members of the New York City Council doing at actually showing up for their jobs?
While some lawmakers were diligent in attending their scheduled council and committee meetings last year, others had dismal records. In fact, four lawmakers missed at least one-third of their meetings – Rory Lancman, Stephen Levin, Bill Perkins and Andy King. Many of Levin's absences were due to parental leave, while Lancman presumably missed some time on the campaign trail during his aborted bid for Queens district attorney. King, meanwhile, barely showed up for even half of his council meetings. Of his 46 absences, he attributed five to his suspension. Perkins, who has reportedly been dealing with medical issues, did not cite that as an official reason for any of his absences.
Meanwhile, 16 lawmakers had attendance records of 90% or better in 2019. The top Democrat and the top Republican in the New York City Council notched perfect attendance records last year, with City Council Speaker Corey Johnson and City Council Minority Leader Steven Matteo both attending all of their meetings. For Johnson, however, there were only 34 meetings he had to attend as speaker, far fewer than any other lawmaker.
The figures were tallied as part of a mathematical analysis City & State conducted to determine the city's best and worst lawmakers. We reviewed attendance records for stated meetings of the full legislative body, as well as committee and subcommittee meetings. While some absences were excused or explained – for medical reasons or bereavement, for example – most absences were counted in our analysis. The only exceptions were conflicts, in which a lawmaker had two meetings scheduled at the same time.
Here's the full rundown of each member's attendance in 2019.
Corey Johnson, 100% (tie)
Steven Matteo, 100% (tie)
Robert Holden, 98.86%
Keith Powers, 98.21%
Ben Kallos, 98.17%
Peter Koo, 97.04%
Chaim Deutsch, 96.40%
Kalman Yeger, 94.62%
Adrienne Adams, 94.19%
Andrew Cohen, 93.18%
Mark Levine, 93.16%
Carlina Rivera, 93.10%
Barry Grodenchik, 92.13%
Daniel Dromm, 90.91%
Diana Ayala, 90.32%
Robert Cornegy Jr., 90.24%
Mathieu Eugene, 89.29%
Karen Koslowitz, 88.75%
Mark Treyger, 88.32%
Margaret Chin, 88%
Donovan Richards, 87.74%
Brad Lander, 86.84%
Inez Barron, 86.76%
Paul Vallone, 86.75%
Jimmy Van Bramer, 86.36%
Vanessa Gibson, 85.47%
Carlos Menchaca, 85%
Francisco Moya, 84.80%
Alicka Ampry-Samuel, 84.31%
Antonio Reynoso, 84.17%
Rafael Salamanca Jr., 83.64%
Costa Constantinides, 83.16%
Ydanis Rodriguez, 83.08%
Helen Rosenthal, 82.98%
Fernando Cabrera, 82.12%
Ritchie Torres, 81.45%
Rafael Espinal, 80%
Laurie Cumbo, 79.44%
Joseph Borelli, 78.48%
Deborah Rose, 77.68%
I. Daneek Miller, 75%
Justin Brannan, 72.48%
Alan Maisel, 71.29%
Mark Gjonaj, 70.75%
Rubén Díaz Sr., 69.81%
Eric Ulrich, 67.27%
Rory Lancman, 64.97%
Stephen Levin, 64.04%
Bill Perkins, 63.89%
Andy King, 53.06%