Puerto Rico
Bloomberg's plan to win over Latino voters
Among other moves, the former New York City mayor embraced Puerto Rican statehood.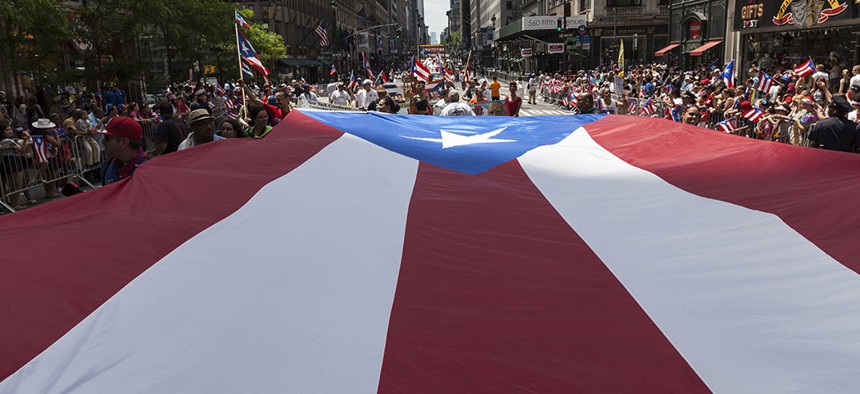 Former New York City Mayor Michael Bloomberg has never been especially popular among Latinos in his hometown, but now he is gunning for Latino support in upcoming Democratic presidential primaries in New York and other states. In his three mayoral campaigns, he never won a majorityof the Latino vote, ranging from 30% in 2005 to 47% in 2001. 
During his three terms in office, despite New York City's large Puerto Rican population and strong ties to the island, he never took a firm stance on Puerto Rico's future relationship to the United States. But now that he has a national policy platform, he has a position: last Monday, in an op-ed for the Orlando Sentinel, the ex-mayor announced his support for making Puerto Rico a state, arguing that it would help the federal government alleviate challenges the island faces including poverty and lack of access to healthcare. The presidential hopeful said that as president he would work to pass legislation that would make the island territory a state, though the decision would ultimately be left up to Puerto Ricans. 
A cynic might wonder if Bloomberg's support of statehood is just another way for him to get into the good graces of Latino voters, a key constituency in Democratic primaries in states such as California, Texas and Florida – as well as New York.
Bloomberg's support for aggressive policing and its impact on communities of color is the largest sticking point in his mayoral record for many Latinos. During his tenure, the NYPD ramped up stop-and-frisk policing and low-level marijuana arrests, both of which disproportionately affected black and Latino communities. About 87% of those arrested for possessing small amounts of marijuana while Bloomberg was in office were black or Latino. In 2009, The New York Times reported that black and Latino New Yorkers were nine times more likely to be stopped by the police than white residents. 
"As mayor of New York City, Bloomberg used stop and frisk to unlawfully stop and harass black and Latino people," Raphael Agosto-Miranda from New York Boricua Resistance, a group that advocates for Puerto Rican independence, told City & State in an email. "The most affected Latin group were Puerto Ricans as they are the largest Latin American group in the city. Bloomberg has never voiced concern for the island of Puerto Rico or the politics on the island."
On Nov. 17, 2019 Bloomberg apologized for his record on stop-and-frisk, despite publicly supporting the practice 10 months prior. While Bloomberg's support from Latinos was far from overwhelming, he did notably better among Latinos than among African Americans and arguably fairly well for a Republican. 
"Stop and frisk obviously was a big issue," former New York City Council Speaker Melissa Mark-Viverito, who was a council member during Bloomberg's second and third mayoral terms, recounted to City & State. "I was very strongly against that. I challenged the administration and had a public hearing about it when I was a council member. He (Bloomberg) was very dismissive of it, not wanting to listen. The district that I represented at the time had one of the precincts with the highest rates of stop and frisk in the city of New York. So this was a real particular issue for communities of color, Latino communities – and the community in the district that I represented, had a large number of Puerto Ricans."
But Bloomberg's latest overture to Latinos may actually be motivated by a desire to appeal to groups such as Mexican-Americans more than to Puerto Ricans. Charles Vargas Ramos, director for public policy at Hunter College's Center for Puerto Rican Studies, suggests that the former mayor's support of Puerto Rican statehood is likely an attempt to attract non-Puerto Rican Latino voters. "More than targeting Puerto Ricans – and he (Bloomberg) is targeting some Puerto Ricans with this announcement – I think what he's trying to do is signal to and send a message to all Latinos, non-Puerto Rican Latinos, that he is willing to treat Puerto Ricans like equals and afford them the opportunities," Vargas Ramos told City & State.
On Wednesday evening, Bloomberg unveiled his new Latino outreach policy plans in El Paso, Texas – 40% of Texas' population is Latino. The plan, which was introduced to reporters on a conference call by El Paso Rep. César Blanco, aims to close the wealth gap between Latinos and non-Hispanic whites, provide Latinos with better healthcare, make education more affordable for low-income Latinos and boost Latino-owned businesses.
Bloomberg has yet to deliver a comprehensive immigration plan. Although he is broadly considered a social liberal and his website touts his record of making city government more accessible to non-English speakers, he has opposed "sanctuary cities" that avoid cooperating with federal immigration authorities. In 2017 he said on MSNBC, "You should obey the law and if you don't like the law, get your legislative body to change the law, but society breaks down if we can all decide what's right and what's wrong."
On Jan. 10, it was announced that Bloomberg hired U.S. Sen. Kamala Harris' senior campaign adviser, Courtni Pugh, who specializes in the paid media targeting of black and Latino voters. On Jan. 9, he aired his first campaign ads in Spanish. He's spent a majority of his time campaigning in Florida, Arizona, California and Texas. And he's already received endorsements from Latino politicians such as former Los Angeles Mayor Antonio Villaraigosa, San Jose Mayor Sam Liccardo, Pedro Pierluisi, a former Puerto Rican congressman, and Blanco.
It's projected that Latinos will be the largest group of minority voters for the first time in 2020, and it has been argued that they will decide the outcome of this presidential election. At the very least, they'll have an important and potentially decisive vote. 
It's also worth noting that a large facet of Bloomberg's unorthodox campaign strategy is skipping the early primaries and the hopes of gathering momentum from them. Instead, he is hoping to pick up as many delegates as he can in heavily populated, and often heavily Latino, states. Bloomberg acknowledged in his op-ed that he's interested in collecting votes from Puerto Rico's delegates. "But my fellow presidential candidates, who have been campaigning for a year, haven't invested any substantial time or resources there, even though Puerto Rico will award more delegates in the Democratic primary than either Iowa or New Hampshire," Bloomberg wrote.
Statehood, while the most popular option among Puerto Ricans, is not actually supported by a majority on the island. And, in Puerto Rico, statehood is not associated with liberals or progressives – which won't do Bloomberg any favors as a Democratic candidate. According to a survey conducted by the Kaiser Family Foundation and the Washington Post in 2018, 48% of Puerto Ricans polled want the island to become a state, 26% would prefer it stay a territory, 10% want full independence and 16% were undecided. On the other hand, Bloomberg notes in his oped that two-thirds of Americans support statehood for Puerto Rico. 
The other glaring issue with Bloomberg's support of statehood is that the island's statehood supporters are associated with conservatism. Former Puerto Rico Gov. Ricardo Rosselló, a member of the island's pro-statehood New Progressive Party – known for its conservative politics – was ousted from his position for corruption in July, 2019, won his 2016 gubernatorial race on a strong statehood platform. Rosselló's successor Gov. Wanda Velazquez, who is now facing her own uprising, is also a statehood supporter, as is Pierluisi, who plans to primary Velazquz at the end of her term. On Monday, Pierluisi endorsed Bloomberg for president. 
The Bloomberg campaign declined to comment. 
Super Tuesday is fast approaching, so Bloomberg will likely continue to campaign in communities, while pushing Latino-friendly policies. If his strategy works and his new initiatives appeal to Latino voters, he may do surprisingly well in the primaries.