Budget
Cuomo warns of $8.2 billion in cuts to localities
Gov. Andrew Cuomo plans to slash aid to localities by $8.2 billion and cut state agency budgets by 10% unless new federal aid comes through in the coming weeks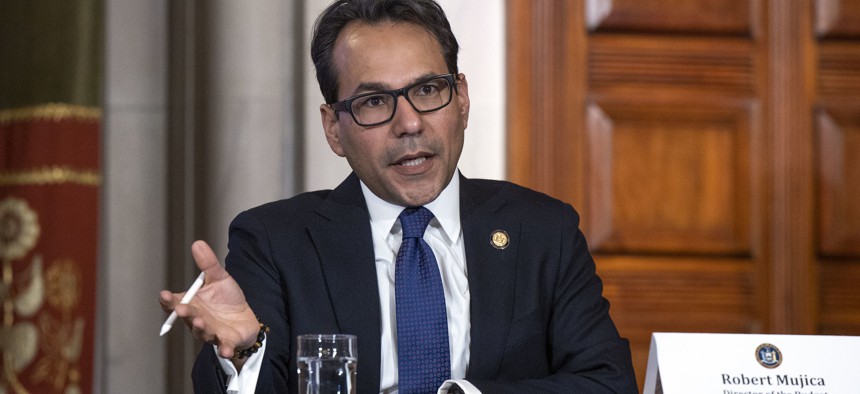 Gov. Andrew Cuomo plans to slash aid to localities by $8.2 billion and cut state agency budgets by 10% unless new federal aid comes through in the coming weeks, according to an updated state financial plan released Saturday
A "bleak" financial future awaits New York as its struggles with the economic damage of the coronavirus pandemic, according to the plan. Public schools, health care and other state aid for localities will bear the brunt of the fiscal damage if billions in additional federal aid does not come through in coming weeks, according to the Cuomo administration. 
"On May 1, we'll know exactly what the revenues are," state Budget Director Robert Mujica told reporters on Sunday. "We'll know exactly where we are with Washington and whether we have more money."
The new financial plan states that tax receipts have fallen by 12.4% in the past two months, and that unemployment in New York is expected to exceed 11%. It will take years for the state to recover from a projected $243 billion in damage, according to a state-commissioned report by Boston Consulting Group. The report projects that the state economy would recover to the "Pre-COVID" level in early 2023.
With additional federal aid far from guaranteed, Cuomo is looking to balance the state's books by cutting spending rather than increasing taxes. "Call Washington," Cuomo told reporters Sunday in response to a question about what local officials should do to prepare themselves for looming cuts. 
State lawmakers will have 10 days to respond to the specific cuts the administration will announce next month. The state Senate and Assembly could meet remotely in the upcoming weeks, but opposing the governor is no easy task during a pandemic – especially with upcoming elections looming.
Here are five key factors in determining whether the proposed state budget cuts will actually happen.
What's on the chopping block?
The Cuomo administration highlighted in the financial plan just how deep the cuts could be for localities unless the federal government steps in. "Health care, K-12 schools, and higher education," reads a list of categories. "Public transit systems, and the State's not-for-profit partners who deliver critical services to the most vulnerable New Yorkers." The cuts would amount to a $8.2 billion reduction from the past fiscal year, or $10.1 billion from the levels originally proposed for what became the $177 billion budget that passed earlier this month. 
Public education and the state Medicaid are particularly vulnerable because of their massive share of state aid to localities. The state budget approved in early April included $26.7 billion in funding to localities for local schools and $23.3 billion in Medicaid funding from the state Department of Health.
If state spending stays level for those two categories, then "remaining local aid programs is estimated in the range of 40% to 50%," according to the budget update. Mujica said Sunday that the state would "release a plan by the middle of May that still gives time for the school districts to make their budgets." 
All of this could be avoided – with federal help
"Any of these reductions can be mitigated during the fiscal year if additional Federal aid is made available or revenues perform better than forecast," reads the updated state financial plan. While the federal government has provided billions in recent weeks for schools, hospitals and the emergency response, Cuomo has not given up on getting somewhere around an additional $10 billion in new unrestricted federal aid. He is hardly alone in this. State lawmakers, New York City Mayor Bill de Blasio and other governors are banking on a federal bailout for states. Cuomo has taken a conciliatory approach to Trump – who supposedly told him the "next legislation" would have the aid he is seeking – so the governor will likely reserve his harshest words on the matter for U.S. Senate Majority Leader Mitch McConnell, U.S. Senate Minority Leader Charles Schumer and members of the state congressional delegation. 
Trump could still wreak havoc like a hurricane
The governor has had a tumultuous relationship with Trump ever since the president took office. Sure, they have publicly been getting along lately, more or less, but the president could still torpedo the state's financial picture. "Actions by the Federal government to reduce or disallow expected aid, including Federal aid authorized or appropriated by Congress," natural disasters, additional pandemics, and cyber attacks are among the possible dangers to the state's fiscal health moving forward, according to the updated state financial plan.
Cuomo opposes new taxes
No matter how complicated the budget, there is a simple choice when it comes to dealing with budget shortfalls: You can either raise revenues or cut spending. Cuomo has made a big point of opposing tax hikes all year long, but some state lawmakers have not given up on a litany of proposals to raise taxes on the wealthy. While the governor has supported some of them in the past, there are no signs he will do so now, especially considering how much the state's tax revenues depend on just a few dozen top-tier earners. Assembly Speaker Carl Heastie is generally supportive of raising taxes. Senate Majority Leader Andrea Stewart-Cousins – whose majority depends on moderate swing districts on Long Island and in the Hudson Valley – has typically aligned with the governor's position significantly more than Heastie.
What will the state Senate and Assembly do?
Both chambers are officially adjourned until Heastie and Stewart-Cousins order them to reconvene. Thought they have both said in recent weeks that they want the legislating to continue this year, an idea that Cuomo has cast doubt on, specific dates for future sessions – which could be held with lawmakers voting remotely – have not been released. The pressure on them will increase once the administration releases the specifics on how it would implement cuts to locatities. Local officials are going to be leaning on Assembly members and senators to spare them from the worst – and there will be just 10 days to act. Representatives of both leaders could not be reached for comment before publication time.