Campaigns & Elections
The carpetbaggers in the 2020 primaries
A handful of New York candidates moved into their districts only recently.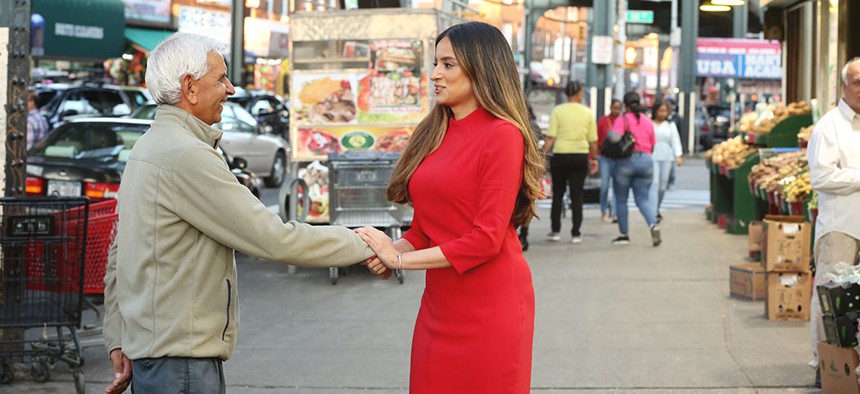 Moving to a new area to run for office is a long tradition in American politics, dating at least as far back as the Reconstruction era, when the term "carpetbagger" was coined. The practice certainly hasn't faded away in New York. For example, over the course of several recent election cycles, political activist Sean Eldridge, Fordham Law professor Zephyr Teachout and attorney Antonio Delgado all moved to the same Hudson Valley district to run for Congress – and only Delgado succeeded. The 2020 elections have a crop of carpetbaggers too.
Michelle Caruso-Cabrera
This challenger to Rep. Alexandria Ocasio-Cortez likes to tell people that AOC grew up in Westchester County, not the Bronx. But until late 2019 Michelle Caruso-Cabrera had never lived in Queens or the Bronx, the two counties in the district. Originally from New Hampshire, Caruso-Cabrera lived in Manhattan for 20 years before transplanting to Sunnyside, Queens, shortly before announcing her candidacy. She's also seeking to run as a Democrat despite being a former Republican.
Evelyn Farkas
"Carpetbagger" is perhaps too strong a word to describe Evelyn Farkas. While she only recently moved into the district she hopes to represent in Congress, it was a move back to the area where she grew up. Farkas was born and raised in Chappaqua, a Westchester County suburb represented by the retiring Rep. Nita Lowey, whom Farkas wants to replace. But Farkas hasn't lived there for years and returned home only in 2019, not long before announcing her congressional ambitions. A campaign spokesperson added, however, that while Farkas' primary residence had been in Washington, D.C., she often spent time in Westchester to visit her family.
Adam Schleifer
Like his opponent Farkas, Adam Schleifer is a Chappaqua native – his dad is the founder of a Westchester-based biotech company. Schleifer most recently lived in California for several years before returning home late in 2019. Last year, he helped prosecute actress Felicity Huffman in a college admissions scandal that also involved Lori Loughlin. But he's back in Westchester now, looking to succeed Lowey in representing the district he grew up in.
Paperboy Love Prince
The rapper and subway performer turned congressional candidate Paperboy Prince, who uses they/them pronouns, says their family has long lived in Brooklyn and told City & State, "my spirit, my energy, my legacy has always been in Brooklyn." However, the long-shot contender grew up near Washington, D.C., and only moved to New York 2014. And when Prince first announced their candidacy, their listed address was in Bedford-Stuyvesant, which is near, but not in, the 7th Congressional District. Prince told City & State that the address was only used to receive mail. Another address listed more recently with the New York City Board of Elections puts Prince in Bushwick, which is in the district.
Jenifer Rajkumar
Jenifer Rajkumar first ran for office in 2016, attempting to win the empty Manhattan Assembly seat vacated by ex-Assembly Speaker Sheldon Silver thanks to a corruption scandal. She lost the Democratic primary to Yuh-Line Niou, who went on to win the seat. Four years later, Rajkumar now lives in Woodhaven, Queens, and is running against Assemblyman Michael Miller. Her campaign website notes that her immigrant parents settled in Queens when they came to the U.S.
Ritchie Torres
This is another borderline case, but when Ritchie Torres filed to run for Congress last year to replace the retiring Rep. José E. Serrano in the Bronx, the address he provided was just outside the district. However, Torres has represented a portion of the 15th Congressional District as a city councilman and has lived in the Bronx his entire life. He also told City & State that he moved to a new home within the district last year, and the new address he provided matches the address he provided the New York City Board of Elections.
Update: This story has been updated to include Adam Schleifer. It has also been updated with comments from Evelyn Farkas' campaign.