Campaigns & Elections
3 candidates of color who could topple longtime white incumbents
These young insurgents are poised to become – no, really, we swear – the next AOC.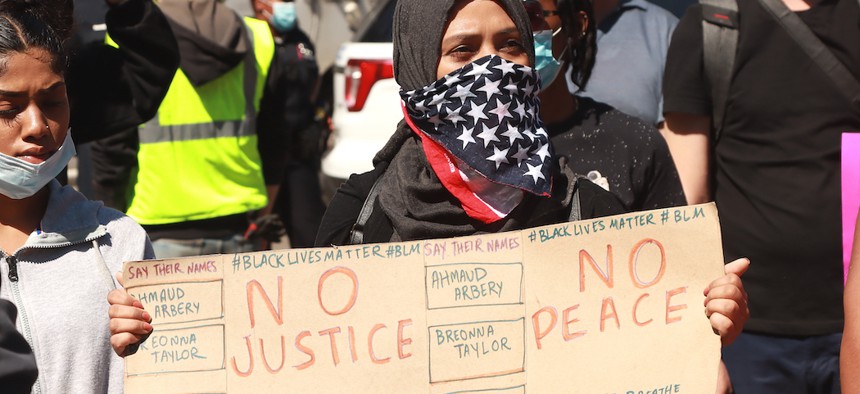 Picture this: A young, relatively unknown woman of color launches a grassroots campaign to unseat a longtime, white incumbent in one of New York's diverse, and increasingly progressive, districts. 
In the June 23 Democratic primaries, at least three progressive insurgents fit this bill in Queens alone: Jessica González-Rojas, an activist running against Assemblyman Michael DenDekker, whose district includes Jackson Heights and East Elmhurst; Mary Jobaida, an activist running against Assemblywoman Cathy Nolan in western Queens; and Jenifer Rajkumar, a civil rights attorney running against Assemblyman Michael Miller in southwest Queens.
To any political spectator who was living above ground in 2018, these three races might call to mind Alexandria Ocasio-Cortez's stunning defeat of then-Queens Democratic boss Joe Crowley that year. Ocasio-Cortez not only emerged as the winner of that race, but has become a progressive sensation, arguably inspiring others like her to take on establishment Democrats. 
We know, we know. We're as tired of the unending search for the next AOC as you are. But these three parts of Queens – the 34th, 37th and 38th Assembly districts – hold some commonalities with Ocasio-Cortez's congressional district and the path she took to victory. As do the candidates themselves. 
"They never saw anyone who shared their last name or understood their experience (in office), because there was never a choice for this position. I want to be that choice for them." – Jessica González-Rojas, candidate for 34th Assembly District
Ocasio-Cortez shares some surface similarities with these three Assembly challengers: a previously unelected woman of color running to the left of a longtime white incumbent. Each has said that representation – of their ethnic background, of their experience as immigrants or children of immigrants – is in fact crucial to representing the diverse communities that make up their districts. "That was my goal, to really tap those that felt that there was never anyone representing them," González-Rojas said of her attempts to reach disenfranchised voters – especially in neighborhoods like East Elmhurst and Corona, where the Hispanic and Latino community is not a minority contingent, but a majority. "They never saw anyone who shared their last name or understood their experience (in office), because there was never a choice for this position. I want to be that choice for them."
But for challengers like González-Rojas, Jobaida and Rajkumar to defeat their incumbents, experts say, they'll need to overcome a few challenges Ocasio-Cortez didn't have to contend with in 2018 – including fighting off other progressive candidates in the race similarly inspired by AOC, and, of course, a global pandemic.
If these candidates can make do in the age of coronavirus without the traditional strong suit of grassroots campaigns – door-to-door campaigning – and can keep voters from choosing a different progressive challenger to the incumbent, they'll be well-positioned to replicate Ocasio-Cortez's victory. The real challenge is consolidating a coalition of voters, including progressive white gentrifiers, as well as garnering a significant portion of voters in the so-called "minority" communities that make up the majority of many parts of their districts.
These are the groups that helped elect Ocasio-Cortez, political consultant Jerry Skurnik told City & State. "It looks like it was a combination of the white gentrifiers, and her running even or narrowly beating Crowley among the Hispanic vote," Skurnik said of Ocasio-Cortez's 2018 win. "She got people to come out who definitely hadn't voted in any other congressional or legislative primary," he added.
One candidate who may have the best chance of mirroring AOC's success is González-Rojas, an activist who has worked on immigrants rights, whose father immigrated from Paraguay and whose mother is Puerto Rican. "We are extremely diverse," González-Rojas said of her district. "And we've never been represented by someone that reflects either the diversity or the values of the neighborhood."
In the distinct 34th Assembly District, which includes Jackson Heights, East Elmhurst and parts of Woodside and Corona, a significant Latino population could propel her forward. "Mike DenDekker is probably one of the most endangered incumbents in the state," a Queens insider told City & State. "He represents a district that is heavily populated by people of color. The white voters who live there, by and large, are the progressives who provided energy to AOC and to (popular former queens district attorney candidate) Tiffany Cabán. That leaves him without a clearly defined base of supporters." 
González-Rojas also carries endorsements from the powerful Working Families Party and Cabán, as well as New York City elected officials, including City Councilman Daniel Dromm and state Sen. Gustavo Rivera. 
In his six terms in office, DenDekker hasn't faced a primary challenger, but he now faces several. In addition to González-Rojas, there's Nuala O'Doherty-Naranjo, a former prosecutor, Joy Chowdhury, a labor organizer, and Angel Cruz. (Cruz appears to have no campaign website or social media, and reported no fundraising activity to the state Board of Elections in the 32-day pre-primary report.) And while González-Rojas is the frontrunner among these candidates, there is still a risk that having more options to the left of DenDekker will split the progressive vote. 
DenDekker has a fairly progressive voting record – he was an original sponsor of the state's DREAM Act and supported the Green Light law, which allows undocumted immigrants to apply for driver's licenses. But in recent days, in the wake of police brutality protests and push for policing reforms, González-Rojas has hit the incumbent assemblyman for receiving support from law enforcement groups, including the New York City Police Benevolent Association.
"When you have problems with education, with food security, health care – it's not only an issue for myself or my Bengali community. … This is an issue all the people who are living in this district are facing." – Mary Jobaida, candidate for 37th Assembly District
DenDekker has since been vocal about his support for police reforms, and while the PBA originally endorsed him, the union has now rescinded that endorsement. "The brutal response of the NYPD to the mostly peaceful protests over the past two weeks highlighted the need for significant police reforms, but the constant abuse of power by police was occurring before then, and has gone on for far too long," DenDekker wrote in an email. "This week's bills are a step in the right direction, but I know we have more work to do," he added, referring to legislation including the repeal of 50-a, a state law that shields police disciplinary records. 
West of DenDekker's district is that of Assemblywoman Cathy Nolan, the longest serving member among the three incumbents, having assumed office in 1985. The 37th Assembly District, which includes Sunnyside, Ridgewood, Long Island City and Astoria, has two challengers: Jobaida, an activist who was born and raised in Bangladesh, and moved to Queens in 2001, and Danielle Brecker, an activist who organized around flipping the state Senate in 2018. New York City's Bangladeshi community has grown in recent years, with over 66,000 in the city as a whole as of 2015 – 66% of whom live in Queens. 
While Jobaida doubtless shares parallels with González-Rojas as a woman of color challenging a longtime white incumbent, where Nolan may be set up to face a primary challenge better than DenDekker is in the fact that her district, while progressive and gentrifying, also has a larger black population. "Cathy has three different public housing developments, including the largest public housing development in the country – Queensbridge," the Queens insider said. "Public housing includes substantial African-American populations, and in Queens, African-Americans are the most likely supporters of establishment campaigns. … You see that locally in that's where Melinda Katz won the district attorney race."
"This South Asian community has been ready for decades for a seat at the table of power in New York." – Jenifer Rajkumar, candidate for 38th Assembly District
Jobaida also faces a hurdle in that while she may have a slight advantage over Brecker, raising more than $39,000 to Brecker's $22,000, she doesn't have the kind of lead that González-Rojas has over her fellow challengers. Splitting the progressive vote and handing victory to the incumbent may be more of a risk in the 37th District. 
Even still, Jobaida may gain traction with voters in her bid to represent the district and bring her experiences and voice as an immigrant to Albany. "I, myself, as a person of color, come from a community that has never been represented in elected offices," Jobaida said, adding that she supports proposals including free CUNY and SUNY education, and defunding the police. "When we face housing issues, it's everyone's issue. When you have problems with education, with food security, health care – it's not only an issue for myself or my Bengali community, or the way you want to categorize me. This is an issue all the people who are living in this district are facing."
One of the specific issues Jobaida has pinned on Nolan is Amazon's aborted HQ2. While news of Amazon's plans to build a headquarters in Long Island City drew a progressive backlash against many of Queens' elected officials, Nolan was one of the few who supported the project. "I made the decision, in consultation with a lot of people in the community – including the leadership of Queensbridge Houses, and many other people in the district – that the proposal, though it needed work and needed to be negotiated, had the potential to provide a lot of jobs, particularly to our NYCHA residents in Queensbridge, Ravenswood and Astoria houses," Nolan told City & State. "Some people are not voting for me or my ticket because I supported the project. Nobody said it was a perfect project, but I wanted to work with the mayor and the governor on that."
Finally, there is Assemblyman Michael Miller's district, with Jenifer Rajkumar as arguably the least progressive of the three challengers mentioned here. Rajkumar, a civil rights attorney whose parents immigrated from India, has raised over $232,000 and carries endorsements from Rep. Ro Khanna of California and New York City Councilman Donovan Richards. The 38th District in southwest Queens covers neighborhoods including Woodhaven, Ridgewood and Ozone Park, which have large Latino and South Asian communities. "This South Asian community has been ready for decades for a seat at the table of power in New York," Rajkumar told City & State. "My candidacy is historic for that reason. But really for all populations in this district, all ethnic groups, our campaign is doing outreach and doing very well." Also running in the district is Joey de Jesus, a poet and activist.
While Rajkumar has a hefty war chest and a few high-profile endorsements behind her, she has a history as an also-ran that could pose a problem. Rajkumar previously ran for ex-Assembly Speaker Sheldon Silver's Manhattan district in 2016, and before that, for Margaret Chin's Manhattan City Council seat in 2013. She later moved to Woodhaven, where she now lives.
Still, with Miller, a moderate Democrat who has also been elected on the Conservative Party line, Rajkumar doesn't have to go too far left to position herself as a progressive alternative. Miller, who took office in 2009, voted against same-sex marriage in the Assembly that year, and then against the Marriage Equality Act in 2011. But while the 38th District is increasingly progressive – it went for Cabán last year – it's also not as progressive as neighborhoods like Sunnyside or Astoria, the Queens insider said. Miller did not respond to a request for comment. "There's a significant Asian vote in the 38th," Skurnik said. "It's not enough alone to elect Rajkumar, but if she can combine that with white gentrifiers and getting a share of the minority, Hispanic vote, then I think she could win."
So just how replicable are the conditions for Ocasio-Cortez's 2018 win in these three districts? The three white establishment incumbents, who either haven't faced a primary challenge or haven't faced one recently, should undoubtedly be on their toes, especially in diverse districts.
Skurnik – who said he is friendly with DenDekker, Nolan and Rajkumar, but has not consulted for their campaigns – added that the incumbents this time around have an advantage in seeing what happened with Crowley, who seemed to dismiss the threat of Ocasio-Cortez at the time, and knowing not to repeat his mistakes. "I know personally DenDekker and Nolan have been taking it seriously," Skurnik said of their challengers. "We actually spoke with them or their campaign people as late as last year, and they were both aware of these primaries and they're definitely not complacent."
And though the coronavirus pandemic will hamper insurgents' ability to go door to door, some predict it will lead to higher than usual turnout. "What we're seeing because of coronavirus is two things," the Queens insider said. "One, you're going to see dramatically higher turnout because of the combination with the presidential primary. Presidential primaries always have higher turnout. Secondly, the widespread availability of absentee ballots and the state taking the affirmative step to mail an application to voters, means that there are far more people filling out applications and getting ballots, and thus likely to vote in this year's primary than have ever participated in primaries before." 
And while comparing these three insurgents – González-Rojas, Jobaida and Rajkumar – to Ocasio-Cortez may not capture all the nuances of their own districts and races, Ocasio-Cortez has served as an inspiration for candidates like them. "I admire and I support AOC. I volunteered for her, I supported her," González-Rojas said. "I was really excited to see a woman of color – a young woman of color and a Latina in particular – step up and challenge the status quo. Ultimately, I just feel like representation matters. It really, really matters who's at the table."
Powered By
NEXT STORY: How state lawmakers seized the moment