New York City
Rochester police chief fired and NYC schools delayed again
Rounding up the week's political news.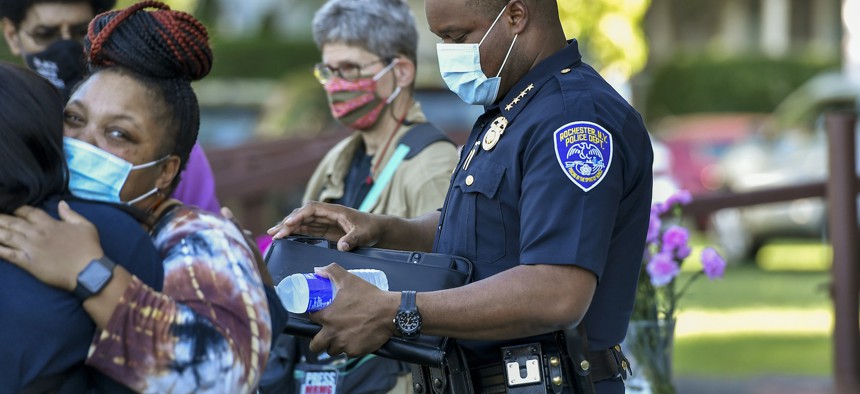 The coronavirus pandemic has claimed yet another classic New York City institution: the Macy's Thanksgiving Day Parade. Some scaled-down version of it will still air on TV, filmed at the parade's usual terminus around Herald Square, but without the crowds and the marching. Without gargantuan inflated balloons of beloved cartoon characters making their way down Central Park West and Sixth Avenue – towering over the streets of Manhattan and passing silent judgement on tiny onlookers like the titans of old – does it really even count? Keep reading for the rest of this week's nonparade news.
Rochester police chief fired
A week after he announced his retirement – and about two weeks from when he was actually set to step down – Rochester Mayor Lovely Warren sped up the process by firing Police Chief La'Ron Singletary over the police killing of Daniel Prude in March. Singletary surprised the city when he said he would retire, after just days earlier committing to help reform the department. Warren's decision to abruptly fire him before Sept. 29, when he was scheduled to retire, similarly came as a surprise. She said she was compelled by an internal review her office put together about Prude's arrest, death and the subsequent handling of the case. Documents in the report revealed a monthslong concerted effort by Rochester police officials and the city's legal team to keep details of Prude's case under wraps, especially in early June as mass protests swept the nation in the wake of the police killing of George Floyd in Minneapolis. They attempted to frame Prude's death as a drug overdose and worked to keep police body camera footage from both the public and Prude's family. In addition to firing Singletary, Warren also suspended Rochester Corporation Counsel Tim Curtin and Communications Director Justin Roj and called for a U.S. Department of Justice investigation into Prude's death.
NYC in-person classes delayed again
New York City Mayor Bill de Blasio announced that city schools would once again delay the start of in-person learning for most students – a decision that caught educators and parents by surprise just days before students were set to return to the classroom. Prior to the announcement, the United Federation of Teachers said that many schools were still not ready or safe enough to welcome back students, and staffing shortages continued to plague the city's hybrid learning model. Just a day before the delay announcement, the city Department of Education removed a requirement that students who opted for the blended model receive live instruction on days they were remote thanks to staffing shortages. Other parents said schools were asking students to bring their internet-connected devices to school on in-person learning days. Preschool, 3-year-old and District 75 students still returned on Sept. 21. Elementary schools will open on Sept. 29, and middle and high schools on Oct. 1. De Blasio said earlier in the week that he would add 2,000 more teachers to the city's pool to help deal with shortages, but said he would add another 2,500 when he announced the new delays.
School funding cuts delayed
As schools around the state began this unprecedented pandemic school year, school officials remained concerned about looming cuts in state funding due to budget shortfalls. Gov. Andrew Cuomo has said for months that he may cut school aid, and other local aid, by as much as 20% if the state doesn't receive federal support. As of yet, he has not followed through and has so far only withheld about $300 million in school aid, with the intention of making those funds available later. New York State United Teachers filed a lawsuit against the state to prevent impending cuts from affecting significant aid payments that will happen this month. In response, the state Budget Department said there will be no reductions to those payments. Those cuts may instead come in November, taking into account the needs of individual schools. In an op-ed, state Budget Director Robert Mujica said the state had not yet made any major cuts, so any furloughs or firings school districts may be considering were premature. But Mujica said that keeping things that way still would require federal help.
Powered By
NEXT STORY: Bill de Blasio's penchant for procrastination