Alexandria Ocasio-Cortez
AOC's Twitch adventure is a lesson for other electeds
The Queens representative played video games online to get out the vote.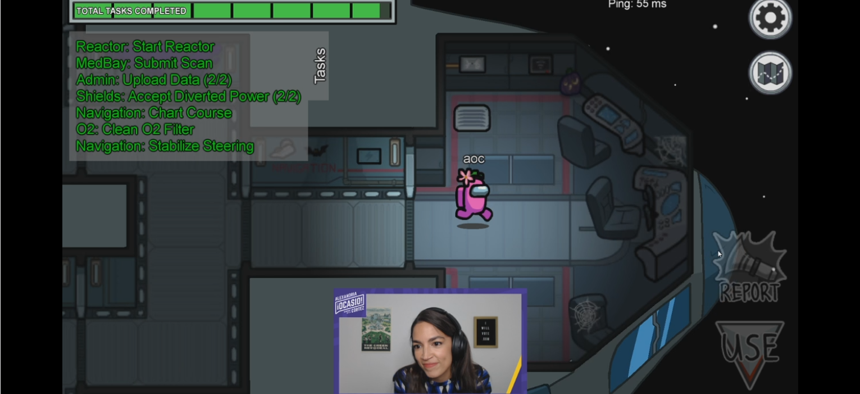 From Facebook to Twitter to Instagram, you'd be hard-pressed not to find a prominent elected official or political candidate without a profile on at least one of those sites. But amid a constantly changing social media landscape, some media-savvy electeds have expanded to other corners of the internet. Take Rep. Alexandria Ocasio-Cortez's recent foray into Twitch, a platform used primarily to livestream video games, which could signal a new way for elected officials to engage young voters.
For those unfamiliar, the Amazon-owned website allows users to broadcast themselves playing video games, poker, music or just chatting with viewers. While some may question the appeal of watching someone else play a video game, many fans of the platform compare it to watching sports on TV. Others may enjoy Twitch because of the streamers' personalities or their high skill level at certain games. Not unlike other social media platforms, Twitch has amassed a number of popular influencers with millions of followers. There's no denying the site's popularity, especially among younger people. On average, 17.5 million users visit Twitch on a daily basis and more than half its users are between the ages of 18 and 34.
Ocasio-Cortez along with Rep. Ilhan Omar of Minnesota joined prominent left-leaning Twitch personalities on Tuesday with the goal of promoting voting. Much of the livestream was dedicated to Among Us, a multiplayer game that has recently surged in popularity. Meanwhile, an automatic chat response encouraged viewers to vote. Ocasio-Cortez and the other gamers touched on political subjects while playing. At one point, she even encouraged viewers from New York to vote for presidential candidate Joe Biden and his running mate Kamala Harris on the Working Families Party line in an effort to help preserve its ballot line and its influence in electoral politics.
"You help support infrastructure that helps support other progressive candidates, all the way up and down the ballot," she said during the stream.
Her Twitch adventure is hardly the only time she's used video games to interact with the public. She connected with followers directly through Animal Crossing: New Horizons, a game on the Nintendo Switch that allows players to visit other players' in-game islands. And she has talked about her progress in the game League of Legends.
However, she's not the first political figure to use Twitch. Lauren Ashcraft, a democratic socialist who ran an unsuccessful primary campaign this year against Rep. Carolyn Maloney, made an account as a unique way to inform voters about her platform.
In order to battle real world problems, I use gaming as self-care. But the work never stops and I'm still answering questions while on Fortnite tomorrow night at 7 pm ET on my Twitch stream at https://t.co/YJVzOqwq5k! Let me know you'll be there: https://t.co/5l51V6qcCp #Fortnite pic.twitter.com/F1GNUK9fJT

— Lauren "vote Paula Jean" Ashcraft (@VoteAshcraft) April 10, 2020
But it's not easy for just any elected official or candidate to use the platform effectively. While at its peak, Ocasio-Cortez's Twitch stream had around 435,000 viewers, videos from Biden, President Donald Trump and U.S. Sen. Bernie Sanders generally haven't exceeded 10,000 views. Some compared her viewership to another Twitch stream running around the same time from the U.S. Army's own esports team, which generated only a small fraction of attention in comparison.
What likely makes the difference – on top of Ocasio-Cortez's already strong online presence – is generational. While the few older elected officials on Twitch may simply use the platform to broadcast speeches, Ocasio-Cortez understood the platform's strength comes down to engaging with viewers in a relatable way. And while these attitudes may be changing, politicians of both parties have historically railed against video games, focusing on those with violent content.
But if the pandemic and its ensuing lockdowns have shown anything, the digital landscape is ripe for candidates looking to engage the public in new ways.