Andrew Cuomo
Cuomo faces de Blasio's fears
Gov. Andrew Cuomo confronts the issues that New York City Mayor Bill de Blasio steers clear of.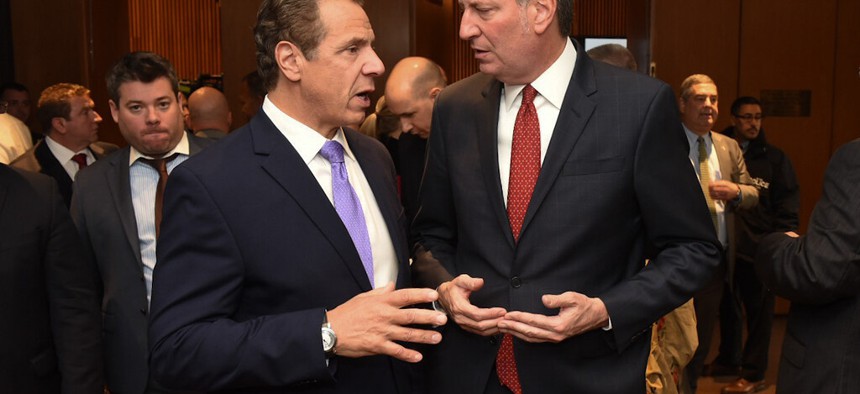 Gov. Andrew Cuomo and New York City Mayor Bill de Blasio are back to bickering, this time over how best to handle New York City's new COVID-19 hot spots. A day after de Blasio announced plans to shut down schools and non-essential businesses in neighborhoods where infection rates are rising, Gov. Andrew Cuomo stepped in to overrule him and take over managing issues that de Blasio seems incapable of addressing. 
The governor shut down schools within the neighborhoods immediately and followed up on Tuesday with shutdowns of high-risk businesses such as gyms and hair salons and limits on the size of gatherings, including religious services. Cuomo had threatened on Monday to shut down religious gatherings, if participants fail to abide by the state's guidance, such as by wearing masks. 
It has been estimated that about 20% of the city's new COVID-19 cases had been identified in Brooklyn and Queens neighborhoods that represent 7% of the city's population overall, where large ultra-Orthodox Jewish communities live, as well as many Russian-Americans and other immigrants from the former Soviet Union and Eastern Europe. And most new infections in these areas have been tied to individuals gathering indoors for school or religious celebrations.
Additionally, Cuomo announced that state law enforcement would be sent to the city to impose stricter enforcement of social distancing and mask-wearing requirements in affected areas. "The state is going to take over the enforcement oversight in all the hot spot clusters," Cuomo said. "Local governments will need to provide us with personnel, but the state will take over the enforcement with the local personnel. I do not have enough state personnel to supplement every local police department in the state."
De Blasio rebuffed the governor's plan, questioning if the state actually has the authority to overtake the city's law enforcement.
While Cuomo's intervention may seem like an unnecessary flex of his political muscle, he's actually dealing with challenging constituencies that de Blasio appears to shy away from confronting, such as New York Police Department officers and the ultra-Orthodox who have skirted COVID-19 safety requirements.
Health department officials had been warning de Blasio to enforce stricter restrictions back in August, following a spike in new coronavirus cases. However, the mayor has been careful to avoid placing any extra restrictions on areas containing large ultra-Orthodox communities. "He goes out of his way not to use the word ultra-Orthodox or look like he's singling them out and that strategy has backfired," an anonymous individual with ties to the New York City Health Department told Politico in response to de Blasio's handing of the recent outbreaks. "It's a frustration for professionals in the administration."
De Blasio has always been wary of upsetting the city's ultra-Orthodox, who he has relied on for political support and donations since he first ran for mayor in 2013. As a result, de Blasio has been criticized over the years for affording these communities special privileges, often turning a blind eye to problems within them.
Cuomo's recent effort to bring state police into the city to ensure that individuals are abiding by state guidelines highlights de Blasio's inability to make the NYPD enforce these rules and follow the rules itself. Since June, police officers have been frequently documented without face masks and there have been several reports of their refusalto wear masks around the city. 
On Sept. 30, de Blasio said that officers not wearing masks should be subject to fines and other penalties. However, no cops have yet to be fined despite 156 civilians reporting that they have spotted officers without masks.
Cuomo has previously criticized the NYPD for not wearing masks in public while on duty. "Wearing a mask is the law," Cuomo said during a press conference on Sept. 29. "But the police officer who's supposed to enforce the law doesn't wear a mask."
That cops flout the law is not only dangerous because many officers have died of COVID-19, but because they lack legitimacy in the eyes of communities they are now supposed to force to wear masks, like the ultra-Orthodox. 
The governor, who has enjoyed the support of the state's Orthodox and Hasdic communities for years, remarked that focusing on religious gatherings during his Monday briefing was "personally hard."
"I have a 30-year relationship with the Orthodox community," he said. "It goes back to my father."
Cuomo came under fire during his press conference on Monday, however, for using a photo of a funeral from 2006 among the Satmar Hasidic sect as an example of a "superspreader event." The governor's spokesperson Rich Azzopardi immediately apologized for the photo's usage and said it was "a staff error."
.@NYGovCuomo blames large gatherings in the Hasidic community for spread of COVID-19 — highlights selichot in Satmar-Kiryas Joel and event in Chabad-Crown Heights as examples of social distancing violations pic.twitter.com/qcHDC9bwhJ

— Jacob Kornbluh (@jacobkornbluh) October 5, 2020
The de Blasio administration did not respond to a request for comment.