Donald Trump
Why is there now limited praise for Jared Kushner?
Success is relative when it comes to assessing the federal response to the coronavirus pandemic.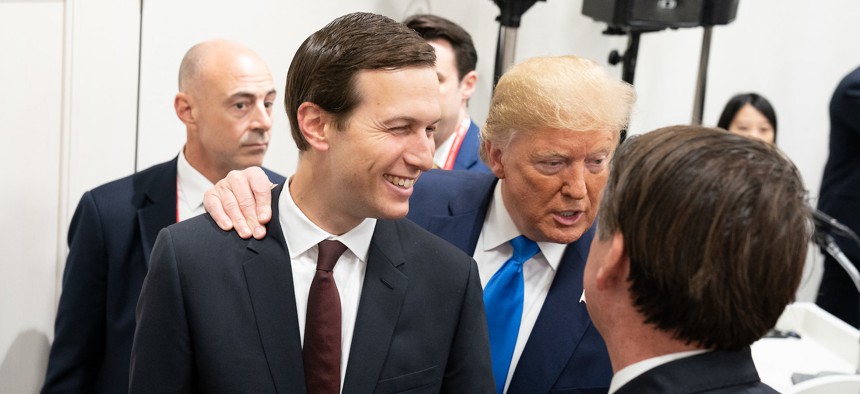 Like his father-in-law, Jared Kushner's record before coming to the White House included shady real estate dealings and an unsuccessful foray into publishing. After he arrived in Washington, D.C., Kushner has yet to realize his lofty ambitions to broker a peace deal between Israelis and Palestinians or reinvent the federal government.
He may not have ever been the master dealmaker that he claims to be. He may have let New Yorkers die because he thought it was not the federal government's job to help New York get personal protective equipment at the height of the pandemic. But Kushner has been doing relatively well compared to how other officials have acted during a federal response that was defined by deadly missteps at the onset of the coronavirus pandemic.
"The most productive person I find there was Jared Kushner," Gov. Andrew Cuomo wrote about dealing with the White House in his new book about responding to the coronavirus pandemic. "Jared was the person who eventually produced the PPE, ventilators, and military personnel for New Yorkers, and I am grateful on their behalf."
Kushner has also gotten some props lately from brokering a pseudo-peace deal between Israel and the United Arab Emirates that does mark some progress for Jewish-Arab relations, even if the two nations were never actually at war. If that was not enough to show that putting a political novice in charge of a big chunk of U.S. foreign policy and public health, it is also worth considering that journalist Bob Woodward wrote in his new book "Rage" that Kushner brought some real "business school efficiency" to a Trump administration effort to plant more trees.
That's not too bad for a guy who has demonstrated plenty of times over the past three years why indebted real estate developers make questionable choices as federal leaders. This includes pushing President Donald Trump to make good on building a wall on the southern border with Mexico. Kushner has also become friends with Mohammed bin Salman, the Saudi crown prince who Kushner reportedly helped after the killing of the Washington Post columnist Jamal Khashoggi in Turkey.
The real skill that Kushner has brought to the Trump administration is not business smarts or administrative acumen, but rather a deft ability to deal with his mercurial father-in-law. A new documentary, "Totally Under Control," showed how Kushner's attempts to use 20-something volunteers to procure protective equipment on behalf of the United States did not work out as planned. Woodward's book chronicled how much Kushner pushed the president to focus more on the upcoming election rather than dealing with a pandemic that continues to kill hundreds of Americans every day.
"Controversy elevates message," Kushner said, according to Woodward. That comment was made to describe how Trump approaches politics. The same could be said about Kushner, whose family wealth has smoothed his upward trajectory ever since he was admitted to Harvard University. He wants to be seen as competent despite all the evidence to the contrary.
Yet, when things were at their worst, Kushner at least had the sense to urge Trump to shutdown the country, according to Woodward. He refrained from spreading conspiracy theories about "seditious" scientists. He even helped New York procure ventilators when the state needed them the most, despite saying at one point "that's their problem." Compared to some of the other figures in the Trump administration, that counts for something. We will all just have to wait and see if it helps Kushner find a new job when his time in the White House is over.