New York State
3 key downstate congressional races to watch
Swing districts on Staten Island and Long Island will likely feature the most competitive races.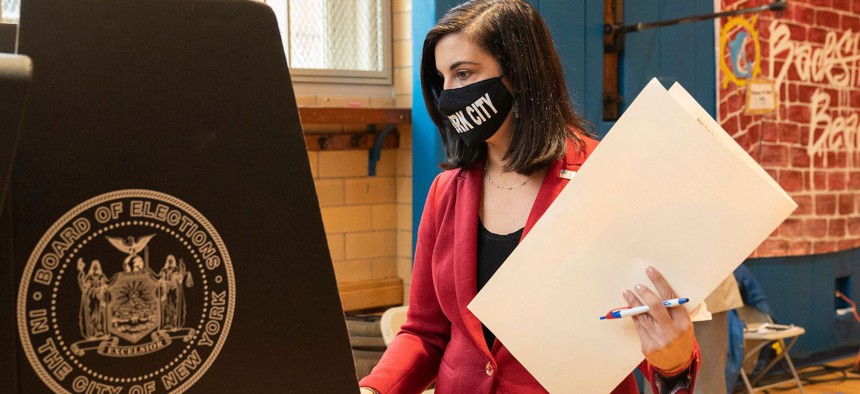 As the polls close on Tuesday night, New Yorkers from both major parties will be clenching their teeth as the results are reported for one hotly contested race on Staten Island and two competitive congressional districts on Long Island.
In 2018, Democrats gained 41 seats in the House of Representatives, including several key congressional districts in New York that were decided by just a few percentage points. This year promises to feature several similarly close races, with Republicans backed by President Donald Trump taking on moderate Democrats who are trying to encourage swing voters to not support Trump and his policies.
City & State has compiled a rundown of the key downstate congressional races to watch including the 11th, 2nd and 1st districts. The list was created using Larry Sabato's Crystal Ball at the University of Virginia, The Cook Political Report, the most recent polling and updated fundraising totals.
11th Congressional District
Rep. Max Rose vs. Nicole Malliotakis
2018 result: Rose (D) 53%, Dan Donovan (R) 46.6%
Sabato: Leans Democratic
Cook: Toss-up
Latest poll: Malliotakis +2 (NBC 4 New York/Marist College)
The contest for New York's 11th Congressional District made headlines for being an incredibly expensive and bitter race between Democratic Rep. Max Rose and Republican Assembly Member Nicole Malliotakis. Rose seeks to defend his seat for a second term after defeating two-term Republican Dan Donovan and being part of the "blue wave" in 2018. The seat, which before Rose's win had been held by a Republican since 2013, may be on the verge of swinging red once again with Malliotakis backing Trump, who won the district by 10 percentage points in 2016. An October poll conducted by NBC 4 New York and Marist College had the race at a razor-thin Malliotakis lead of just 2 percentage points.
The district spans all Staten Island and part of southern Brooklyn, and includes 216,566 registered Democrats and 138,583 Republicans. Rose is a moderate Democrat who is appealing to both sides of the aisle in the district by criticizing New York City Mayor Bill de Blasio, but faces a considerable challenge since no Democrat has been reelected on Staten Island since 1981. Malliotakis has a considerable endorsement edge with "law and order" organizations.
As of Oct. 14, which is the most recent data available, Rose had raised a staggering $8,373,989 and had nearly $1.4 million in cash on hand for the closing days of the election. Malliotakis had raised $3,087,344, with $316,318 on hand.
2nd Congressional District
Jackie Gordon vs. Andrew Garbarino
2018 result: Rep. Pete King (R) 53.1%, Liuba Grechen Shirley (D) 46.9%
Sabato: Leans Republican
Cook: Toss-up
Latest poll: No polling
Late last year, Republican Rep. Pete King announced he was retiring and ending his 14-term congressional career, which has allowed the district to see two fresh candidates this year. GOP-selected successor Andrew Garbarino, an Assembly member from the 7th District, is running against Democrat Jackie Gordon, a former council member for the town of Babylon. According to FiveThirtyEight, Gordon is slightly favored in the race.
The district lies in Long Island and holds a large chunk of Suffolk County and a small slice of Nassau County, and includes 186,124 registered Democrats and 171,672 Republicans. The swing district voted for Trump in 2016 by 9 percentage points after voting for Barack Obama in 2012 and 2008. It's suburban nature had been a keystone for King's policies and King has been grooming Garbarino to support those same ideals. Gordon, a military veteran and the child of Jamaican immigrants, reels in support from the changing demographics of the historically conservative and white district. Nearly 40% of the district is now nonwhite, giving Gordon an edge. The Democratic Congressional Campaign Committee put her on its Red to Blue list, indicating that the party would put significant resources behind her campaign.
As of Oct. 14, Gordon had raised a whopping $3,788,417 and had $577,258 cash on hand. Garbarino had raked in a total of $1,430,052, with $403,450 left.
1st Congressional District
Rep. Lee Zeldin vs. Nancy Goroff
2018 result: Zeldin (R) 51.5%, Perry Gershon (D) 47.4%
Sabato: Leans Republican 
Cook: Leans Republican 
Latest poll: Zeldin +1 (GQR Research)
Three-term Republican Rep. Lee Zeldin is facing off against Democrat Nancy Goroff, a chemistry professor at Stony Brook University. In 2018, Zeldin won by 5 percentage points against Democrat Perry Gershon, but this year's race is turning out to be a much tighter election. An Oct. 13 poll by GQR Research had Zeldin leading Goroff by just 1 point.
Located entirely in Suffolk County, the district includes 180,102 registered Democrats and 181,200 Republicans. The split district voted for Trump by more than 12 points while Obama narrowly carried the district in 2012 and 2008. Zeldin has hoped to capitalize on Trump's popularity in the district by displaying firm loyalty to the president and voting in line with Trump's views 88.9% of the time. Goroff, on the other hand, would be the first woman with science Ph.D. in Congress and looks to appeal to her constituents by talking about climate change and emphasizing bipartisanship. Zeldin is favored to win by most estimates and polls, including an 86% chance to win by FiveThirtyEight.
As of Oct. 14, Zeldin had raised $7,522,856, with $1,918,245 in cash on hand. Goroff hasn't fallen far behind in fundraising with $5,916,988 and $423,443 in cash on hand.
Powered By
NEXT STORY: When should New Yorkers expect election results?