NYPD
Civil rights activists question NYPD preparation for protests
Progressives at non-violent protests get arrested while conservative protests have broken the law with impunity.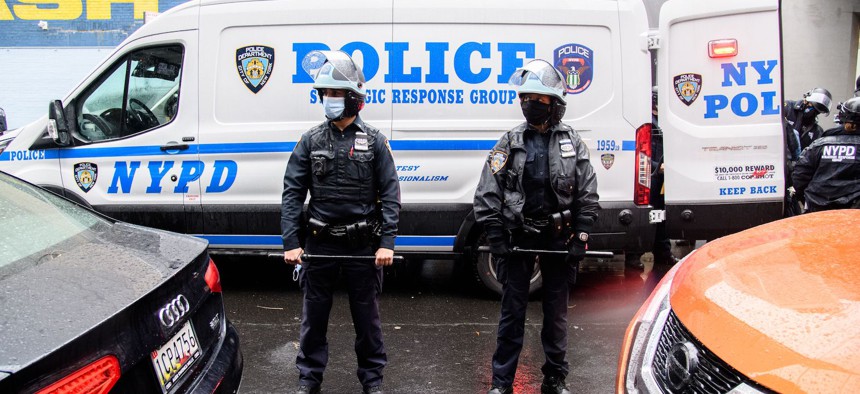 The New York City Police Department has been gearing up for potential protests and rioting around the contentious presidential election – and on Sunday, they got in a little practice time.
NYPD officers, sporting riot gear and body armor, violently arrested 10 protesters – including two journalists – who had planned to partake in a counter-protest against a rally for President Donald Trump in Manhattan that never materialized. Protestors who were present at the anti-Trump demonstration questioned the officers' justification and wondered if their response was intended to intimidate progressive activists. 
Violent arrests now pic.twitter.com/hhkJLHCqp1

— Gwynne Hogan (@GwynneFitz) November 1, 2020
Hawk Newsome, cofounder of Black Lives Matter Greater NY, who was arrested during the protest, told City & State that there was no apparent reason why individuals were being arrested on Sunday and police often take action without good cause. "I believe that more often than not, it is the police who create the chaos during protests," Newsome said. "It is by far the police who incite violence during protests." 
The arrests also highlighted the double-standard that many officers have when it comes to protests for liberal causes, which are met with force, and conservative demonstrators, who are often allowed to break the law without consequences. Blacks Lives Matter protests have seen numerous, recorded instances of cops punching, shoving and even driving into protesters and mass arrests. By contrast, on Sunday, several caravans of pro-Trump protesters blocked traffic on the Whitestone Bridge and the Gov. Mario M. Cuomo Bridge, without any apparent penalization. Notably, the heads of the largest New York City police unions are loyal Trump supporters. In July, Gothamist reported that, "A pro-NYPD rally in Dyker Heights devolved into physical attacks and racist, sexist language used against a group of counter-protesters," but no arrests were made. In October, in Borough Park, ultra-Orthodox Jews protesting against new social distancing restrictions – who are mostly politically conservative and were led by a pro-Trump radio host – blocked the street and set a fire in it and attacked journalists, but no arrests were made. 
When asked why the police did not intervene in Sunday's various "pro-Trump parades" despite some drivers having their license plates covered, during a Monday press briefing, New York City Mayor Bill de Blasio said that he was not been aware that this had occurred. "That certainly worries me," the mayor said. "You're right. It's not legal to obscure your license plates and that should be addressed. I'm certain sometimes, if there's multiple things happening, that officers need to focus on other things first, but it should be addressed going forward. That's not something that is acceptable and, and we will certainly follow up on that. "
The NYPD's actions during Sunday's protest also raised questions about what New Yorkers might be able to expect from the police force should there be protests on or after Election Day. The department's Strategic Response Group, which is responsible for overseeing protests and responding to civil unrest, has been ramping up tactical training in anticipation of election-related drama for months. "Our game is always up," Deputy Chief John J. D'Adamo, head of the Strategic Response Group, told the New York Post. "We're hoping for the best this week but we're prepared for the worst. People have gotten emboldened out there. We're living through unprecedented times. But we're prepared for whatever might happen."
While the particulars of how the NYPD is prepping for the election have not been fully divulged, other big cities, such as Chicago, have similarly been preparing for violence and unrest. Chicago's training came to light last week, after Buzzfeed News came into possession of its plans and training videos, revealing the militarized tactics that officers have been practicing.
City Hall and the NYPD did not respond to a request for comment.
Historically, protests have broken out in most countries ahead of elections, not after them. Currently the biggest threat of violence on Election Day are white nationalist extremists, according to civil and human rights organizations, not locals who may be upset by the results of the election. 
"I'll tell you the truth, the two people that I'm afraid of at protests tomorrow, or that will protest the results of the election, are police and white supremacists," Newsome said. "White supremacists planned to kidnap a sitting governor, the governor of Michigan. White supremacists have carried out executions, they've killed people and they've shot up churches. Why isn't New York state's government giving us an update on their threat for tomorrow? 
"Everybody's making it seem like Black Lives Matter protesters are the ones you should fear, and no one has given them the truth," he continued.
Civil and human rights advocates have also been voicing their concerns over excessive force being used on individuals participating in demonstrations, on, during or after the election, by local law enforcement as the election has grown nearer. On Oct. 20, Human Rights Watch, Amnesty International USA, Physicians for Human Rights and Human Rights First penned a letter addressed to over 3,500 mayors and city council members across the country urging them to encourage local law enforcement to avoid using force as much as possible if protests break out. The letter also highlighted and condemned the arrest of peaceful protesters that occurred in the Bronx, in June. "Protesters and legal observers were 'kettled' (surrounded) with no avenue to escape shortly before the imposition of curfew and were victims of excessive force through the use of batons, pepper spray, and other violence prior to being held in crowded conditions with no protection from COVID-19," the letter stated.
The incident in June was not the only time, however, that the NYPD, or the Strategic Response Group in particular, have gotten into trouble for using excessive force or arbitrarily arresting individuals at protests. On Sept. 26, a dozen protesters were forcefully arrested after attending a peaceful march for Breonna Taylor in Manhattan. State Sen. Brad Hoylman took to Twitter upon learning about the incident, questioning the NYPD's "inexplicable escalations that undermine an already fragile trust." On Sept. 19, Strategic Response Group officers arrested individuals during a protest against the U.S. Immigration and Customs Enforcement. And in February, a member of the Strategic Response Group was caught choking an ICE protester at a rally in lower Manhattan. The NYPD's response to protesters over the past several months has now made them more of a concern to civil rights advocates than any potential demonstrations.
"There's no knowing what's going to happen around (Election Day) unrest," Christopher Dunn, legal director of the New York Civil Liberties Union, told City & State. "For months, we've seen serious problems with (NYPD) policing of protests. And we're very concerned that's going to continue into the next week. We filed a lawsuit a week ago over their use of excessive force at the George Floyd protests. And we're very concerned about the way they're going to handle any election-related protests." 
Powered By
NEXT STORY: When should New Yorkers expect election results?