New York City
DiNapoli to NYC: Don't borrow to cover day-to-day costs
Without loans or money from the feds, de Blasio says the city will face steep cuts.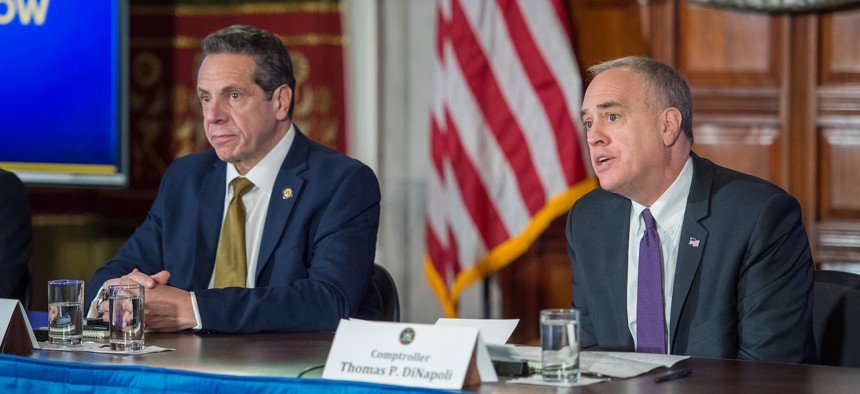 Since March, thousands of small businesses in New York City have been shuttered while New Yorkers, unemployed because of the coronavirus pandemic, have struggled to find work. Meanwhile, the city is facing a budget gap next year that could reach $4 billion. Mayor Bill de Blasio's administration has asked the state legislature for permission to take out loans to cover the shortfall and avoid one of the worst financial crises in the city's history. 
However, a recent report released by State Comptroller Thomas DiNapoli urged the city to avoid borrowing money to cover its day-to-day operations. 
DiNapoli argued that although the city was in a better fiscal position now compared to previous recessions, the city's current financial standing was still extremely fragile and borrowing may only worsen its financial bind. Borrowing to cover operating expenses, which the report called "unsustainable," would create a long-term liability to solve short-term issues caused by the pandemic," if it happened on a recurring basis. DiNapoli made it clear in the report that he agreed with de Blasio that more federal funding should be provided, but that other options should be examined beyond borrowing while the city awaits funding, to avoid having the city's debt becoming a burden on New Yorkers, the way it did after the 9/11 terrorist attacks.
State Senate Majority Leader Andrea Stewart-Cousins, New York City Council Speaker Corey Johnson and city Comptroller Scott Stringer have called on de Blasio to come up with a cohesive approach to borrowing before lending their support to the proposal. However, the mayor has yet to release a plan for managing the billions he wants to borrow.
In September, de Blasio said that if federal funding was not provided soon or borrowing was rejected, thousands of municipal workers would be laid off along with additional service cuts.
According to financial experts, spending cuts in specific areas would help prevent the layoffs of city employees. Ana Champeny, the director of city studies at the Citizens Budget Commission, wrote a report that outlined the difficult financial decisions the city will face in the next year to mitigate the damage caused by the pandemic, including slowly reducing staff levels, cutting spending and increasing efficiency.
"Our belief is that it is possible for the city to handle headcount through attrition," Champeny said. "So even if you're hiring one out of every two positions that leave, you should see your headcount reduced over time, and in that case you don't have to do layoffs."
The city will need to create a plan in the upcoming months to prepare for its next fiscal year, when the city and state will begin reshaping the post-pandemic economy.
"The city will not be able to support current spending levels, much less increase current spending levels, for years based on its existing tax base, existing array of tax revenues," said E.J. McMahon, a senior fellow at the Empire Center for Public Policy, "and, therefore, anything (de Blasio) gets from the federal government, whether it's a lot or a little, is not a permanent solution."
Powered By
NEXT STORY: Is anybody else running for New York City mayor?