Campaigns & Elections
State Senate Democrats proved the haters wrong
The final vote shows that voters are rewarding Democrats for what they got done with one-party rule in Albany.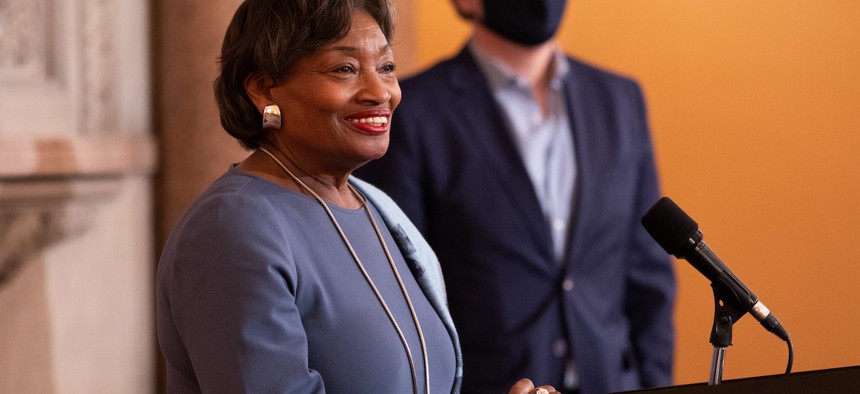 One-party rule in Albany appears to be assured for years to come, with Democrats now declaring victory in their efforts to win supermajorities in both chambers of the state Legislature. It will be the first time in modern political history that one party has had two-thirds of the seats in both chambers and the governor's mansion. Democrats needed to add two seats to their current 40 state senators to win a two-thirds supermajority, which they already have in the Assembly. 
"We know that on election night many people wrote us off, they said it was a big red wave, and they were already predicting our shrinking majority, and as we know the red wave turned out to really be more of a red mirage," state Senate Majority Leader Andrea Stewart-Cousins told reporters Monday after announcing that Democrats won a competitive Westchester County race between freshman state Sen. Pete Harckham and GOP challenger Rob Astorino, which ensured Democrats would have at least 42 seats in the chamber next year. Democratic candidates Samra Brouk, Jeremy Cooney flipped longtime Republican seats in Rochester, while Sean Ryan and Michelle Hinchey picked up seats in Buffalo and the Catskills, respectively.
Picking up additional seats during a disappointing year for down-ballot Democrats nationally, and after passing a raft of liberal legislation, shows that New York lawmakers can push the state to the political left without the infighting and voter backlash that doomed Democrats' past efforts to maintain control of the state Senate. The last time the party controlled the upper chamber, between 2009 and 2010, internal dysfunction and a failed legislative coup helped the GOP retake the chamber after two years. To maintain conference unity, since winning the majority in 2018, Stewart-Cousins strove to build consensus between New York City liberals and suburban moderates on controversial issues including cash bail, taxes, drivers licenses for undocumented immigrants and police use of force. 
Republicans argued during the 2020 campaign that such efforts demonstrated a socialist takeover of state government that would lead to higher crime and joblessness. Voters evidently had a different take, giving Democrats their first back-to-back Senate majorities since 1936.
The GOP bet heavily on voter backlash to bail reform that failed to put them over the top against Democratic incumbents like state Sens. Kevin Thomas, and Jim Gaughran on Long Island as well as Andrew Gounardes in Brooklyn, despite millions of dollars spent by conservative donors such as Ronald Lauder. "The Republicans did not beat the Democrats on the messaging as some have said," Gianaris told reporters on Monday. "The opponents of bail reform took their best shot, and they failed miserably." 
Another strategy used by Republicans has been to warn that voting for Democrats will just empower the political left in New York City. That has been a recurring argument wielded by Republicans against the Democrats, who historically have not had much of an upstate presence in the state Senate. That is changing now with Brouk, Cooney, Ryan and Hinchey joining the conference. And freshman Democrats like state Sens. James Skoufis of the Hudson Valley, Anna Kaplan of Long Island and Rachel May of Syracuse cruised to reelection. Democratic candidate John Mannion could also win an open race to represent the Syracuse area that has still to be decided.
Republicans did defeat freshman state Sens. Monica Martinez of Suffolk County and Jen Metzger of the Hudson Valley. Both flipped Republican seats in 2018. The GOP also held onto at least five of the 10 state Senate seats vacated by outgoing Republicans this year. Democrats also fell short of toppling GOP incumbent state Sens. Sue Serino and Daphne Jordan in the Hudson Valley. Republicans also won competitive congressional races on Long Island, Staten Island and upstate. 
So Republicans aren't going to retract their declaration of victory from when they appeared to be headed to an even bigger success right after the election, before Democratic-skewing absentee ballots were counted. "We won critical races at the federal level, at the state level, both the Assembly and the Senate. We've won key areas that have eluded Republicans," state party Chair Nick Langworthy told reporters the day after the election. 
They might, however, have to reconsider their conclusion that "the people of New York, of all political stripes, did not like what they saw the last two years," as state Senate Minority Leader Robert Ortt told reporters Nov. 4. "They want to see more balance. They want to see checks." Many voters said the opposite once mail ballots got tallied in the subsequent weeks. 
The results indicate that Republicans won't be reclaiming their past grasp on the suburbs with a law-and-order message. Conservatives ran a multi-million dollar ad campaign targeting swing district Democrats over their 2019 votes for new limits on cash bail included in a budget omnibus bill that were partially rolled back the following year. While that issue has shadowed swing district Democrats all year, only two in the state Senate lost. 
Some establishment Democrats might also have to reconsider their initial post-election spin. Some on the more moderate side of the political spectrum, like Cuomo and state party Chair Jay Jacobs, have argued that left-wing policies championed by Rep. Alexandria Ocasio-Cortez and some other progressives from New York City drove away the moderate voters Democrats need to win in places like Long Island, the Hudson Valley and parts of the deep outer-boroughs. Keeping six out of the eight longtime GOP state Senate districts that Democrats flipped in 2018, while adding seats representing the Buffalo and Rochester suburbs, appear to undermine the idea that ideas like defunding the police hurt Democrats at the state level. 
While the Democratic dual-chamber supermajority is politically significant, it may not change much in terms of policy outcomes. In theory, supermajorities can override a governor's veto. But Democratic legislative leaders have not tried to override any vetoes issued by Gov. Andrew Cuomo in the past two years, even when legislation passed both chambers nearly unanimously. If Cuomo disagreed with his party's legislative majorities, it is unlikely that all the suburban moderates would frequently go against him and vote to override. 
Supermajorities in both chambers could nonetheless mark a shift in the balance of power between the legislative and executive branches and will further sideline state Republicans for years to come, by helping as long as they have two-thirds majorities in both chambers. That suggests Republicans are going to have even greater difficulty in picking up seats in the decade ahead.
It remains to be seen where new upstate senators will fall in the Democratic Party's ideological spectrum. These new upstate Democratic senators could make or break progressive efforts to increase taxes on the wealthy, legalize recreational marijuana, expand criminal justice reforms and establish a state-level single payer health care system. "There will be regional differences," Lawrence Levy, executive dean of the National Center for Suburban Studies at Hofstra University, told City & State in a recent interview. "There will be ideological and there will be shifting alliances that you don't normally see around a specific piece of legislation." 
Democratic lawmakers nonetheless say they expect to have a newfound advantage when it comes to dealing with the governor moving forward. "Just the fact that (overriding) possibility occurs tends to change people's negotiating postures," Gianaris told Spectrum News before Election Day. "It would certainly give, in instances where the Senate and the Assembly can get together on issues, a better chance of having those priorities enacted the way we would like.
The incoming Democratic state senators from upstate are not the only newcomers who are aiming to shake up state politics. Left-wing Democrats are officially winning increased clout in the Assembly Democratic conference, months after they toppled several longtime incumbents in the Democratic primaries. New members backed in their primaries by the New York City chapter of the Democratic Socialists of America include Zohran Mamdani in Queens, Phara Souffrant Forrest and Marcela Mitaynes in Brooklyn. Other incoming members of the Assembly like Jessica González-Rojas and Khaleel Anderson in Queens and Emily Gallagher in Brooklyn will also push the Democratic conference further left.
The Democratic state Senate conference got its second DSA member, following the election of Jabari Brisport in Brooklyn, but it will likely remain to the right of the Assembly on key issues such as taxes, criminal justice reforms and the legalization of recreational marijuana, as swing-district Democrats seek to avoid Metzger and Martinez's fate. 
While the Democratic Party's moderate wing might put the brakes on some progressive initiatives, Republicans are not going to be in a position to stop anything. Due to the leftward shift in the electorate and the likelihood that they will be shut out of the redistricting process, the GOP is looking at further marginalization. Current state law allows supermajorities in both chambers to approve a redistricting plan, but Democrats are making it even easier for themselves with a new state constitutional amendment that passed the state Legislature in 2020. If they pass it again in 2021 and voters approve it that November, it would take effect in time for the upcoming round of redistricting in 2022.
Past midterm elections under Democratic presidents, such as 2010, have seen the GOP gain seats in Congress and statehouses nationally, and in New York as well. So the 2022 elections might give the GOP a chance to regain some lost political ground in the Empire State, but it would take an unprecedented reversal for them to win enough seats to have a meaningful say in legislation. The New York Republican Party, which once dominated the state Senate and regularly won gubernatorial elections, may remain in the political wilderness in New York for many more years to come. Getting to see that happen after GOP leaders prematurely declared victory in the 2020 legislative elections is just icing on the cake for Democrats.
An earlier version of this article miscounted the number of open state Senate seats won by Republicans this year.
Powered By
NEXT STORY: More Emmys for New York's politicians