New York State
How powerful Black women are correcting inequalities
They're using their influence to make the path easier for others.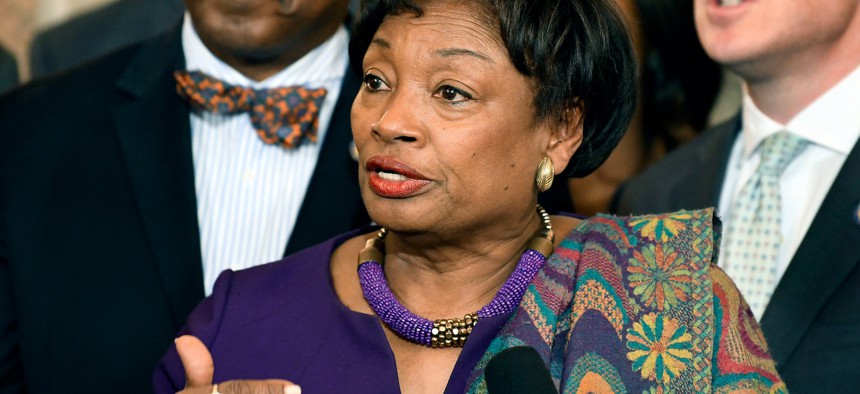 The Black women who are political powerhouses in New York state have created equity, changed laws and even taken on the president of the United States.
By serving in elected office, working at private firms, laboring behind the scenes with public officials, founding nonprofit organizations and more, they have created changes that have affected New York state in dramatic ways. Many of the Black women who took part in the City & State/The New York Amsterdam News survey said their experience as members of what is considered a marginalized group has focused them on correcting inequities where they see them.
"Black women's energy, work and commitment to building a true democracy are continuing to diversify and improve America's leadership," said Glynda Carr, president of Higher Heights for America, a group that supports Black women running for office and assuming leadership roles. 
As public advocate for New York City – the first Black woman to hold a citywide office – Letitia James successfully pushed through legislation that banned potential employers from asking job candidates about salary history. The move was aimed at reducing the wage gap between genders.
As attorney general of New York state – the first Black person and woman elected to this post – James launched civil litigation in August to dismantle the National Rifle Association. Among other things, she cited alleged practices of leaders of the group to use charitable funds to benefit themselves personally, including the use of private jets, and alleged steering of contracts to family members and associates. The organization has countersued.
And in late November, more than 100 chief executives and business leaders in New York signed onto a letter at James' urging, asking President Donald Trump to concede and accept that Joe Biden won the White House race.
State Senate Majority Leader Andrea Stewart-Cousins, a Democrat from Yonkers, wrote the first human rights laws for Westchester County when she was a county lawmaker there in the late 1990s. She also pushed for the creation of Westchester's Human Rights Commission, allowing residents to file complaints involving potential discrimination.
This summer, Stewart-Cousins celebrated a legislative victory on her watch when Gov. Andrew Cuomo signed a raft of policing reform bills into law. They included the repeal of a section of the state's Civil Rights Law which had prevented the disclosure of the personnel records of police, firefighters and corrections officers in many cases. Critics complained that the provision allowed public servants to get away with abuse.
While James and Stewart-Cousins have been making moves on the political scene, people like Kimberly Peeler-Allen have helped make that political involvement possible. Peeler-Allen, co-founder of Higher Heights for America, served as James' finance director in her bid to become public advocate for New York City in 2013. Peeler-Allen also served as co-executive director of James' transition team when she was elected attorney general in 2018, recruiting James' top staff members.
Mylan Denerstein served as lawyer for the Children's Defense Fund and the Fire Department of New York, and as a U.S. attorney for the Southern District of New York, but her role as counsel to Gov. Andrew Cuomo helped her make differences statewide when she helped draft and pass marriage equality and women's equality laws. Today, Denerstein is a partner at the Gibson, Dunn & Crutcher law firm. 
"As a Black woman in America, I'm constantly working toward a more equitable and inclusive world for future generations, just like my ancestors did for me," Denerstein said.
While health disparities have received new attention in 2020 amid the COVID-19 pandemic, lobbyist Jacqueline Williams, co-owner of the firm State & Broadway, made an impact in that space when she was associate director for legislative policy and communications, division of governmental affairs, for the Medical Society of New York. While holding that position from 2004 to 2007, Williams designed and implemented a statewide Task Force to Eliminate Racial and Ethnic Health Care Disparities. In 2009, the task force was made permanent and renamed the Committee to Eliminate Health Care Disparities. Among other things, the committee has sent doctors to middle and high schools to encourage Black and brown students to become doctors. The committee also has created a program to help doctors better relate to Black and brown patients. 
"I have been blessed to wear so many different hats that stretched my growth and tested my skill sets," Williams said in her survey. "I have helped move significant budgetary issues, assisted in navigating important statewide policy, and spearheaded several institutional events. Along the way, the best of it all has been connecting with people who are not only good at what they do but are simply good."